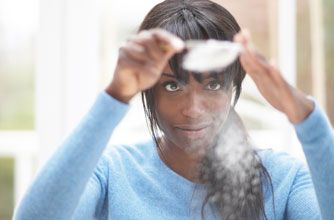 Model turned cook Lorraine Pascale is the star of BBC show Baking Made Easy. Lorraine is a whizz in the kitchen and makes classic baking recipes that are easy to follow at home. Here Lorraine gives us her tried and tested tips for perfect baking.
Choosing your ingredients
I rarely use self-raising flour. Instead, I use plain flour and baking powder, which gives you more control over how much the cake will rise.
A good vanilla extract can make all the difference to a recipe, but for the best taste, use the seeds from actual vanilla pods. These are extremely expensive in the supermarkets, so if you do lots of baking, vanilla pods can be purchased in bulk on the internet. Instead of paying £3 for just two pods, buying in bulk can work out at as little as 12p per pod!
I never buy unwaxed lemons as they are so expensive, and not always readily available. For zest, buy ordinary lemons and wash them well in hot, soapy water. Give them a good rinse, rub them dry and the waxy coating will come off.

Tips for better baking
Preheat: Start your oven prior to weighing out any ingredients.
Ingredients: Have all ingredients at room temperature for the best results, apart from when you need egg whites. Warm eggs are much harder to separate than cold ones, so cold, fresh eggs are best.
Butter: Take your butter out of the fridge as soon as you get an urge to bake, as so many of my recipes call for soft butter. I've tried all sorts of not-so-clever quick melting solutions for too-hard butter, such as sitting it on a radiator, or placing it near the stove, but the one I fell in love with was grating it with a cheese grater into a bowl. The butter becomes instantly soft and ready to use. Genius!