Blueberry and lemon millefeuille
Print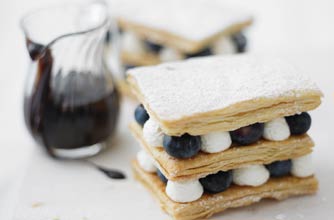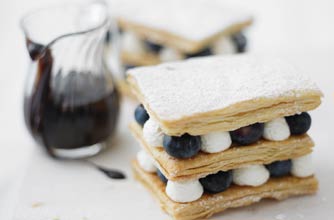 Serves: 6

Prep time:

(Plus 30 minutes for the pastry to rest in the fridge)

Cooking time:

Total time:

Skill level: Bit of effort

Costs: Mid-price
A simple yet elegant dessert made with tasty blueberries and tangy lemons - perfect for dinner parties or romantic treats for your loved ones
Ingredients
115g/4oz icing sugar, plus extra for dusting
250g/9oz shop-bought puff pastry
200g/7oz or 1 punnet) blueberries
For the cream:
165g whipping cream
25g/1oz icing sugar
Seeds of 1 vanilla pod or
2 drops of vanilla extract
Finely grated zest of 1 lemon and a squeeze of juice
For the hot chocolate sauce:
165ml double cream
100g good milk or dark chocolate (or a combination of both), finely chopped or grated
25g/1oz butter
1 generous tbsp golden syrup
Equipment needed:
Piping bag fitted with a 1cm (1/2in) straight nozzle
You can swap the blueberries and lemons for a variety of other fruits including strawberries and raspberries depending on the season or personal preference
Method
Line a large baking tray with baking paper.
Dust the work surface with lots of icing sugar and roll out the pastry to a rectangle just larger than 27 x 30cm (10½ x 12in), trimming the edges straight. It should be super thin, as thin as you can get it. Cut out 18 rectangles about 9cm (31⁄2 in) long and 5cm (2in) wide and place them on the prepared baking tray.
Sprinkle with lots of icing sugar and put in the fridge for 30 minutes.
Preheat the oven to 200°C (400°F), Gas Mark 6.
Remove the pastry from the fridge and bake in the oven for 5 minutes, then remove from the oven and sprinkle the pastry with more icing sugar. Return to the oven and bake for a further 5 minutes, or until the pastry turns a golden brown. Remove from the oven and set aside.
For the cream:
Put the cream, icing sugar and vanilla in a large bowl and whip until medium-stiff peaks form.
Fold in the lemon zest and juice to taste, then scoop the mixture into a piping bag fitted with a 1cm (1⁄2 in) straight nozzle.
For the chocolate sauce:
Heat the cream in a pan until just boiling. Remove the pan from the heat, add the chocolate and butter, don't stir and leave to stand for 5 minutes, then stir until everything is just mixed in and looks smooth and uniform. Add the golden syrup and stir a couple of times. Set aside.

Place one of the pastry thins on a serving plate. Pipe blobs of cream over the pastry and put the blueberries between the cream then put another pastry thin on top and repeat with one more layer. Sprinkle the top layer with more icing sugar and repeat until all the pastries and cream are used up.

Serve with the hot chocolate sauce poured all over.
Lorraine Pascale for Save the Children
http://bornto.savethechildren.org.uk/
Your rating