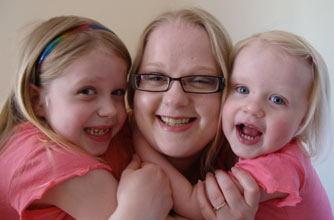 Kerry Atterbury, 32, owns and runs Kerry's Cakes in Telford, Shropshire. She's married to Ian and they have 2 daughters, Faye, 6 and Elsa, 2. She set up her business because she wanted a job that would fit around her children.
'In my previous working life I had several admin/customer service jobs that I found boring and unfulfilling. The only 2 jobs on my CV that I loved are the ones where I worked in bridal boutiques. I absolutely adored working with brides to realise their wedding day dreams and help them to choose their wedding gown. I still really miss it but as I am now making wedding cakes I'm happy to still be in the wedding industry, just from a different angle.
'It all started with my youngest daughter, Elsa's Christening cake. I've always been very crafty, making cards, invitations and silver jewellery, so when we were organising Elsa's Christening in September 2009, I really wanted to make her cake myself. The only problem was that I'd never baked a cake before, let alone decorated one! Over the period of a few weeks I spent time researching decorating techniques and perfecting my signature Chocolate Mud Cake recipe and although it took me ages the cake turned out quite well (for a newbie!).
'Our guests loved it and a couple of them asked me to make birthday cakes for their children, which I happily did and from their parties I got a couple of requests and from there I had more. By 6 months after the Christening I'd got permission and the appropriate licenses and was up and running in business!
'Before I had Elsa I was working part-time but had to give up as I was seriously ill during my pregnancy. Elsa was born just before the recession hit and when I was ready to return to work I knew that it would be almost impossible to find a job, let alone one that would fit in around my children and as Elsa had health problems I wanted to be at home with her.
'Setting up the business was perfect as I can do the school run for Faye every day and be at home with Elsa. Her health is much better now and she spends 2 days a week at nursery and occasionally spends the day with her nan when I have lots of cakes on the go. While the girls are still so young I'm trying to keep the business small and not take on too much and then expand more when Elsa starts school.
'It's sometimes quite difficult to juggle everything but I kind of slot my work in around the kids' schedule and I tend to do most of it when they're in bed, meaning that some nights I don't get to bed until around 2am! Luckily I have a very supportive husband, who also doubles up as my 'washer-upper' and delivery man. He's always on hand to offer design suggestions and bounce ideas off and he's definitely my biggest cheerleader. My family and friends are also really supportive and my girls have had to learn to be patient and entertain themselves during my busy times.
'Today I have been trading for exactly 1 year and I'm so proud of how much I have achieved - I have a regular customer base and the quality of my cakes continues to get better. I'm still on a huge learning curve, but I'm thoroughly enjoying it - I've met some wonderful people, made some new friends and I'm so glad that I took the plunge.
'The best advice I can give any mum who wants to start their own business is to make sure that they have a good support network, because things don't always go to plan; kids get poorly, childcare can let you down, rush orders can come in, plus a million other things that can go wrong - so it's always good to know that you have people that you can call on to help you out. I could never have done any of it without the huge amount of support that I received from my husband, family and friends.'