Hot cross buns recipe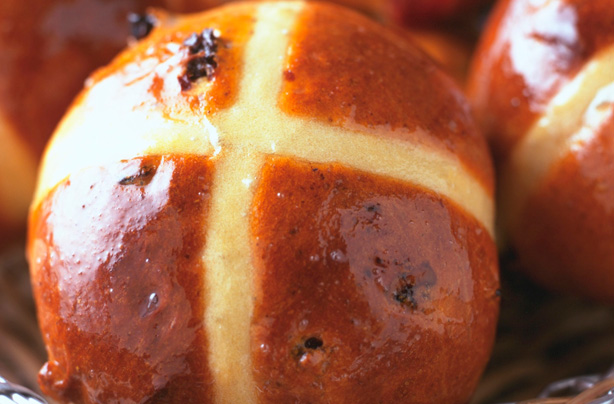 Ingredients
For this Easter recipe you will need:
750g strong white bread flour
1 tsp salt
90g butter, cubed
1 tsp ground cinnamon
1 tsp ground mixed spice
60g light muscovado sugar
150g mixed dried fruit
90g dried apricots, chopped
7g sachet easy-bake dried yeast
300ml (½ pint) warm milk
2 medium eggs
For the crosses
:
90g plain white flour
2 tbps golden caster sugar, to glaze

Hot cross buns are a delicious spring treat, and while you can buy a packet in the supermarket, nothing is better than a warm, home-made hot cross bun fresh from the oven. Learn how to make classic hot cross buns with our simple step-by-step recipe. Hot cross buns are one of the most-loved Easter foods. A fruity bun topped with a simple white cross, hot cross buns are traditionally eaten on Good Friday and throughout the Lent period.

You may think hot cross buns are too tricky to make at home - but you'd be wrong! They're so simple once you know how. The basic recipe is just a fruity dough with a flour paste cross topping.

Hot cross buns are steeped in Easter traditions, the most obvious being the famous white cross which symbolises the Crucifixion. Most recipes, like this one, use a flour and water paste to make the cross but you can use marzipan, fondant icing or even white chocolate for yours.

Sharing a hot cross bun with a friend, whilst both saying: 'Half for you and half for me. Between us two shall goodwill be', is also supposed to ensure continuing friendship though the year.

Perfect anytime of the day, hot cross buns are delicious toasted with a little butter and jam for breakfast, as a sweet treat at lunch or baked into a pudding for dessert.

Follow along with our step-by-step pictures to make perfect hot cross buns in the comfort of your own home.

Equipment
Large baking sheet, buttered
Piping bag fitted with a 5mm nozzle
1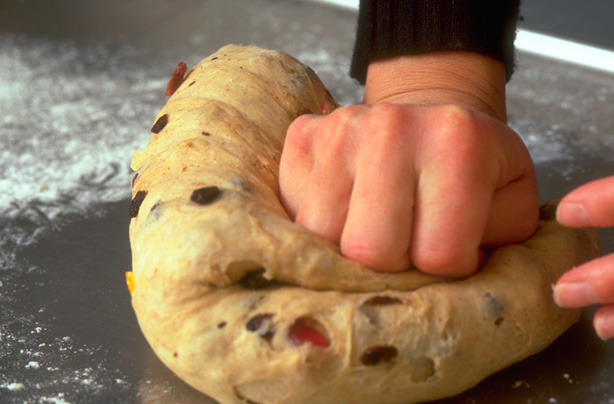 Step 1
Sift the white flour and salt into a large mixing bowl. Rub in the butter, until the mixture resembles breadcrumbs. Stir in the spices, sugar, dried fruit and yeast. Make a well in the centre. Beat the milk and eggs together and pour into the flour. Mix well to a soft dough.
2
Step 2
Turn it out on to a floured surface and knead for about 10 mins, until smooth and elastic. Place in an oiled bowl, cover with cling film. Leave in a warm place for about 45 mins to rise. Turn out dough and knead lightly for a few minutes.
3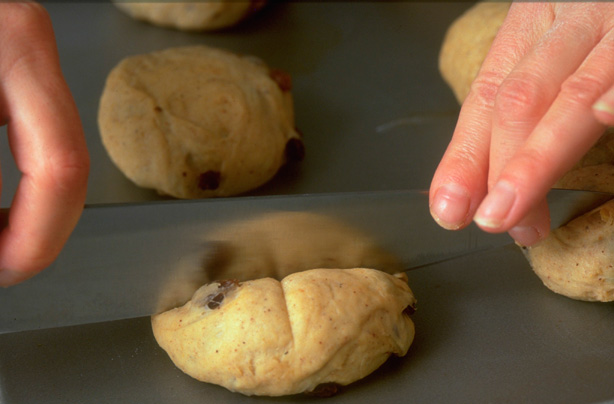 Step 3
Divide into 12 and shape each piece into a bun. Place well apart on the baking sheet, and cover loosely with oiled cling film. Leave in a warm place for 45 mins, until doubled in size then cut a cross in the top of each bun with a sharp knife.
4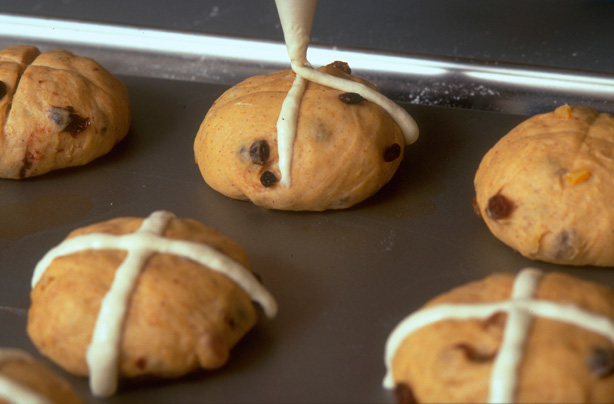 Step 4
Mix the flour with 3-4 tbsp cold water to form a paste. Pipe a cross on top of each bun.
5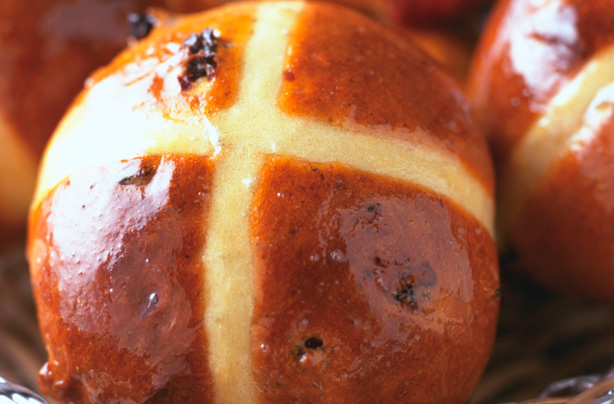 Step 5
Set the oven to Gas Mark 6 or 200°C. Bake the buns for 15-20 mins.
Put the sugar into a cup with 1 tbsp boiling water and stir until syrupy. Remove the buns from the oven and brush with the glaze while still warm. Cool on a wire rack.
Twists
Add cranberries and strawberries for a fruity twist

A little cocoa powder in the dough and chunks of chocolate will turn your hot cross buns into a naughty treat

Use leftover hot cross buns to make a hot cross bread and butter pudding
Your rating