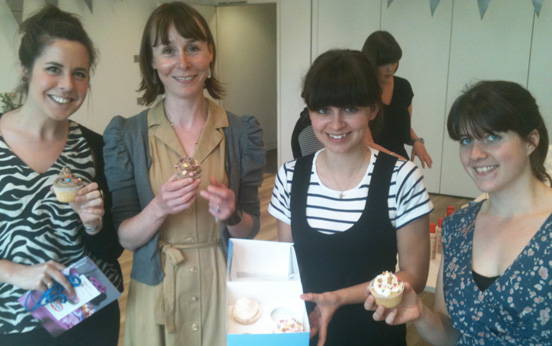 Monday 16th May
The beautiful and imaginative cakes that goodtoknow users post on our Facebook page never cease to impress me. I may make an airy Victoria sponge and a mean flourless chocolate cake, but cake decorating is a different skill altogether.
The goodtoknow team were invited to a cupcake decorating masterclass this week to get to grips with ruffles, sparkles and swirls (pictured). It was great fun, and not as hard as some of us thought to get that professional bakery finish on our cakes, but I don't think we'll be giving goodtoknow's cake decorating queen, Victoria Threader, any sleepless nights just yet. Still, I finally got round to ordering my very own set of Wilton nozzles, and this week I'm going to practise icing roses - I'll let you know how I get on next week. If you want to perfect a new icing style, it's a good idea to buy a packet of economy cupcakes from the supermarket, so you can practise on those before decorating your homemade creations.
I couldn't resist making one of my favourite seasonal dishes this week - a creamy spring risotto with lots of peas, broad beans, green beans (frozen is just as good as fresh for all of these vegetables), topped with griddled fresh British asparagus and lots of Parmesan. And, thanks to a nearly empty fridge I discovered that spring onions work just as well as white onions in a spaghetti Bolognese, gently simmered with garlic and celery.
A trip to the Brick Lane Curry Festival and a pop-up Indian beach on the Thames near goodtoknow Towers left me craving curries - luckily we've got lots of cheap and easy curry recipes on goodtoknow, including my current favourite, this split pea and vegetable curry from our sister mag, Woman's Weekly. It's packed with aromatic spices and is a great storecupboard recipe when you can't get to the shops. The paneer cheese is delicious, but you can leave it out to make the recipe even cheaper.
Let me know what you've been cooking this week by leaving a comment here or on our goodtoknow Recipes Facebook page, or email your original recipes to goodtoknowrecipes@ipcmedia.com. Happy cooking!
Katy
Where to next?