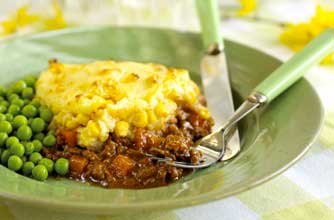 We know you love making a traditional shepherd's pie for the family but have you ever thought about giving it a twist? It's easy to adapt your usual shepherd's pie recipe with the addition of a few simple ingredients. See our 3 twist recipes for some ideas.
The classic
Classic shepherd's pie Layers of creamy mash potato sit atop a traditional minced lamb mixture in this recipe. Follow along with our step-by-step video to get your classic shepherd's pie perfect.
The twists
Shepherd's pie dauphinois For a quick and easy change, why not try a dauphinois topping? Slices of potatoes in a creamy cheese sauce give this everyday meal a cheap-but-luxurious-tasting twist.
Vegetarian shepherd's pie with sweet potato If you're after a healthier take on shepherd's pie you can easily replace the mince with a mix of vegetables. A sweet potato mash topping is a delicious change in veggie and non-veggie shepherd's pies alike, and is lower GI than regular spuds.
Spicy shepherd's pie Are you a spice-loving family? If so, this fiery shepherd's pie is right up your street. Made with added chillies, cumin and cinnamon and a warming paprika mash topping, this pie is certainly full of flavour.