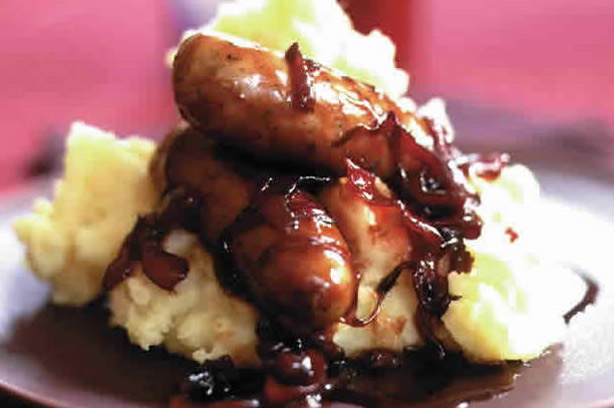 A nice warming meal of sausage, mash and gravy is the perfect reward after a hard day. And if you're clever, this classic quick and easy meal is also a great way of sneaking more vegetables into the kids' diet. See how you can make a few subtle changes to create a different meal for the family every week.
The classic
Sausage and mash All you need is a pack of sausages and some potatoes (and a little gravy!) to make this classic dish.
The twists

Sausages with parsnip apple mash An easy way to adapt your sausage and mash recipe is to try different flavours with the mash. Root vegetables like parsnips, butternut squash, pumpkin and sweet potatoes can all be added to the mash (or used as a substitute). This recipe adds parsnips and apples for 2 of your 5-a-day.
Sausage and mash bake With just a couple of extra ingredients and a few easy steps, your traditional sausage and mash can be turned into a hearty bake, find out how with our recipe.

Parsnip, nut and cheese bangers with sweet potato mash If you fancy a meat-free meal, you can still have sausage and mash with this inventive recipe from Woman's Weekly. Make your own veggie sausages and serve them atop a sweet potato mash - impressive yet simple.