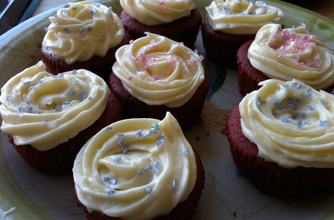 Monday 23rd May
My cake decorating nozzles have arrived and I've already had a chance to put them to good use. I baked a batch of Hummingbird Bakery's red velvet cupcakes for a baby shower with my friend V, and we decided to try our hand at icing roses on top of the cakes. Normally I'd just play it safe with a classic cupcake bakery-style icing by placing a dollop of icing on each cake, then using a spatula to spread it and create a well in the middle for sprinkles. But we decided to be fearless and follow goodtoknow's how to ice cupcake roses video. I was on the shoot when we filmed this video with goodtoknow's cupcake queen Victoria Threader and let me tell you, she makes it look so easy!
Luckily, the cream cheese frosting in the Hummingbird Bakery's recipe is really light and easy to work with (the secret is to use cream cheese AND butter in the icing). We had a lot of fun piping roses onto the cakes. They're far from perfect, we used a 1M tip when we should've used a 1B, and I still don't know how we ended up with some frosting on our feet, but I'm pretty pleased with them for a first attempt (pictured).
After all the cakes and treats at the baby shower, I was in need of some
healthy recipes
and greenery. I decided to recreate the fried salt and pepper
tofu
from my favourite Vietnamese takeaway, by making a healthier version by stir-frying the seasoned tofu with spring onions, green beans, chilli, soy sauce and garlic. Check out our new
Fakeaways
page for more cheaper and healthier alternatives to the takeaway.
It's
Vegetarian Week
this week and we've got lots of new meat-free dishes on goodtoknow. I'm going to be making this new
spinach, Feta and filo pie recipe
from our sister mag, Woman's Weekly and this
courgette and orange pasta
for a weeknight dinner - I'm not veggie, but it never hurts to try a few meat-free meals, especially when they look as delicious as these.
Let me know what you've been cooking this week by leaving a comment here or on our goodtoknow Recipes Facebook page, or email your original recipes to goodtoknowrecipes@ipcmedia.com. Happy cooking!
Katy
Where to next?