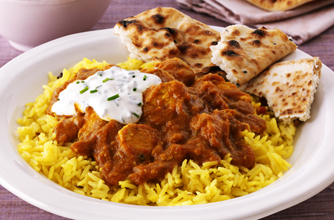 A homemade chicken curry works well as a mid-week meal and a Friday night treat. If you stick to the same tried and tested chicken curry recipe everytime, take a look at our twists for new recipes and ideas.
The classic

Chicken curry A classic Indian chicken curry is so easy to make at home and is easily adaptable to your family's taste. This classic recipe is a goodtoknow favourite.
The twists
Slimming World's chicken and potato curry Including chunks of potatoes in your curry is a filling alternative to a side of rice. This Slimming World recipe is a healthier option too - give it a go!
Gizzi Erskine's chicken katsu curry Have you ever tried a Japanese curry? Chicken katsu curry is an easy one to try at home for a deliciously different taste - a rich gravy-style sauce and chicken coated in crunchy breadcrumbs.
Thai green chicken curry If your family like Thai food, it's just as easy to make a Thai chicken curry at home. This quick recipe is ready in just 17 mins.