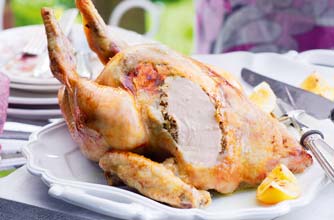 You can't beat a tender and juicy roast chicken for Sunday lunch. Cheap and easy, it's no wonder it has become a family favourite. But chicken is a really easy meat to adapt, and goes well with lots of different flavours, so if you want to try something a little different, our twists should make a welcome change.
The classic

Roast chicken Take a chicken, add a lemon, garlic and some herbs and you've got a classic roast chicken - take a look at our step-by-step video to get your traditional chicken perfect.
The twists
Honey and lemon thyme roast chicken By adding a few simple ingredients you can transform the flavour of your roast chicken. This recipe uses a honey, lemon and lemon thyme rub for a zesty spring flavour.
Roast spiced chicken with Indian-style gravy Like Indian food? Give your roast dinner a bold taste with this spicy chicken and gravy flavoured with Balti paste.
Chicken drumstick roast Transform your favourite weekend treat into a weekday meal with this simple one-pan recipe. Throw chicken drumsticks, potatoes and veg in together for a quick roast alternative.