Treasure map cake
Print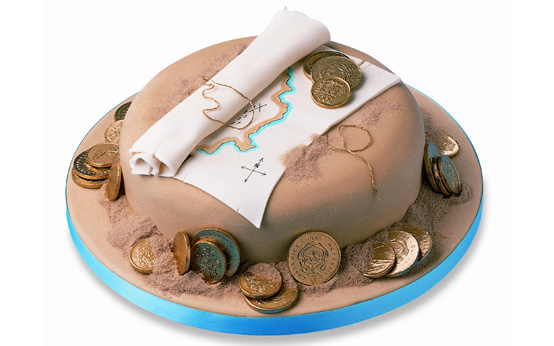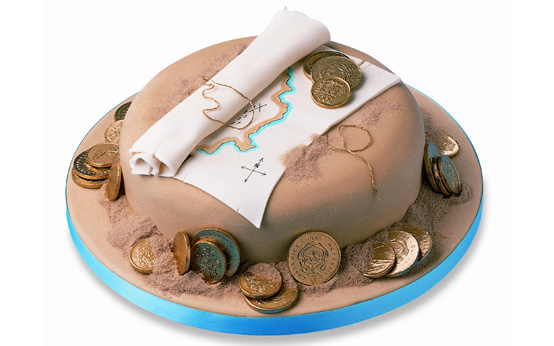 Makes: 1

Prep time:

Plus 30 minutes decorating time

Cooking time:

Plus 5 minutes cooling time

Total time:

Skill level: Bit of effort

Costs: Mid-price
If you're throwing your little one a pirate party, why not go all out and create a stand-out cake he'll remember forever. This treasure map cake tastes as good as it looks
Ingredients
4 eggs
250g self-raising flour
125g plain, all-purpose flour
250g butter
250g castersugar
For the decoration:
410g buttercream - get the recipe for buttercream here
1kg sugarpaste/rolled fondant
golden brown and blue food colouring pastes
Icing/confectioners' sugar in a sugar shaker
Light brown sugar
Foil-covered chocolate coins
Edible gold sparkle powder/petal dust/blossom tint
You will also need:
20cm (8in) round tin
30cm (12in) round cake board
Large rolling pin
Gold embroidery thread
Medium paint brush
Want some help planning a pirate party? We've got everything you need in our helpful pirate party guide including costume tips, games ideas and perfect pirate party food.
Method
Preheat the oven to 160°C/325°F/Gas Mark 3 then grease and line the bakeware.
Sift the self-raising and the plain all-purpose flour together in a bowl.
Put the soft butter and caster sugar in a large mixing bowl and beat until the mixture is pale and fluffy.
Add the eggs to the mixture, one a a time with a spoonful of the flour, beating well after each addition. Add any flavouring required.

Using a large spoon, fold the remaining flour into the mixture.
Spoon the mixture into the bakeware, then make a dip in the top of the mixture with the back of the spoon.
Bake in the centre of the oven, for 50 minutes, or until a skewer inserted in the centre comes out clean.
Leave to cool for five minutes, then turn out on to a wire rack and leave to cool completely. When cold, store in an airtight container until ready to use.
To decorate:
Trim the crust from the cake and slice the top flat. Split the cake in two and sandwich together with buttercream, then position on the cake board. Spread a layer of the buttercream over the surface of the cake to help the sugarpaste stick.
Colour 875g of sugarpaste golden brown. Using icing sugar to prevent sticking, roll out and cover the cake and the board completely, smoothing the sugarpaste around the shape of the cake. Trim the excess from around the cake board edge. Place a length of gold embroidery thread over the top of the cake.
Colour the remaining sugarpaste cream using a tiny amount of golden brown food colouring. Thinly roll out and cut an 18cm (7in) square to create the treasure map. Make different sized cuts along the top and bottom edge. Roll up one side of the map and position on the cake. Arrange the gold thread ends over the map.
Sprinkle some light brown sugar around the cake and position all the gold coins. Leave the cake to dry, then draw on the map using the black food colouring pen and paint with diluted blue and golden brown food colouring pastes. Finally, brush the cake with the gold sparkle powder.
Your rating