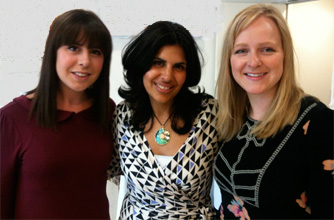 Tuesday 31st May
Cheap, quick and easy cooking was on the menu for me this week, as I was moving house. After filling suitcases and boxes, spending hours at the stove simply wasn't an option. I could barely find the oven hidden behind all of those crate mountains! So stir-fries and quick pasta recipes were a life-saver. And it was a fun challenge to eat up the contents of the freezer - we rediscovered a big batch of fiery chilli con carne, a huge Thai green curry, and - best of all - some homemade dark chocolate and sour cherry brownies. Well, all that lugging of boxes works up an appetite!
Moving house definitely made me realise it's time to prune my overgrown cookbook collection - 83 at the last count. Is this normal? Let me know how many you have and which cookbooks you couldn't live without in the comments section below. It's very hard to be disciplined when beautiful new recipe books arrive in the goodtoknow office every week. My current favourites are Scandilicious, a lovely book of Scandinavian-inspired recipes by blogger Signe Johanson and the Free-Range Cook by Annabel Langbein, New Zealand's answer to Nigella. Keep an eye out for recipes from both on goodtoknow soon. And several of my most-used cookbooks are by TV cook Anjum Anand, so it was great to meet her and find out about her exciting plans for the rest of the year when she paid a visit to goodtoknow Towers this week (pictured). And she didn't come empty-handed, so Sarah from goodtoknow Recipes magazine and I got to eat her delicious spinach and paneer curry.
In the midst of all the moving chaos, I nearly forgot my own birthday night out! Thankfully my lovely friends hadn't and I was so moved when my friend V showed up at the bar with a beautifully-iced version of Nigella's cult chocolate Guinness cake - topped with a cool cream cheese frosting and fresh red roses. She even got a cake knife past the grumpy bouncers by wrapping it in lots of gaffer tape. We have a recipe for Guinness cupcakes on the site and 100s more birthday cake recipes if you fancy baking for friends or family - receiving something homemade is such a treat.
Let me know what you've been cooking this week by leaving a comment here or on our goodtoknow Recipes Facebook page, or email your original recipes to goodtoknowrecipes@ipcmedia.com. Happy cooking!
Katy
Where to next?