Antonio Carluccio's courgette fries
Print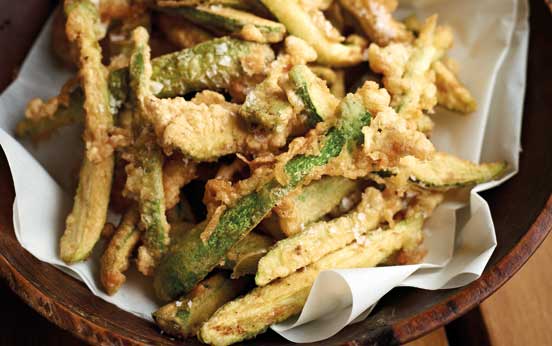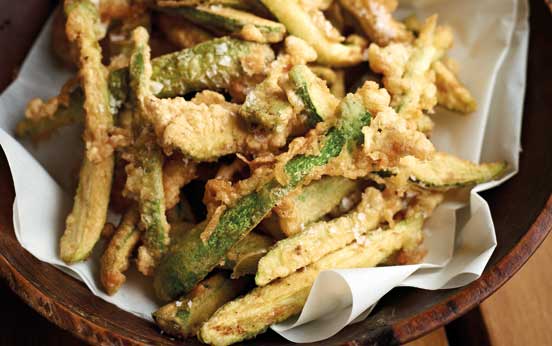 Serves: 4

Prep time:

Cooking time:

(per batch)

Total time:

Skill level: Easy peasy

Costs: Cheap as chips
These delicious courgette matchsticks make a nice change to oven chips - and they're a great way of getting the kids to eat more veg!
Ingredients
600g baby courgettes
olive oil, for deep-frying
salt and freshly ground black pepper
Batter
2 tbsp plain flour
2 eggs, beaten
Antonio and Gennaro say: 'Courgettes are probably the most used vegetable in Italy, although they are not given the praise that they deserve.Though the courgette may be humble, it produces wonderful results. It can be eaten raw, fried in slices, baked or grilled whole, stuffed, included in both lasagne and parmigiani'
Method
Top and tail the courgettes and cut them in half lengthways. Cut out the white centre and seeds, if there are any, (this part is too watery for frying), and slice the the remainder into batons. Cut these in half widthways so that you are left with matchsticks about 5cm long.
Heat the oil in a large, deep pan until slightly smoking.
Meanwhile, mix the flour and eggs together to make a light batter. Season with salt and pepper. Dip a handful of the courgette matchsticks into the batter, then plunge them into the hot oil. Deepfry in batches, separating them with a spoon, until they crisp, about 4–5 minutes. Drain well on kitchen paper.
Sprinkle with salt and pepper and serve immediately.
Your rating