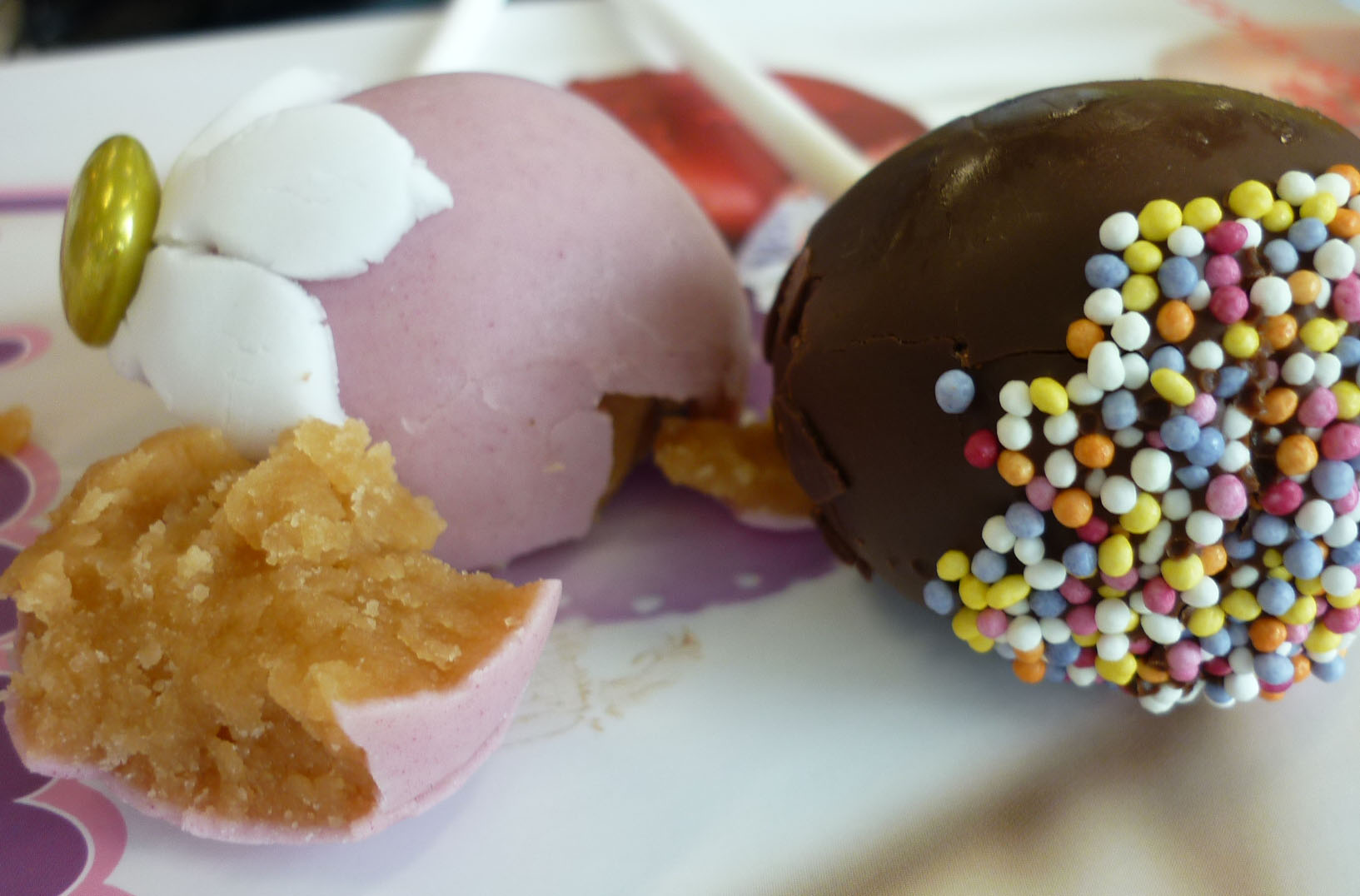 Monday 4th July

There's no escaping cake pops at goodtoknow at the moment! For those of you that aren't in the know, cake pops are bite-sized portions of cake on sticks. You make them by shaping cake crumbs and frosting into small balls, chilling them in the fridge and then covering them with melted candy. They're the big cake trend this summer, but I hadn't actually tried one until one of the leading supermarkets sent some of its new cake pops over to goodtoknow Towers (pictured). We were split 50:50 between loving them for being pretty, cute and a sensible-sized portion, and wishing they weren't quite so sweet.
I think the reason cake pops have become the latest baking craze is because you can really be creative with them and let your imagination go wild. We've got recipes from US cake pop queen Bakerella for cupcake pops and sheep (look out for another recipe from Bakerella later this week), plus a how-to video, and a step-by-step guide to making basic pops from talented British baker, Molly Bakes. I've got a fun idea for some pops that I don't think has been made before, but I'm going to try the basic ones first - I'll report back soon!
One of my favourite desserts as a kid was
black forest gateau
. Do you remember the frozen one from the supermarket with layers of cream, cake and black cherries? Delicious! It was once as fashionable as 2011's cake pops, and I have no idea why it ever fell out of fashion. So I'm definitely going to be making Victoria Threader's brilliant
black forest cupcakes
this week - the black forest revival starts here, people!
I'm looking forward to Christmas this week. Seriously. Every summer all the big retailers hold Christmas previews for journalists so we can get an idea of what the big toys, trends and foods will be this Christmas. If you think the shops have decorations in stores too early in October, imagine eating a truck load of mince pies and figgy puds in the midsummer heat. I actually love 'Christmas in July' as it's known, mainly for the surreal factor of wondering through winter wonderlands in a summer dress. And the excuse to drink mulled wine, too!
In contrast to the sugary cakes and Christmas treats, I'll be making quick, easy and healthy dinners this week. My current favourites from goodtoknow are this lovely light steamed cod with a warm new potato and pea salad, and the ever-versatile stuffed peppers. I love them filled with puy lentils, crushed garlic softened in the pan with tinned tomatoes, flatleaf parsley and a little Cheddar.
What are your favourite summer recipes? What recipes would you like to see more of on goodtoknow? Let me know by leaving a comment here or on our goodtoknow Recipes Facebook page, or email your original recipes to goodtoknowrecipes@ipcmedia.com.
Happy cooking!
Katy
Where to next?