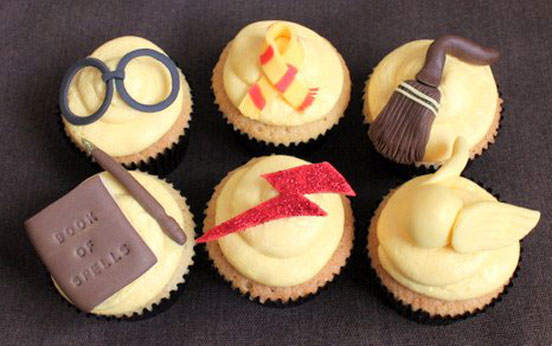 Monday 4th July

There's one topic dominating the conversation at goodtoknow Towers this week and it isn't the News of the World, Posh's new baby or the off-the-scale adorableness of Kate and Wills on tour. It's Harry Potter! We're (almost) all huge fans of Harry Potter and we're very excited about the last movie in the series,
The Deathly Hallows: Part 2
which comes out this week. To celebrate, we asked goodtoknow's cupcake queen Victoria Threader to create some
Harry Potter-inspired cupcakes
. The results (pictured) are just brilliant. Make them with the kids, for birthday surprises, or to thank a teacher at the end of term.
On Mondays we usually ask 'what was the best thing you baked or ate over the weekend?' on our Facebook recipes page. Your answers are always impressive. Here's just a few from today:
'Spiced beetroot chutney from the harvest of beetroot in my garden' Beccie
'Cookie Monster cupcakes and triple choc cookies (to go in the Cookie Monsters!)' Nikki
'Soda bread. I've never made it before and it came out really well.' Dolina
I'm doubly impressed with all your efforts as I haven't managed to do any baking this week. My hands are getting twitchy with baking withdrawal (does anyone else get this?) so I'm making kitchen time a priority this week. I discovered officially the most delicious muffins in the world last week: giant raspberry and dark chocolate muffins from The Table, a great cafe near where we work, so I'm going to try and recreate those at home. I'll post the recipe if it's a success.
One thing you're telling us more and more on Facebook is how much your weekly food bills are soaring - it seems that everytime we go to the shops, supermarkets have put the prices up. We're working hard to bring you lots of delicious but cheap recipe ideas. If you haven't seen them already, check out our supermarket savers and weekly 7 dinners under £1 a head which are priced weekly using the latest offers so you can be sure they're as up to date as possible. It's great to see so many of you are growing your own and harvesting the benefits. I'm trying to grow tomatoes, radishes, garlic and herbs at home - some of the plants are doing better than others in our shady garden but it's fun trying! If, like me, you need a little advice check out goodtoknow's easy guide to growing your own. Or if your tomatoes are doing much better than mine and you've got a glut - have a look at our tomato recipes.
What are your favourite budget recipes? Do you have any money-saving food tips to share with other gtk users? Let me know by leaving a comment here or on our goodtoknow Recipes Facebook page, or email your original recipes to goodtoknowrecipes@ipcmedia.com.
Happy cooking!
Katy
Where to next?