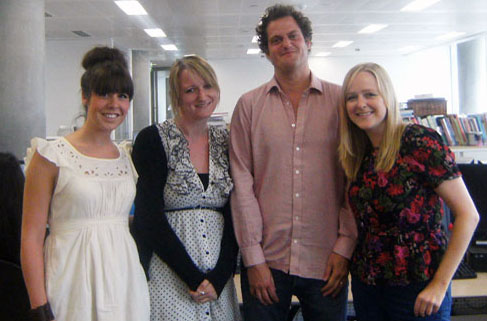 Tuesday 19th July

How far ahead do you plan your meals? We asked this question on our Facebook recipes page and it turns out lots of you are super-organised and plan the family's meals at the start of the week:
'I'm a menu planner, fortnightly plans, but weekly shop. If I don't do it we spend twice as much on groceries.' Adrienne
'I do it daily but am going to start meal planning in a bid to cut down shopping bills.' - Emma Louise
'I plan Mon-Fri. This week think its toad in the hole, chicken pie, lamb chops, pasta
dish and then sweet 'n' sour chicken stir fry... shame someone else's not
cooking for me though!' - Jane
'I decide on the day, buy fresh and cook.' - Julie
My week ends up being a mixture of the above. I try to plan ahead on a Sunday or Monday by browsing through my cookbooks and looking at my favorite new recipes on goodtoknow, which I bookmark during the week. But we also have a great Turkish greengrocers near where we live in south London. The fruit and veg there are fantastic and much cheaper than the supermarket, so I like to see what's good in the baskets and crates outside the shop on my way home from work. Living near a Turkish greengrocer also means we eat a lot of cheap and delicious hummus, halloumi and olives. Are there any good little food shops where you live?
I've been trying to work a wider variety of grains into our meals recently. There's so much more choice in the supermarket these days if you're bored of pasta, noodles and rice, or have a wheat or gluten intolerance. At the moment I'm loving polenta, which bubbles violently on the stove (so watch out for burns) and is ready in just a few minutes. Try it as a great alternative to mash, making cornbread or a crunchy coating for fish and chicken. It's also brill sprinkled on top of roasties to get them nice and crispy. And then there's quinoa, tiny grains from South America packed full of protein, with a delicate nutty taste. Quinoa (pronounced keen-wa) has been forming the backbone of our packed lunches this week - try it with cold roast chicken or make an easy quinoa tabbouleh with tomatoes, cucumber, flat-leaf parsley and Feta. Much healthier, and tastier, than a bought sandwich.
But a girl can't live on healthy grains alone, so when TV chef Valentine Warner popped into goodtoknow Towers with a new ice cream recipe for us to try, I was first in the queue! Look out for Val's new cookbook in the Autumn and more recipes from him on the site soon.
What are your favourite budget recipes? Do you have any
menu-planning tips to share with other gtk users? Let me know by
leaving a comment here or on our goodtoknow Recipes Facebook page, or email your original recipes to goodtoknowrecipes@ipcmedia.com.
Happy cooking!
Katy
Where to next?