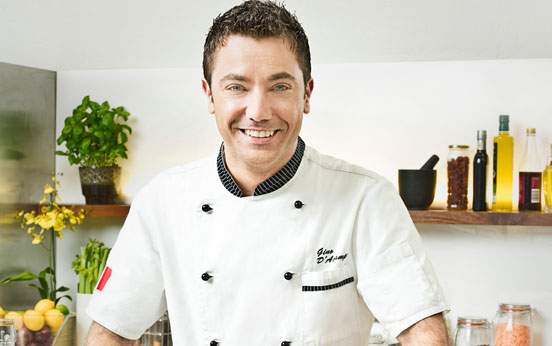 Top TV chef Gino D'Acampo has 2 sons under the age of 10, so who better to ask for his healthy lunchbox tips and tricks?


Make lunchboxes fun. With lunchboxes you can make them healthy but you can also make them very boring. The key is to make them fun. If I want my sons, Luciano, 9 and Rocco, 6, to have something that I know they're not going to like, I will find a way to hide it to make it fun for them.
Don't hide too much. You shouldn't hide too much because kids, at some point, need to know the look and texture of vegetables. If you hide it too much you're going to have a problem in 10 years time when you're trying to get them to eat it properly. The secret is to do it slowly. The way I do it is, if I make an omelette for my kids' packed lunches, the first time I completely puree the broccoli, the second time I coarsely grate the broccoli, the third time I chop it, the 4th time I slice it thinly so they can see the broccoli. I do it in gradual stages.
Choice is key. I make my kids believe that they have a choice. I don't tell them what they going to have, I ask them if they would like broccoli, cauliflower or carrot: so they choose between the vegetables. Giving them a choice is very important because all of a sudden they feel very grown up, but don't give them unlimited freedom of choice, tell them what they can choose from.
Think about freshness. There are certain things you just can't put in lunchboxes, they won't stay alive. Salads are good for healthy lunches but salad leaves like lettuce, spinach and rocket won't last the day, especially as you can't always trust kids to put them in the fridge. Make green bean salads or new potato salads with boiled eggs instead.
Research your food. When you're shopping, make sure you research properly. There are plenty of lunchbox fillers that are good for you but you have to look around and really read the ingredients.
Make treats from scratch. Everything is healthy if it is done from fresh. If you want to give them biscuits, make them yourself so you know what's going in them. You can make a batch of biscuits and freeze them for the week to fill their lunchboxes. See our quick biscuit recipes
Relax a little. If they want to have a packet of crisps, let them have a packet of crisps. It's not the end of the world as long as they don't have lots of fatty food. We have to be health conscious but we also have to relax.
Try pasta salad. Pasta salad is unbeatable in a lunchbox as you can eat it warm or hot. You can add whatever you like to a pasta salad so you can pick your kids' favourites, like tuna, chicken or salmon, and you can also sneak in lots of vegetables. See our pasta salad recipes
Omelettes are a great sandwich alternative. I love making frittatas or big omelettes for lunchboxes. You can fill them with vegetables and cheese to make them tasty and they chill really well. See our easy omelette recipes
Use up your leftovers. Being Italian, I love meatballs and tomato sauce in lunchboxes. Just put the leftovers from dinner in a little Tupperware box. They're delicious cold and they make the lunchbox fun. See our meatball recipes
Visit Cheestrings.com to learn more about Gino's Good Food Fight, and see how Cheestrings are helping mums make good food fun for the lunchbox.
Where to next?
20 healthy packed lunch recipes