Phil Vickery's Thai green fish curry
Print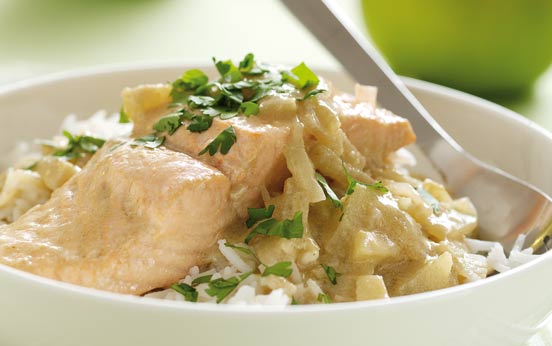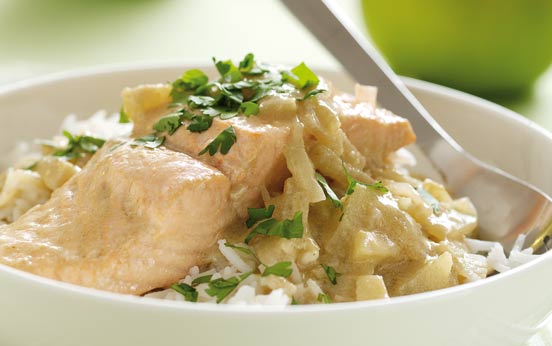 Serves: 4

Prep time:

Cooking time:

Total time:

Skill level: Easy peasy

Costs: Mid-price
Thai green fish curry is a mouth-watering curry recipe made with salmon fillets and cooks in just 10 minutes - great for a midweek supper! This Thai green curry by chef Phil Vickery has a bit of a twist to it, as it contains an unusual ingredient that works well with rich coconut milk. That special, secret, ingredient? Apple! A secret no longer, the trick of adding apple to this Thai green fish curry is that the apples add an extra crunch to the curry and a bit of sweetness to the final flavour of the dish. Although for Phil Vickery's Thai green fish curry he uses salmon, you could also make this curry with cod, as it's just as delicious with white fish! If you liked the look of the Green massaman vegetable curry that Phil Vickery made on This Morning, then you should definitely give this Thai green fish curry a try!
Ingredients
200ml coconut milk
4 small shallots, very finely chopped
1tsp caster sugar
2 level tsp green Thai curry paste
1tsp tamarind paste
2 medium Bramley apples, peeled, cored and chopped very finely
4 x 125g pieces salmon fillet, skinned
1tbsp fresh coriander, chopped
Salt and freshly ground black pepper, to season

Coconut milk boils over very quickly so keep an eye on it and heat over a lower flame if necessary, to stop it bubbling over the sides of the pan.
Method
Pour the coconut milk into a large frying pan, add the shallots, sugar, curry paste (add a bit extra if you like it hot!) tamarind paste, apple and season well and gently bring to the boil over a low-medium heat. Cook for 2 mins.
Next add the fish side by side to the pan, cover with a baking tray and simmer gently for about 2-3 minus, cook until the fish is just very slightly undercooked - it will finish off cooking whilst it is standing.
Carefully transfer the fish to deep bowls, spoon the sauce over the top and sprinkle on the coriander. Serve with basmati rice.
Your rating