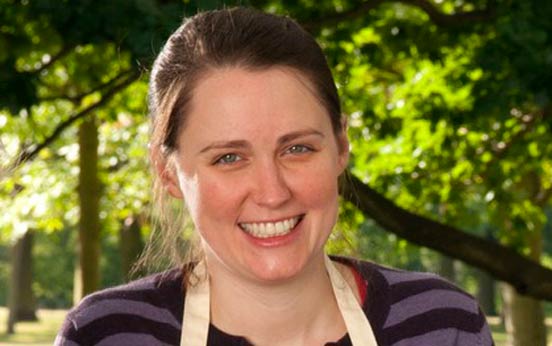 We loved her baking creations on The Great British Bake Off so we couldn't resist quizzing mum-of-two Holly Bell on her time on the show, top baking tips and what Paul and Mary were really like off camera!
How has life changed for you since entering GBBO?
Well, I'm about a stone heavier from all the testing during the series! Life is both the same, in that my main job is still to look after my sons, but also different as I am writing a cookbook and talking to lots of people about lots of exciting things. It's always been my dream to work with food so fingers crossed it's going to become a reality!
When and why did you decide to enter?
I decided to enter in January of this year. I was at home on maternity leave, knee deep in nappies and night feeds. I was reading a food blog one night that had a link to the application form and thought 'I fancy a go at that'. I guess you could say I wanted to do something for me.
Did you watch the first series?
I'm ashamed to say I only watched one or two episodes. At the time I was working in advertising and most of my evenings were spent working, unfortunately.
Who taught you to bake and how old were you?
My Mum and my Nanna got me started as a 3-year-old with good old-fashioned jam tarts, which I have to say, I'm still rather partial to.
When did you catch the baking bug? When did it become an obsession?
Throughout my twenties I read a lot of cookbooks (I now own more than 120!) and baked from time to time, but I think the baking obsession really took hold in the last few years, when I had children. My eldest son Charlie's 1st birthday cake took me hours – I didn't realise then that you had to knead fondant icing!
What are your favourite things to bake?
I love to make my grandmother's Cornish ginger fairings as they're so easy and incredibly moreish. They don't last very long! Savoury-wise, I'd have to say sausage rolls with homemade puff pastry and homemade caramelised-onion sausage meat. They take a long time to make but for a special occasion like a birthday party or Christmas they're worth it.
Was filming what you were expecting?
The filming process was kind of what I was expecting, in that I knew our every move would be filmed. I wasn't prepared for the fact that we were to wear our microphones for the whole day, even when in the loo. I soon worked out how to turn the sound off!
How much notice did you get before each bake and the technical challenges? What prep did you do for them?
We had to submit our recipes for the whole show (apart from the final) about a month before filming started which was a good thing I think. You could still change recipes if you wanted but at least it made you commit your ideas to paper which meant less last minute stress! I practised like a mad woman at home. I'm very much a 'practise makes perfect' person. I have never been able to wing it, more's the pity.
For the technical challenges we literally saw the recipe for the first time when Mel or Sue shouted 'Bake'. The only prep I did was to read Mary Berry's Baking Bible from cover to cover and try to make a few of the things that looked hard but that I'd not come across before.
Brandy snaps
were one of those.
How did you manage to juggle filming, practising for the challenges and looking after your two boys
?
My mum and husband are the unsung heroes of the Bake Off for me. Every weekend for 6 weeks my husband had to look after the boys single-handedly and in the week my mum would help me while I practised. They're both incredibly supportive and generous.
Are you planning to teach the boys how to bake?
Charlie (almost 3) and Max (almost 1) are big fans of baking. Max is more about eating the end result at the moment, but Charlie has been helping me in the kitchen for over a year. He's very good at mixing, stirring, cracking eggs and filling
fairy cake
cases. He does have a tendency to eat some of the ingredients before they make it into the bowl though!
Which challenges and bakes were your favourites?
I really enjoyed the pork pies technical challenge. I'd never made them before so it was a great learning experience. Hot-water crust pastry is funny stuff to work with, that's for sure! I enjoyed making the
Battenberg
too as it's my sons favourite cake which I'm embarrassed to admit, I'd always bought in the past. I simply thought it looked too difficult to make.
Challenge-wise I enjoyed making my signature pie the most. I love savoury food, especially anything involving blue cheese. I always think you most enjoy baking the things you find delicious. Well, I do!
Which was the hardest?
The Sacher torte was an incredibly hard technical challenge as the instructions were sparse. I found the celebration cake stressful too, as I made my own fondant which was very sticky to work with. I'll be buying my fondant in future I think.
Were there any really funny moments on or off camera?
There were so many funny moments on and off camera! Mel and Sue were hilarious, as was Ian. We all laughed so much. Sue gave Paul a lot of stick which he always took on the chin.
You had a tough week in the quarter finals – did you think you were out?
I was convinced I was out in the quarter finals. I kept wondering how easy it might be to get my car keys from the crew and simply drive home before the dreaded announcement. I was absolutely chuffed to bits to make it through! I think I may have been speechless, which for me is unusual.
When you found out you'd made the Bake Off finals, what were you most nervous about?
I was most nervous about timings as for the petit fours showstopper challenge I took on a lot. Too much in hindsight! Brandy snaps, Italian meringue buttercream, ganache, three sponges, pastry, frangipane, making jam, mousse and meringue. What was I thinking?!
Did Mary and Paul give a lot of advice off camera? What's the best thing you learnt from them?
Paul and Mary weren't really supposed to give you advice off camera, however they did give a lot of advice on camera that didn't make it into the final programme. Paul taught me how to properly roll a croissant for instance. Unfortunately he did this after I'd already rolled mine!
What are your top tips for budding bakers?
Find a recipe book you like, roll your sleeves up and have a go! Equipment wise, for someone new to baking I'd say to invest in two things: digital scales and an oven thermometer. My baking improved massively when I bought these two things.
You're a famously precise baker – tell us about your ruler! And are you always so precise when baking at home?
Ha ha! What they didn't show you was that other contestants used rulers too! I did make a special effort to be precise for the show as I knew it was important to Paul for everything to be uniform in size and presentation. At home my bakes have a rather more 'rustic' look! I certainly don't weigh cupcake mixture at home. Who does?!
Are you as precise with other types of cooking?
With other types of cooking I'm much less precise, more of a 'chuck things in the pot and experiment' type. I think that's how most mums cook.
Were you disappointed not to win?
Not at all! I'd have been disappointed not to be a finalist I think, but I felt the right person won. Jo was on fire all weekend of the final and had put in a great performance over the weeks. I felt so incredibly lucky to have been a finalist with her. And also lucky that I have made a great friend. We speak almost everyday.
What's next for you? Can you tell us any more about your cookbook?
There's so many things in the pipeline and unfortunately I can't talk about any of them in any depth – sorry! I can say that I am writing a cookbook and that it's a recipe book for families but that's all. I continue to write my blog
www.recipesfromanormalmum.com
and to update my Facebook page and Twitter too. (
@HollyBellMummy
)
Where to next
Recipes from The Great British Bake Off
Paul Hollywood recipes
Mary Berry recipes