Firework cupcakes
Print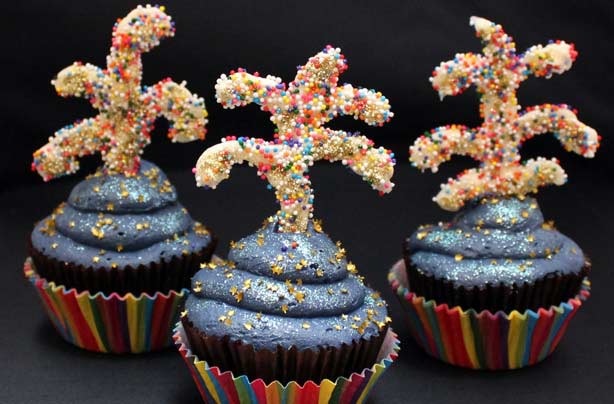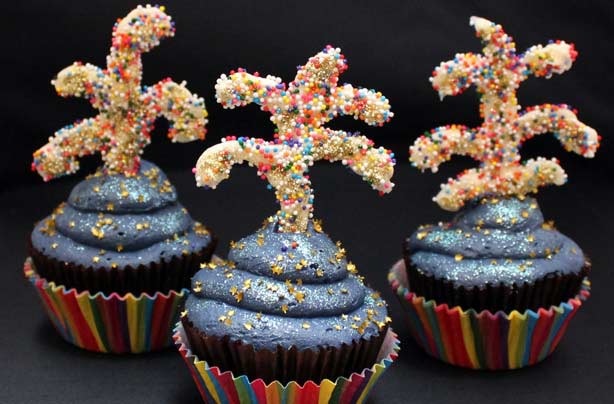 Makes: 12

Prep time:

(including decorating time)

Cooking time:

Total time:
Make your Bonfire Night celebrations go with a bang by making a batch of these sparkling firework cakes from goodtoknow's cupcake queen, Victoria Threader
Ingredients
1 x
basic cupcake mixture recipe
For the buttercream icing
110g butter, room temperature
500g icing sugar
1 tsp vanilla extract
60ml milk
Dark blue food colour paste (Victoria used Sugarflair's Navy)

Gold star sprinkles (Victoria got hers from eBay)

For the fireworks
1 bag of cream candy melts or 400g white chocolate
Coloured sprinkles and edible gold glitter

You will also need
:
Parchment piping bag for the candy melts
Piping bag and plain tip for the icing

Method
Make
1 x batch basic cupcakes
and leave to cool.
To make the fireworks
Melt the candy melts or white chocolate in the microwave on 30 second bursts on High until completely melted and smooth.
Put the melted chocolate into a parchment piping bag and snip the end off with a sharp pair of scissors.
Place a non-stick mat or sheet of baking parchment on your kitchen surface and pipe 12 firework shapes making sure you pipe a long stem with shorter 'branches' coming off it so each shape can stand up in the buttercream. Cover each shape with sprinkles and gold glitter immediately after piping it, while the chocolate is still soft. When you have finished all 12, pop them in the fridge to set for 30 minutes.

Method for the buttercream
Add the butter, icing sugar, a dot of navy blue food colouring and vanilla extract to a large mixing bowl, then beat for about 5 minutes with an electric whisk until smooth.

Pour the milk in gradually if you need to loosen the mixture (you may not need all of the milk).
Once the cakes have cooled completely,pipe the buttercream on the top of the cupcakes. To pipe a swirl like the one in the picture, attach a plain nozzle to a large piping bag. Place the bag in a tall glass (pint or tall picnic glasses work well). Pull the bag down around the glass and fill the bag 2/3 full by pushing the buttercream down into the bag as you fill.
Twist the icing bag and grip between your thumb and index finger. Place the other hand at the bottom of the bag and use this to guide the tip. Applying pressure with your hand at the top of the bag, start at the outside edge piping round the edge of the paper in a spiral towards the centre, pushing the tip into the icing as you pipe. When you reach the top, pull up quickly to finish the swirl.
After you have iced each cupcake, twist the bag again so the twist is always at the top of the buttercream.
While buttercream is still wet sprinkle with the gold stars. When the 'fireworks' have set, push
one in the centre of each cupcake.
Your rating