Raspberry cream cupcakes
Print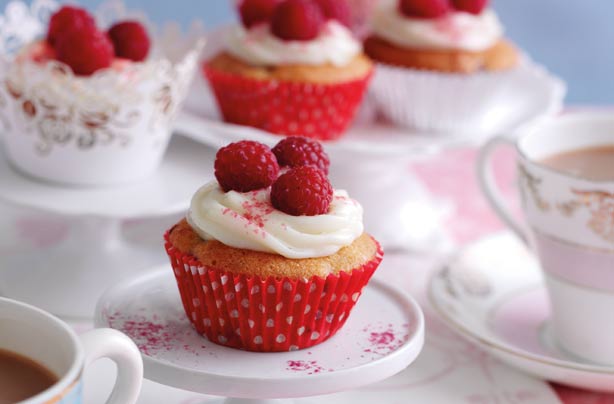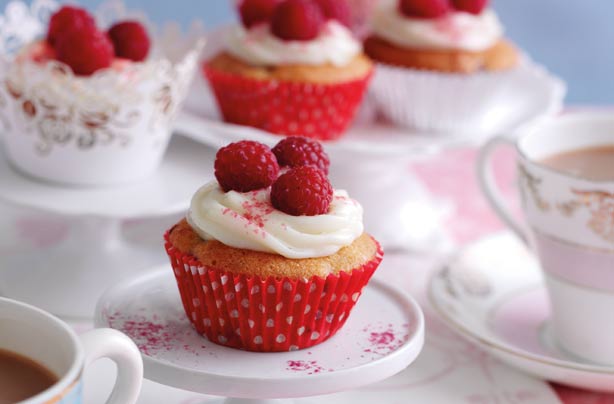 Makes: 12

Prep time:

Cooking time:

Total time:

Skill level: Easy peasy

Costs: Cheap as chips
These raspberry cream cupcakes are the ultimate indulgence. Top soft fruity sponges with a cream cheese frosting to make these cute sweet treats – the sharp taste of the raspberries in this recipe really compliments the sweetness of the cupcake recipe. Using fresh raspberries in the mixture and then topping the icing off with more fresh raspberries to decorate really makes this cupcake recipe special. This recipe makes 24 cupcakes and only takes 15 minutes to prep, plus another 25 minutes in the oven, so it's a great one to try if you want to whip up some tasty treats in a hurry.
Ingredients
For the cakes:
100g soft margarine
100g caster sugar
125g self-raising flour
2 medium eggs
1 tsp vanilla extract
100g raspberries, halved or quartered

To decorate
:
150g full-fat soft cheese
150g icing sugar, sifted
½ tsp vanilla extract
Extra raspberries and edible glitter flakes - optional

Method
To make the cupcake recipe, preheat the oven to 180°C/350°F/Gas Mark 4. Separate 12 foil or paper cup cake cases and put into a bun or muffin tin.
Add all the cake ingredients to a bowl except the raspberries and beat until smooth. Fold in the raspberries then divide evenly between the paper cases. Cook for about 15 minutes until golden brown and the tops spring back when pressed with a fingertip. Take out of the tin and leave to cool on a wire rack.
Place the soft cheese in a bowl and stir with a wooden spoon to soften. Gradually mix in the icing sugar then the vanilla until smooth. Pipe over the top of the cakes then decorate with the raspberries and glitter flakes. Add cupcake wraps if liked. Store in the fridge until ready to serve.
Your rating