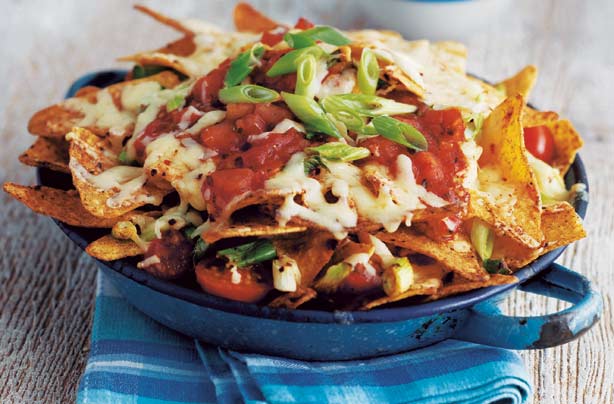 Give Dad a Father's Day he'll remember by making him one of our new Father's Day recipes. Our selection of new recipes also includes meals ready in just 15 mins! Try one of our brand new recipes today and don't forget to
send us your pics.
Father's Day recipes
Treat Dad this weekend by making him something special. Whether it's a homemade food gift, a surprise breakfast in bed or a home-cooked meal, we'll have an idea he'll love.
Cheese and chilli nachos
(pictured) Perfect TV food
Cumberland ciabatta with apple chutney
Naughty brekkie
Sea-salted caramels
Easy food gift
Marbled chocolate fudge cake
With cheesecake swirls
Corned beef and egg hash
Dad's fave
Peanut brittle
Crunchy bites
Black Forest gateau
Rich
Spotted dick
Classic British pud
Slow-braised beef in red wine
Warming casserole
Steaks with Madeira and mushroom sauce
Easy sauce
15-minute meals
Woman's Weekly has created a selection of quick and easy meals that are ready in just 15 mins. Keep these handy recipes up your sleeve for those hectic mid-week meals.
Courgette fritters with tomato and avocado salad
Healthy
Tortilla pizza
Quick base alternative
Spanish stir-fry chicken
With chorizo and peppers
Linguine with crab and mint
Light flavours
Tomatoes with saffron rice
Simple, yet delicious
Tandoori fish bites
Lower-cal curry alternative
Asian steak salad
With chips!
Bavarian hot potato salad
Unique flavours
Cupcake of the week
Father's Day rosette cupcakes
Simple design
See last week's new easy recipes. Your favourite recipe from last week was:
Sam's tea and biscuit cupcakes
Love baking? Send in your bakes and cake recipes to Cake corner.
The best cakes get their own spot in our
goodtoknow Recipes magazine.
We'll even pay you £25 if it appears.
There are more unmissable recipes in our brand new issue of goodtoknow Recipes, on sale now and only £2.20. Subscribe today
and get your copy for £1.58 per issue!