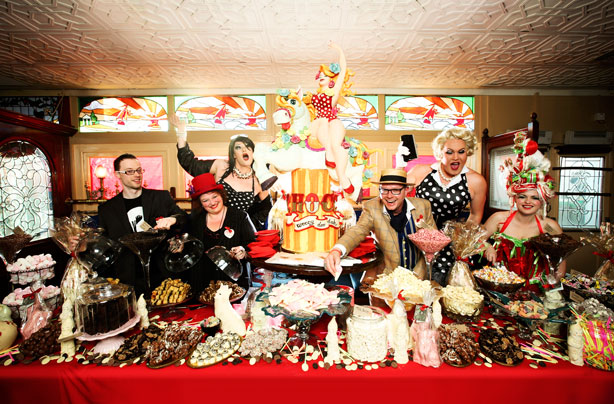 Chocolate can be one of the hardest things to work with. From melting to decorating we've all had our fair share of chocolate dramas. So here at goodtoknow we thought it was time to seek some chocolate handling advice from the chocolatiers at Choccywoccydoodah. Here are their top tips for stress-free chocolate crafting.
Christine's top tip
As head of the chocolatiers, Christine Taylor knows everything there is about the gooey, sticky, loveliness that is chocolate...
Christine says: 'Avoid using the bowl over hot water method to melt your chocolate. Water, steam and chocolate are disastrous combined. Always use the microwave - this is the best piece of advise that anyone could give you. First you break up the chocolate, put half in a bowl in the microwave and leave the other half to one side. Heat your chocolate on a medium setting and work it in short bursts. Melt it for 15 seconds, take it out of the microwave and stir for 15 seconds - even if nothing has happened yet. Chocolate should never be hot and this is the reason for keeping the spare chocolate to one side. If it becomes too hot and feels warm to touch, put the cold chocolate in and stir like crazy. This will reduce the temperature.'
Tom's top tip
Tom Robertson, creative chocolatier works with chocolate every single day (hard life!) and is the Choccy master of all things chocolate. He knows exactly what to do when chocolate is misbehaving...
Tom says: 'If you want to decorate set chocolate with glitter all you need to do is brush on some rum before applying the glitter and this will make it stick. It will also add more naughty flavour to the chocolate.'
Daveed's top tip
As cafe manager Daveed Brulin knows a thing or two about keeping chocolate stored properly...

Daveed says: 'Never put Belgian chocolate in the fridge. If you keep chocolate at room temperature it can release its aroma, but if you put it in the fridge the fat in the cocoa butter can cause it to have a thermal shock and it will look sweaty and you will loose flavour. If you have a large chocolate cake and can't eat it all - don't bin it, wrap it up and put it in the freezer. When you fancy some cake all you have to do is take it out to defrost.'
Choccywoccydoodah
is new and exclusive to Good Food, weeknights at 9pm from Monday 2nd July (Sky 247/ Virgin 260)


Where to next?
- Choccywoccydoodah ice cream sundae
- Choccywoccydoodah marshmellow sandwich
- How to make a Choccywoccydoodah chocolate bowl