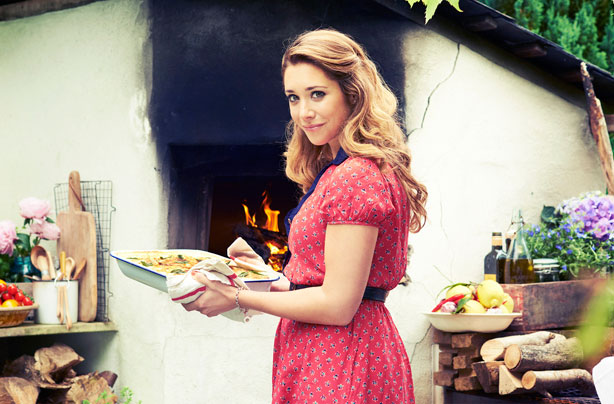 Channel 4's Simply Italian star, Michela Chiappa, tells us all about her new TV show and gives us all her top tips for cooking fresh and dried pasta and how to make Italian food healthy and cheap...
What can we expect from your new series?

Me and my family all live in Wales and me and my sister have always cooked Italian recipes passed down from my Nonna (grandmother). Channel 4 asked if we were interested in doing a show about pasta. We're not chefs, we haven't got any formal training, we've just been cooking it all our lives. This show is a crash course all about the basics of cooking pasta.
Episode 1 is the basics of making pasta. You don't need any gadgets, you don't even really need a rolling pin, you can use a bottle of wine. As long as you've got a sharp knife and something to roll out your pasta, you can make some delicious dishes.
Episode 2 is how to make filled pasta parcels, like spinach and ricotta filling. We go through the process of how you can do that by hand.
Episode 3 is all about pasta variations. So we do a gluten-free recipe and we do pasta pies which are great for picnics.
Episode 4 is for people that want to experiment with pasta. I wouldn't say it's complex because I don't think any of them are really complex, but it's for those people that want to try something a little different.
Why is pasta so important to you?
I suppose it's just something that we've been brought up with so it's almost like a staple for us, like bread. People will eat bread every day in the UK and everyone is used to eating sandwiches for lunch. In Italy, people are used to eating a plate of pasta for a quick lunch as it really doesn't take long to throw something together, it's just something that is literally ingrained in Italians.
What is your favourite pasta dish to cook?
I loved filled tortelli which are the little parcels that you fill with spinach and ricotta. You just pop them in the water and, once cooked, serve with a simple butter and sage sauce over the top. You can buy them in the supermarkets, but they'll never be the same as making them from fresh.
If I was just going to whizz up a plate of pasta for lunch, I love the really simple sauces. In the first show we do a Primavera - it's very speedy. Add slices of asparagus with lemon zest and olive oil and you're done. That's the great thing about pasta - you can just put loads of olive oil and Parmesan on and that's a dish in itself - chop up some basil leaves, grate loads of Parmesan and put some olive oil over some pasta and it's delicious.
How do you make your classic tomato sauce?
I put three main things in our tomato sauce. I chop an onion and fry, add in some finely chopped garlic, then throw in tomatoes. If you're using cheap tomatoes you might need a little bit of sugar as they're quite acidic. So 1tsp of sugar for cheap tinned tomatoes. Then I always put a stock cube in. So say if you're using one tin of chopped tomatoes, use half a stock cube and add half a tsp of Cajun pepper and 1tbsp of tomato puree. The stock cube, Cajun pepper spice and tomato puree help the flavours so that you barely need to put any salt in.
What essential ingredients do you need for making Italian dishes?
You have to have good quality olive oil, extra virgin for a salad or over cooked pasta or olive oil for cooking and you don't need to use the expensive stuff. Grated Parmesan is always living in my freezer and that is the best way to keep Parmesan.
Do you have tips for cooking Italian food with children?

In my family when you're walking and talking you're involved in the kitchen - whether that's simply to crack eggs or mix bowls. The older you get the more you get involved. My mum and my grandmother were always encouraging me to cook. When it comes to cooking with kids you can't worry about mess, it's the best place for them to learn. Pasta is a great way to encourage kids to get involved in the cooking. You can colour pasta in lots of different ways by using spinach to make it green, beetroot to make it pink and saffron to make it yellow. It doesn't change the flavour of the pasta, it just changes the colour. Pasta before it's cooked is like playdough - it's nice, spongy and elastic and when you get kids involved in that stage they have so much fun. You can make lots of shapes with it, cut it into squares - you can't really go wrong.
How do you make pasta dishes healthy?
If there are any recipes that say to use butter, you could use olive oil instead. I'm a big believer that salt is bad for you and I think Parmesan is a much healthier way of flavouring your food without putting salt on it. You look at Italians and they all eat pasta, they all eat bread and drink lots of wine and eat cheese but they just eat raw stuff that is homemade and fresh and I think that's the best advice I can give anyone: use fresh ingredients - don't go buying processed stuff and sauces, it's so quick to make your own sauce and that would probably be my tip for a healthy pasta dish.

Michela's top tips:
Don't ever buy ready-grated Parmesan because it's hideous. Buy a block of Parmesan, grate it all from fresh immediately, and then put it in your freezer. It keeps it fresh for longer and you can use it from frozen.
For cooking dried pasta, only use the time they've given you on the packet as a guide. The key thing is to not overcook your pasta. It must be 'al dente' which means 'to the bite' so the pasta should be soft with a little bite to it.
Use a large pot of water when cooking dried pasta. You should always have three to four times the amount of water to pasta. If you don't put enough water in the pan the pasta will stick together.
Always drizzle a little olive oil over the pasta after it's been cooked to keep the flavours in.
When you drain your pasta, don't drain every single ounce of water off it because pasta is really absorbent when it comes off the heat so keep a little bit of water so it doesn't dry out.
When making fresh pasta, always use '00' flour (double zero). It's a particular type of flour that really helps the dough to get nice and elastic and you'll find it in most supermarkets. It makes a difference and helps you to get that nice elasticity.
Never overcook your pasta. A lot of people will cook it and leave it, but pasta doesn't wait for anyone. If you're serving it for guests make sure they're all sat down before you throw it in the pot. If it's dried pasta it takes no more than 8-10mins. For fresh pasta it can take as little as 30 seconds. You don't want overcooked pasta, it's horrible!
Simply Italian, Mondays at 8.30pm on Channel 4.