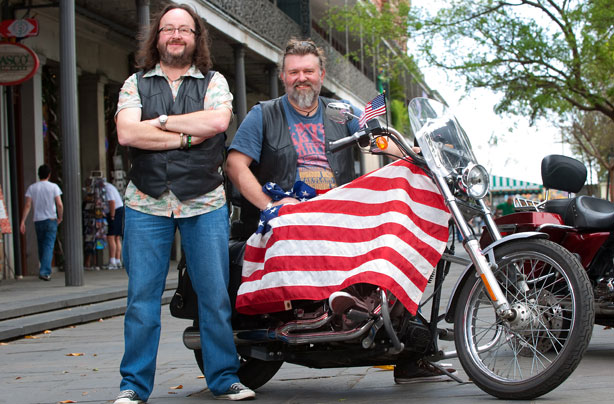 The Hairy Bikers' are back with a brand new series, Mississippi Adventure, on the Good Food channel this August. We caught up with the pie-loving duo to find out more about their new series and get their latest cooking tips and quick recipes just for you...
What can we expect from your new series?
Dave: I think it's one of the best things we've ever done. It's a proper passion project and Good Food were good enough to support us. It's food, it's music, it's motorbikes in equal measure. It's a wonderful trip from New Orleans, Lafayette, Memphis and Nashville and many others. We found a great American culture and a lot of our preconceptions about America were washed away and it's a cracking series. The food's great as well!
What was the best dish you found in America?
Dave: I think the best thing was that we found there was this deep-rooted food culture and everything was valid, like for example the Asian food culture in Britain. Cultures are linked together through food - like the Spanish who came to New Orleans brought with them the Paella which became the Jumbaella, the French came with their boiled bacon which became the Gumbo.
In New Orleans you put Creole into the mix and you get Cajun food which is fiery and alive, but has still got those roots in classical Spanish and French cooking. Then you go up to Memphis and you've got the most amazing BBQ foods - cooking with fire which again came out of the American indigenous Indians who taught the settlers how to cook over wood which they developed into an art form.
Si: And then you've got the diner culture in Memphis as well. Your meat is linked to the Rock 'n' Roll music - it was fantastic.
Dave: All of the food seems to have great 'yum' factor. It's not gimmicky food, it's just really good food.
What's your favourite childhood dish?
Si: My favourite meal that my mum used to make was a thing called flat rib broth. It was a beef broth that had had all sorts of lovely things; split peas, barley, steep peas and a big piece of meat. That used to go on the stove for hours on end.
Dave: Mine was my mum's fish cakes. She'd get a piece of hake from the fishmongers and she'd poach it in milk with a bay leaf and salt and pepper. Then she'd take the fish out, flake it, mix it with mash potato and parsley, then she'd dip it in flour, egg and those orange breadcrumbs. She would make a cheese sauce using milk and Cheddar. I remember those well.
Did you pick up any cooking wisdom or tips from your mums?
Si: I was always in the kitchen with my mum so I was always watching what she did. The one thing that my mum always used to say was how important it was to having patience with the pan. Make sure the pan is hot and all those little things. My mum always had an intrinsic knowledge of what food was best eaten at what time of the year and I think we've taken that on very much.
Dave: Mine was my mum's Yorkshire pudding recipe that I use all the time. Ever since I was a young boy she taught me how to make Yorkshire pudding and it was so simple.
We'd use an enamel tin that I've still got today. You put your oil in the tin and leave in the oven until it's smoking hot. Yorkshire pudding mix; 4tbsp plain flour, 1tsp of salt, 2 eggs, mash it together so it's like a putty and just keep adding whole milk until it goes to the texture of single cream. That's how easy it is to make the batter. You leave that batter to settle for a couple of hours, give it another whisk up, then you pour that into the steaming hot oil or goose fat if you're being posh. You will have Yorkshire puddings the size of a sky scraper. They'll be a bit gooey in the middle but really crispy on the outside.
What's your all-time favourite sweet dish to make?
Si: Do you want the honest truth? I'd much prefer a cheese board! I would say banana foster (bananas cooked in a sticky sugar and rum sauce) is pretty simple to make with ice-cream.
Dave: My favourite is a good trifle. I love taking the basis of a trifle and varying it. A really good recipe to do is soak your sponge with limoncello and scatter that with blackberries for your fruit. Make a pot of custard, pour that in and let it set. Fold lemon curd into the cream layer and sprinkle the top with chocolate shavings. You've then got a limoncello and blackberry trifle which is for grown-ups. Trifle is so easy to make into different versions, especially when you've got flavoured liqueurs - you could do one with banana liqueur and fresh bananas or with rum as well.
What's your all-time favourite savoury dish to make?
Si: The great thing about where I live is I can get great fish and shellfish. The most important part about cooking shellfish or fish is not to overcook it and keep it simple. Keep the dressings with it as simple as you possibly can - let the ingredients do the talking. 99% of great cooking is great shopping so just bear that in mind when you're trying to reinvent the wheel.
Dave: One of my favourite savoury dishes is slow-cooked meat. I get a shoulder of lamb as it's cheap. Wrap it in two or three layers of foil, add a tiny bit of water in there plus the usual suspects like sage, garlic, anchovies. Then fold the shoulder of lamb in foil really really tight so nothing can escape and cook it slowly for about 8 hours. And honestly you'll be able to shred that lamb like crispy duck. You can reheat it as well and it's really good if you cook it the day before. You can do it with pork as well and of course then you've got American pulled pork which is in this series on our Mississippi Adventure.
What are the top ingredients that every busy mum should have in their cupboard?
Both: Salt, pepper, pasta, rice, eggs, Worcester sauce, soy sauce, mixed herbs and beans - beans are the wonder food!

Hairy Bikers' top tips
5 tips for making a pie:
Always pack your pie well. There's nothing more disappointing then air voids in a pie so if you're going to do it, pack it well. The filling is as important as your pastry.
Try not to handle your pastry too much. Put it in a food processor and do it that way.
If you're blind baking small individual pies, make little cling film sacks of your pulses. You can use these little sacks as pads so you don't have to use greaseproof paper.
To stop a fruit pie from getting a soggy bottom, sprinkle on some semolina before you put your fruit on and it'll make a thick gravy at the bottom.
Paint the pastry case of your pie with a layer of egg white before cooking. That provides a seal between the filling and the bottom crust.
5 tips for cheap family meals:
Less protein, more veggies - one thing we do this with is brisket. Pork brisket is a very cheap meat to buy. Add in some onions, carrots, stock and let it cook for hours. A cheap and delicious family meal.
Buy in bulk - risotto is perfect for this. It's one of the most amazing dishes and it keeps for ages. You can make risotto out of almost nothing really as long as you've got the rice and a stock cube. Add in mushrooms and some cheese - it's as cheap as anything.
Shop around - if you live near an Asian community, have a look in an Asian supermarket. They sell fantastic fresh produce like herbs and spices which are much cheaper than general supermarkets. It's always worth going to have a scout around there.
Don't be fussy with the fishy - if you're making a fish pie don't go in the supermarket with preconceptions of what fish you're going to buy and just buy what's fresh and what's there at the time. Fresh fish is cheapest.
DIY - making things from scratch can be much cheaper than buying them already made. We make Chinese dumplings at home and they're as cheap as chips. You can make them with the kids as well. All you need to buy is won ton wrappers, you can get 50 for £1 and you fill these with a spoonful of mix each and you get the most amazing and largest dumplings ever.
Hairy Bikers' Mississippi Adventure is new and exclusive to Good Food, Sundays at 8pm from 19th August (Sky / HD 247, Virgin 260)
Where to next?