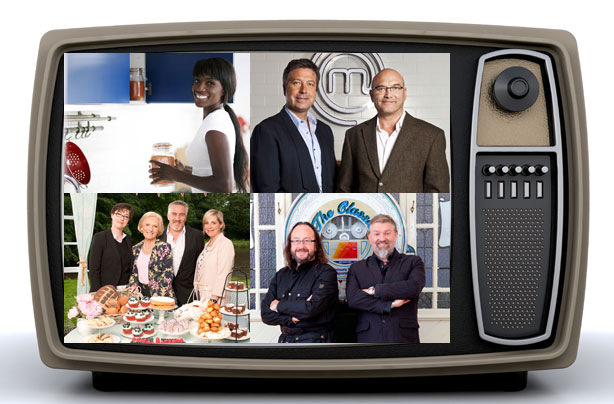 This month is such a good month for new cookery shows, we just had to give in and watch them all! Catch up with all our thoughts on the latest episodes and try our easy versions of the recipes featured.
Wednesday 10th October
Have you ever heard of the Great British Food Revival? The new series has started on BBC Two and it's definitely one to watch. A whole host of celebrity chefs from Ainsley Harriott to Mary Berry will take it in turns to champion a much-loved British ingredient - this show is packed full of good food and good company.


The first episode saw Michel Roux Jr take on the British classic, the strawberry - we love all things sweet and fruity and strawberries are one of our favourites. Teaching us all about strawberries, how they grow and what you can do with them left us craving a rather large punnet.

Michel also made an iced strawberry nougat, delicious. His strawberry soufflé with a crumble topping was by far our favourite. One word: jealous - why can't Michel be our friend?

James Martin made us smile lots with all his talk about watercress - who'd of thought it would be such an interesting ingredient? We thoroughly enjoyed seeing him in a hat and wellies out in the watercress fields, it made a nice change from the kitchen.

We really loved the look of his spiced watercress butter with dover sole - what a mouth-watering dish, we wish we could of grabbed a plate and joined him.

Next week it's Gregg Wallace and Clarissa Dickson Wright's turn to campaign raspberries and rabbit - we'll be watching.

Tuesday 9th October 2012
The Great British Bake Off is getting very, very exciting!

The semi-final had to be something nice and tricky - French baking was the perfect choice.
Petit fours, choux pastry, that Fraisier cake - the bakers were certainly pushed to their limits in this tense round.
Two bakers really stood out from the rest. Brendan has been a consistent baking force so we never doubted that his elegant swan pastries would be nothing short of perfect. James has finally delivered on his early promise, his inventive ideas are what makes the Bake Off truly exciting - those chilli macaroons looked delicious!
We really felt for Danny this week. After being consistently good in the previous weeks she fell apart at the most important stage. Her shapeless Fraisier cake really spelt the end for her. John pulled a miracle out of the bag and his passion fruit Gâteau St Honoré was so tasty, it made up for all his previous mistakes.
And so, an all-male final! We can't wait to see what they come up with next week....
Tuesday 2nd October 2012

This episode of the Bake Off was all about the crunchy and sweet delights that are biscuits. From crackers to gingerbread, we were hooked from the word go.
With Sue dishing out the old baking jokes; 'are they going crackers?' 'will they snap under pressure?' the first round, of course, was crackers - 48 identical crackers! We have no idea how they'd do it - poor Cathryn, her face was a right picture when she forgot about her crackers cooking in the oven! James' crackers may have not been all the same size but they tasted delicious and Paul was very impressed, we don't think even he was expecting that.

Baking in the summer is always tricky so we really felt for them making those tea cakes in that hot tent. Chocolate and sunshine is a dangerous combination as Cathryn found out when she decided not the put her tea cakes in the fridge - disaster! Brendan's tea cakes by far had the best shine and looked so tasty we just wanted to have a bite.

And how amazing was the gingerbread round? Puts our little gingerbread house to shame! John blew away the judges with his gingerbread Roman Coliseum and we couldn't believe Danny's Big Ben stayed put. We were sad no one went extra Christmasy and made a classic Christmas gingerbread house but Brendan was near enough, even though his shredded wheat roof tiles let him down.
After struggling in earlier shows James finally wowed in all 3 rounds and was crowned star baker. With Cathryn the obvious choice to get the boot - it leaves just Danny to fight it out for the girls in the semi finals next week.

And it looks like the contestants are going to be up to their necks in French pastries. Who will make it through to the final? We're so excited to find out!

Monday 1st October
Once again Nigella invites us into her Italian-inspired kitchen with open arms sharing all her saucy secrets for making Italian food as simple as possible.
By far our favourite dish Nigella cooked this episode was her succulent Italian roast chicken served with sunny saffron orzotto - delicious.
The icing on the cake was her sweet and every-so-tempting coffee ice cream. The weather may be getting colder and summer is definitely on it's way out, but that did not stop us from wanting some of that creamy thick Italian ice cream.
We're looking forward to more classic Italian dishes from Nigella next week.
Tuesday 25th September
Yet again The Great British Bake Off contestants were pushed to their limits.
This episode saw them bake one of our favourites - buns. From hot cross buns, iced buns to Chelsea buns with a twist, we couldn't keep our eyes off the TV or off the contestants buns (we're sure Mel and Sue appreciated that joke, seeing as they were cracking them all evening!) By far our favourite was Danny's Bakewell Chelsea buns. They looked so delicious - we wished we could of joined Mary and Paul for the tasting. Ryan got a thumbs up for the best textured lardy cakes which he seemed pleased about.

Onto the technical round. Oozing jam, spongy insides - we've never craved doughnuts so much in our lives! Poor Catherine however was not enjoying the experience and labelled this Bake Off challenge as 'doughnut doom' - brilliant! The timing of deep frying a doughnut is everything and you could tell the contestants were determined to get it right. Unfortunately Sarah-Janes' doughnuts were ever-so-slightly raw (oops) and Brendan's sweet jammy treats were just a tiny bit under done. We were glad to see doughnut pro, James win this round - well done!

The show stopper challenge this episode was to create a celebratory enriched dough loaf - very tricky, you could tell the pressure had well and truly been turned up. James went a bit mad with the whisky in his whisky and Kugelhopf-Brioche baba and knew Paul would have something to say about it (and he did!). Our favourite was Brendan's black forest Christmas stolen which made us feel all warm inside and excited for Christmas. We were very happy to see Danny named star baker - she definitely deserved it, especially after her European Christmas wreath with chopped pistachio and soaked sultanas.

Poor Ryan and Sarah-Jane got the boot. Sarah-Jane just didn't have any good rounds and her show stopper pushed her over the edge. Ryan's show stopper, Char Siu Bao sounded good but definitely didn't look or taste any good - oops. Paul was rather disappointed. We do hate to see the contestants leave but we're so excited for next week - biscuits, crackers and gingerbread! What more could you wish for?
Monday 24th September 2012
Nigella is back with her brand new series, Nigellissima.
Well, one thing's for sure, Nigella definitely has a way with words. From gloriously indulgent
chocolate
to blistering gold
cheese
, Nigella had us hooked from the word go. Cooking some classic
Italian recipes
like Sicilian pasta with
tomatoes
, garlic and almonds and tagliata, she taught us how to make Italian classics at home (although our kitchen isn't quite as grand or well-stocked as hers!)
Nigella's enthusasiam for Italian food was clear throughout. Telling us of her close links with the country showed her emotional connection with the food and meant she could show us dishes we wouldn't normally associate with the country. The
steak and chips
, for example, was given a wonderful Italian twist with her extensive knowlege of the flavours of the cuisine.

The highlight of the show for us had to be the naughty chocolate hazelnut cheesecake - how much did you just want to lick the bowl clean? Smoothing the chocolate mixture into the cake tin and making it look ever-so-easy, Nigella even saved the whisk for later (naughty!) We really wanted to just grab a plate and join the party.

We're definitely looking forward to seeing what Italian dishes Nigella is going to rustle up next week - we just know it's going to be heavenly. Watch this space!

Tuesday 18th September
It was all drama in The Great British Bake Off kitchen.

There was blood, dropped puddings, dough flinging, our favourite on-screen duo fighting and a shock elimination result.
You could tell from the off Paul Hollywood was taking no prisoners. As the show gets down to the final few weeks he warned he'd get tougher - and boy was he telling the truth. The only person not scared of him was the lovely Mary Berry who actually went as far as to completely disagree with him at one stage to save a poor contestant's feelings.
But what about the baking? The sponge puddings - including 3 sticky toffee puddings - produced varied results with Danny's dropped puddings still impressing on flavour. The extra tricky technical challenge - meringue, jam and custard all in one dish - a Queen of puddings is a notoriously hard dish to get right.
How hard did those strudels look? Even baking expert Mary admitted to buying the pastry ready made rather than stretching it out to the thinnest pastry we've ever seen. There were inevitable soggy bottoms and leaky strudels, but some of the bakes created did sound absolutely delicious. And poor poor John, he tried to carry on with a heavily-bleeding finger until he had to be almost-literally pulled away from his strudel.
No real surprise about star baker. Brendan has been slowly pulling away from the group with consistently amazing bakes and this week his creations really shone. Danny has also emerged as a surprise favourite after a few weeks lurking in the shadows.
And the big surprise? No one's going home! In a Bake Off first they felt John's injury meant they were unable to judge the remaining bakers fairly. They live to bake another day - but that means two people must leave next week! We hope James ups his game - he was dangerously close to being kicked out and we love his unusual creations.
Very excited for doughnuts next week - we're a little bit obsessed with them right now!


Monday 17th September
And so it's time to say goodbye to Lorraine Pascale with the last episode of Lorraine's Fast, Fresh and Easy Food - sob!
But before she left, Lorraine still had the time to show us some deliciously easy family favourites.
Homemade pizzas, curries and easy pork chop dishes were turned into gastronomic delights as Lorraine worked her magic. The thing we love about this show is how she makes us really want to try the recipes - and makes us believe that we'd be able to produce results as delicious as she does.
It was the sweet treats that really caught our eye this week, those no-cook peanut butter squares have definitely made it onto our to-make list and our version of that pear frangipane tart will be gracing our dinner table this Sunday.
Lorraine promised fast, fresh and easy food with this programme and she has provided just that: no nonsense, delicious food. Smart, sleek and stylish, the love of food was at the heart of every episode as Lorraine showed us that is really is possible to eat great food even on the busiest of days. We'll miss you, Lorraine!
Tuesday 11th September
It's pie week on The Great British Bake Off!
Notoriously tricky due to the complex pastry recipes, pie week really sorts the star bakers from the amateurs.
Have you ever made a beef Wellington before? It's very tricky to get right, especially if you have to make your own rough puff pastry, there were soggy bottoms all over the place! Brendan has really come out of his shell and his inventive Scandinavian pastry even impressed tough critics Mary Berry and Paul Hollywood. We've loved the look of Cathryn's full English Wellington as well - perfect weekend family food.
This hot water crust pie was the hardest technical challenge yet. Watching the bakers struggle with the pastry dolly was excruciating and the line of finished pies was a real picture.
While not as dramatic as previous showstoppers, the American pies threw up some classic Bake Off moments. Poor Cathryn - her chances of star baker were dashed when her lovely-looking peanut butter pie was labeled as tasting 'awful' by the judges.
How amazing must Ryan's key lime pie have been to pull him up from last place in the technical challenge to star baker? Paul and Mary did say it was the best thing they've tasted in all 3 series of the Bake Off - amazing! Other pies that caught our eye were James's not-so-pretty but delicious-sounding sweet potato pie and Brendan's red, white and blue fruit pie. We were in pie heaven.
No real shock over the evicted baker. Poor Manisha really tried to make her pies work but one disaster after another, including her dilapidated showstopper pie, made it obvious that her time of the Bake Off was over.
Pudding week next week - strudels and sponge puddings will push the contestants to their limits. We're getting hungry just thinking about it!
Monday 10th September
Right from the word go we just knew that Gordon Ramsay's Ultimate Cookery Course was going to right up our street. Gordon Ramsay turning delicious, complex dishes into simple wonders that we can make in our own kitchens - now you can't get better than that. We've never felt so calm watching Gordon before - he's usually shouting and swearing up a storm but this was the complete opposite and we loved it.

It was back to basics, teaching us how use a frying pan and what dishes are great for making it in. He made a mouth-watering pan-fried pork with sweet and sour peppers which looked amazing - we had to hold ourselves back from drooling all over the TV! Along with pan-fried scallops with crunchy apple salad, chicken and chicory in marsala sauce, seabream with tomato and herb salsa it was culinary heaven, we just wanted to whip out the frying pan and start cooking.

Our favourite part of the show was Gordon's essential cooking tips. From how to keep your knife sharp to how to peel garlic, we were learning lots of new tricks that are sure to come in handy especially his tips on what to look out for when buying food products in the supermarket.

The grand finale was a succulent whole roasted and stuffed chicken which would be perfect for Sunday dinner - we know what we'll be rustling up this weekend. Next episode he'll be teaching us more useful cooking knowledge including how to make chilli beef and lettuce wraps, where to buy knives and food shopping tips - we can't wait!

She's worked her wonders on comfort food and baking and this week Lorraine Pascale turned her hand to posh nosh.

As ever, her aim was to make it Fast, Fresh and Easy and she did just that. Lorraine created stunning dishes that she made look effortless.
The white chocolate cherries and lollipops were so simple and so clever - and the super slow motion shot of the white chocolate melting almost had us rushing to the nearest shop!
And don't get us started on the churros. Those deep-fried wonders looked so delicious - we're slightly worried that finding out the stall's just round the corner from the GTK offices might lead to a serious addiction!
Canapés, lamb with a delicious couscous base and Lorraine's top tips for easy cocktails rounded out this posh episode and as ever, we really, really want to be invited round Lorraine's house for dinner.... pretty please?


Tuesday 4th September
Yet another delicious episode from The Great British Bake Off. From flourless tortes to gooey meringues we just knew we were in for a treat. Working against the clock it was first time we saw all of the contestants struggle...
For the signature bake round they made a classic torte. Marked on flavour and structure, the heat was well and truly turned up in the Bake Off kitchen - we could feel the tension. Our highlight of this round was John listening to his torte, waiting for it to sing! Unfortunately it didn't, and the end result was rather disappointing for Mary and Paul. Our favourite torte had to be Cathryn's impressive dessert, white chocolate, macadamia and coffee torte. We wanted to grab a spoon and join the judges - yum!
All of the bakers seemed rather frazzled making crème caramel for the technical challenge. We felt sorry for Manisha and Stuart who had to serve their crème caramels in ramekins, instead of turning them out. They were just too soft to stand up on their own - oops!
The final challenge of the day was making crispy, gooey meringues. They all looked amazing. Our favourite was Brendan's mouth-watering masterpiece. Brendan definitely deserved to be crowned star baker.
Poor Stuart got the chop this week and had to say goodbye to his fellow bakers. We were sad to see him go (no more eye candy!). Next week the contestants face a gruelling pie challenge which seems as though they'll be getting messy - very messy. We can't wait!


Monday 3rd September
This episode of Lorraine Pascale's Fast, Fresh and Easy Food took us on a delicious baking journey. From sweet puddings to savoury joints of meat, we were in the mood for baking!
A sweet and sticky banana upside down cake stole the show for us. If only we could have been there to sample some. The soft sponge and gooey banana bottom just made our mouths water with jealousy - we really want Lorraine to be our best friend!
The slow-baked, fast-prep leg of lamb looked so succulent and tender. We'll definitely be trying that this weekend. This was followed by Lorraine's spicy baked barbeque chicken wings - what a great way to jazz up your chicken.
We love how passionate Lorraine is about baking and how she's full of easy and fuss-free ideas that she's willing to share with us - thanks Lorraine! Until next week...
Tuesday 28th August

Tart week on The Great British Bake Off!
From the outset Mel and Sue joked that there was nothing they could think of to joke about tarts - yeah right! There were soggy bottoms left right and centre as the infamous Bake Off innuendo reached its naughty heights.
But what about the food? Notoriously tricky, tarts have always challenged the bakers in previous years, but we have to say this year's contestants really rose to the challenge.
Tarte tatin is something we always order in a restaurant, but dread making at home. But aside from a few wobbles, the bakers produced some delicious results. James's lavender-infused tart sounded delicious and we just wanted to take a massive bite out of Mary-Jane's classic banana tart tatin.
The show-stoppers are really something quite special this series. Some of the tarts being produced were like works of art - James once again left Paul speechless with his rose-flavoured tart with homemade macaroons. And what a turnaround for Stuart, bottom two for the last two weeks then considered for star baker! His triple chocolate tart did look delicious, though - well done, Stuart.
And so it was Victoria who got the chop. After showing such promise in the first week she failed to keep up with the very high standards on this series - who'll be next to go? Y'know, we really couldn't call it.
Meringues and crème caramels will certainly test the bakers next week - we can't wait.


Monday 27th August
This episode of Lorraine Pascale's Fast, Fresh and Easy Food focused on the best of the best - simple classics with a twist. From warm apple pie to homemade bread, our mouths were already watering and it wasn't even 5 mins into the show!

By far our favourite was Lorraine's delicious twist on a classic Sunday roast, spicing her whole chicken with peri-peri flavour. It looked so succulent, we just wanted to grab a plate and join her - we're definitely going to try this one out on Sunday!

Our sweet favourite (of course you have to have sweet after savoury) was her ever-so-easy Eton mess with a neat and tidy twist. Piping the meringue mix in circles, topped with a spoonful of thick cream and fresh juicy blackberries, Eton mess has never been quicker to make.

We really do love how easy Lorraine makes everything look. Her recipes will keep us busy this week - we can't wait to see what she'll come up with next week.
Thursday 23rd August

It's the last episode of The Hairy Dieters and we're very sad to see this series end.
Not just about the food, this series has given us a glimpse of the real Si and Dave. Seeing their family life, history and their real concerns about their weight have made us love them even more. We couldn't help smiling when they boys excitedly tried on their old jeans, finally zipped up their jackets over their bellies and dreamed of buying fancy suits that fit.
Cutting the food but not the flavour was the motto of the whole series and the boys certainly did their best to make healthy food seem delicious. This episode's focus on party food produced lower-fat cakes and taco shells that were under 500 calories.
We've learnt some great calorie-cutting tips from this show. Vegetable oil and yogurt in cakes instead of butter, cornflour and milk to make a low-cal white sauce - we could go on. And we could really sympathise with Si when he struggled not to lick the bowl after making the cakes - it's our fave part too.
But it was all worth it. We were so happy for the boys when they found out they had both lost almost 3 stone in 3 months - good work.
Rather than focusing on fad diets, The Hairy Dieters was about changing the way you eat for life. The boys and their families both noted how much happier they were after losing weight - and if they can do it, we think we can too.
Tuesday 21st August

Time for the dreaded bread round on The Great British Bake Off.
As Paul Hollywood said, the previous winners have always done well in the bread stage so we were very interested to see who shone.
In the showstopper round it seemed there were good breads nearly all round, apart from last week's star baker Victoria and Peter's below-par bakes. Some of the flavours being put into those flatbreads made our mouths water - mango, lime, coconut, cheese... we're in bread heaven!
And can we just talk about the 8-plait loaf? Talk about giving the contestants a tricky challenge! Part baking, part knitting, the construction of the intricate loaf nearly sent the bakers over the edge. How funny that it was the boys James and John who excelled in plaiting - have you been practicing, boys?
Have you ever tried making homemade bagels? The bakers made it look like a piece of cake as they whipped up their sweet and savoury creations. The usual disasters were few and far between - aside from a few wincing bread-sticking moments - and this episode made way for some truly delicious-looking bakes.
John may have struggled to shine in the first week but he was crowned star baker after proving his chops in the bread round - could he now be a contender? James also got a very rare 'well done' from Paul for his impressively tricky sourdough bagel.
Poor Peter, his cakes looked quite nice last week but it really does come down to the day as his breads failed to impress the judges and he was voted off. We were surprised to see Victoria in the bottom three but not so much Stuart - we wouldn't be surprised if he was the next to go. But hey, anything can happen - bring on the tarts!
Monday 20th August
Lorraine Pascale's Fast, Fresh and Easy Food focused on one of our favourite types of food last night, comfort food. Or as Lorraine put it - food that makes you 'smiley inside' by giving you a 'hug from within'.
There's just something so relaxing about watching comfort food being prepared. From the impressive stack of ginger American-style pancakes with maple syrup (how much do we want to go to Lorraine's for breakfast?) to the deliciously simple chocolate cake pops, we wanted to eat just about everything on offer.
Easy food was again the main focus and her simple chorizo and prawn pasta in a rich tomato sauce and vegetarian lasagne looked so easy we're already planning on making them for dinner this week!
Lorraine's laid-back style is so relaxing, cooking with a massive smile on her face, she really makes you think you could make food as impressive-looking as hers.
'Try telling me you're not tempted,' she said at one point. We can't, Lorraine!
Time for the last episode of Michela Chiappa's Simply Italian (sob!).
Oh we do love a wedding! Michela and sister Emmy's joint Italian wedding is the perfect end to the lovely family-focused series - but first, there's more pasta to be made!
If you thought pasta was plain and boring, think again! Studded with basil and parsley or mixed with beetroot, Michela showed us how to make pasta pretty - and the results sure did look tasty.
We were about as excited as Michela when her egg yolk filled ravioli came out right - we just love the sight of a runny egg yolk and the naughty Parmesan and butter topping almost sent us over the edge.
And what does Michela make for the wedding - pasta of course! Celebration tortelli is described as a labour of love only reserved for special occasions and as her mum and sister joined in to help, it certainly looked a lot less stressful than some wedding preparations we've seen!
As the sun set on the girls' dream wedding we wondered what will we do without our little slice of Italian life on a Monday night - we might just have to make some delicious Italian food every week instead....
Sunday 19th August

There's nothing better than settling down on a Sunday night to get lost in another culture. Exploring China features 'the godfather of Chinese food' Ken Hom and modern Chinese chef Ching-He Huang.
After taking us through the more traditional elements of Chinese cooking in previous episodes, the pair explored the ethnic minorities within China.
The pair insist that food is the perfect way to explore Chinese culture and we think they're right. Not only did we get to witness some delicious food being prepared, we felt like we actually learned something - a thing that doesn't always happen when sitting in front of the TV!
From Indian-style cooking from the Muslim community (we loved how wonky Ching's naan bread came out!) to bamboo-smoked chicken stew in the jungle and impressive hand-pulled noodles, the vast nature of cooking in Chinese culture was shown in glorious detail.
OK, some details were a bit graphic. We had to look away when they traditionally prepared chicken and lamb by showing how they slaughtered the animals but as Ken said, it's all part of the process.
One of the best parts about this series is the focus on fresh, homemade foods. No packets or instant sauces are used as Ken and Ching produce some mouth-wateringly dishes - the stuffed dumplings and lamb noodles in particular really wowed in this episode - using some of the best-looking ingredients we've ever seen. Although we're not sure we'd be able to re-create all of the great flavours at home - we surely don't live near markets anywhere near as amazing as the ones in this show - it definitely makes us want to visit China to give it all a taste!
Next week the pair will visit their ancestral roots to explore their familys' own cooking traditions - we can't wait!
Thursday 16th August
We've really been enjoying the Hairy Dieters, especially all the healthy meals the boys have been rustling up. From cutting down the calories in a traditional Sunday roast to halving the fat in a Brit's favourite fry-up, they've swapped the motorbikes for cycles and have gone from the Hairy Bikers to Hairy Cyclers and we love it!

Last night's episode saw the boys tackle takeaways and pastries as they tried to turn some of our classic dishes into healthy yet tasty alternatives. With a lot of banter (including a few cringe-worthy jokes from Dave about his naughty needs) the bikers got baking.
After the quite worrying discovery that a single pie can have up to 800 calories, we were very pleased when they decided to come up with a healthy version. Using pizza dough mix as the pastry was their first stroke of genius and the light meat and veg filling looked just as delicious as the fatty versions. It looked like a real pie, must have smelt like a real pie and it definitely seemed as though it tasted like a real pie as the pair drooled over the oozing middle - nice!

We have to admit takeaways are our weakness so we were very excited when the boys announced that was their next challenge. Si's sweet 'n' sour chicken and Dave's chicken korma looked just as good as any takeaway option and had some great calorie-cutting tips like swapping cream for natural yogurt in the korma and cooking the Chinese chicken in a sweet sauce instead of deep frying it.
After an extra long bike ride, Si and Dave met some fellow dieters and shared their new fat-free version of a nicoise salad wraps - they looked so good, we would've loved to have joined them.

What makes this show different to any of the other Hairy Bikers' adventure is that we get a glimpse into the lives of Si and Dave. They're not just our food loving duo anymore; we actually see them as dads, family men and the highs and lows of trying to shift those pounds.

But is their healthy eating working? The dreaded weigh-in provided some wonderful results. Si's 1 stone 11 pounds and Dave's 2 stone weight loss is such a massive achievement - well done boys!

We're very excited for next week's episode where they'll be taking on the sweet treats like cupcakes and finger-licking good Mexican food... our mouths are watering already.
Wednesday 15th August
Elimination day on Celebrity MasterChef! The poor contestants had to work their hardest yet to ensure their MasterChef dreams continued and they were certainly pushed to their limits. A blackberry and frangipane tart in just 75 mins! We don't think we could take that kind of pressure. Lucky Jamie got a thumbs up and Anne got a 'not bad' even though she forgot to cook her pastry first - oh dear, Anne.
It was the final test that really saw the cooking stars emerge. Asked to prepare a dish of their own with inspiration from their own backgrounds and relationships with food, Jamie's Venison looked so delicious - we definitely could have had a plate full of that. Steve felt victorious with his peppered steak, garlic mash, green beans and a peppercorn and shallot sauce. And finally Javine's dish got labelled 'the best looking dish of them all' by the judges and we couldn't have agreed with Greg more. She's getting better and better and is definitely the one to watch.

In the end poor Anne got the boot (sadly, although we knew it was coming) and the rest of the celebs flew through to the next round with big smiles on their faces. Next episode Jamie, Steve and Javine are thrown into the deep end, working in a busy restaurant kitchen. Can they cope with the pressure? Because we don't think we can!
Tuesday 14th August
The Great British Bake Off is back! After a highly successful second series that saw Jo Wheatley crowned the winner, this time they're 'raising the game'. Sounds exciting!
Welcoming us back to their twee little tent in the middle of the countryside (we're still waiting for an appearance from last year's star - the surprisingly well-endowed squirrel), Paul Hollywood and Mary Berry assured the nervous new batch of contestants that this series would be harder - and boy were they right!
Cakes were the perfect place to begin the new series (as they mentioned they've become the most searched-for food on the Internet - beating chicken into second place) but they couldn't just make them bake a traditional cake - oh no, it was upside down cakes. Adding tension to the tent, the dramatic cake turning moment was food TV at its best. Would the fruit stay in place? Was the batter cooked? We were hooked!
And rum babas for the technical challenge? The looks on the contestants' faces were priceless. Paul's naughtily simple recipe led to several kitchen casualties (the worst being poor Natasha and her bain marie disaster) and led to some wonderfully wonky bakes.
Our favourite round is always the show stoppers - you can really see potential winners emerging. Hidden layer cakes are so tricky to get right but there were some stunning displays on offer. Our personal favourites were John's romantic hidden hearts cake and Victoria's amazing blackbird in a pie - how clever!
As always there were some disasters. John's salt instead of sugar in the rum babas is such an easy mistake to make while Stuart's shambolic Union Jack cake was put to shame by Peter's work of precision.
In the end it was Natasha's two big mistakes (her show stopper looked dangerously undercooked) that cost her a place in the Bake Off tent.
Victoria was named star baker but we also spotted potential winners in Cathryn, John, Peter and Sarah-Jane - this competition is wide open. We can't wait to see the bread round next week - we might start practising our bagels now!
With all the excitment about the Bake Off we almost forgot that Celebrity MasterChef was on! Thank you BBC iPlayer!
Facing the public for the first time it seemed the celebs were finding the pressure hard to take in this episode. Cooking for the London School of Hygiene and Tropical Medicine, we just love how the celebs rose to the challenge, serving a whopping 110 lunch portions - wow! We don't think we could ever do that. With ingredients like beef, rice and chicken, we thought the dishes that the celebs made looked delicious. Well done, celebs! As for the comical comments from Gregg and John - keep them coming...

Monday 13th August 2012

Wow, three food shows in one night! Who says Monday nights are boring? Glued to the TV, with a few tasty snacks of course, we indulged in a little slice of foodie heaven.
First up, Celebrity MasterChef!
The heat has well and truly been turned up in this brand new series and we love it! Battling it out to be crowned the Celebrity MasterChef champion, the first episode challenged radio presenter Jamie Theakston, singer Javine, actress Anne Charleston and Olympic swimmer Steve Perry, to see if they could cut it in the kitchen.
The first challenge was the mystery box test. Being presented with a random assortment of ingredients including a whole French fish, beef tomato, basmati rice and black cabbage, the stars were told to create a meal from scratch - eeek! Poor Anne, we really felt for her when John Torode took a huge spoonful of her dish and he spat out a fish bone - oops! We loved the look of Javine's fried Gernard fillets, sautéed potatoes and parsley sauce as she aced the first round - could she be an early contender?
Our favourite part had to be the skills test. A seemingly easy task of homemade pesto and fresh pasta created chaos in the kitchen. Steve was just so funny as he tried to get to grips with the pasta cutter and Jamie reminded us so much of ourselves in the kitchen as he ended up mixing the pesto using his hands - classy!
The next episode sees the four celebs under pressure in a restaurant challenge - we can't wait to see how they cope!
Oh how we love +1! Watching Lorraine Pascale safe in the knowledge that we won't miss a single second of Simply Italian made our night a whole lot less stressful.
So, Lorraine's new show...
Following on from her massively popular Baking Made Easy and Home Cooking Made Easy, Lorraine Pascale's new show is called Fast, Fresh and (you guessed it) Easy Food. From the opening shot of a speedy 1-minute pesto, we knew this show would be right up our street. With a tasty array of food from fun limoncello jelly shots to the ultimate BBQ burger, the first show in the series was about fast recipes for entertaining.
And boy do we wish we were friends with Lorraine! This girl doesn't just stick a bag of crisps and dip out for when friends come over, she whips up an amazing-looking zebra cake and freshly made bread!
One of our favourite moments from this episode was meeting Lorraine's Dad. Brought in as the expert BBQ man, all awkward and camera-shy, he reminded us of our dad, especially when the BBQ got lit and he took over - men, eh!
It's in the title and is repeated throughout the half-an-hour show, easy recipes is what Lorraine's all about and although we may not be able to produce such stunning results as her in the same fast time, she makes us want to give it a go. Mmmmm maybe we'll try that baked trout recipe for dinner tonight...
And now for the dessert round in our 3-course serving of food TV, Simply Italian.
Michela Chiappa's already got us believing we can make pasta from scratch, now she wants us to experiment.
With family at its heart, the Welsh-Italian star may not have any formal training, but as she reminds us, she's been cooking these recipes since she was as young as 2 - we think that makes her an expert!
On the menu this episode, homemade gnocchi and we couldn't believe how easy she made it look! We love how she simply coloured them red and green with tomato paste and rocket - we can just imagine making these with the kids.
Part cookery show, part travel show, Michela gave us a glimpse of her Italian life with trips to her cousin's traditional bakery (now all we can think about is pasta pies!) and the birth place of Parmesan. Revealing her slight obsession with the hard cheese, Michaela's love of all Italian food is infectious and we just love hearing her pronounce the terms in her Welsh-Italian accent!
Pasta sauces, gluten-free pasta, ricotta-filled pancakes, whatever she makes Michela insists that it's easy to do at home and you know what, we believe her!
Closing with lovely scenes of her and her sister's pre-wedding Italian family picnic made us want to hop on a plane and join her in the sunshine - we can't wait to see her wedding in next week's episode. Congratulations Michela!
Where to next?
- Cheap, quick and easy recipes