goodtoknow's 5th birthday cupcakes
Print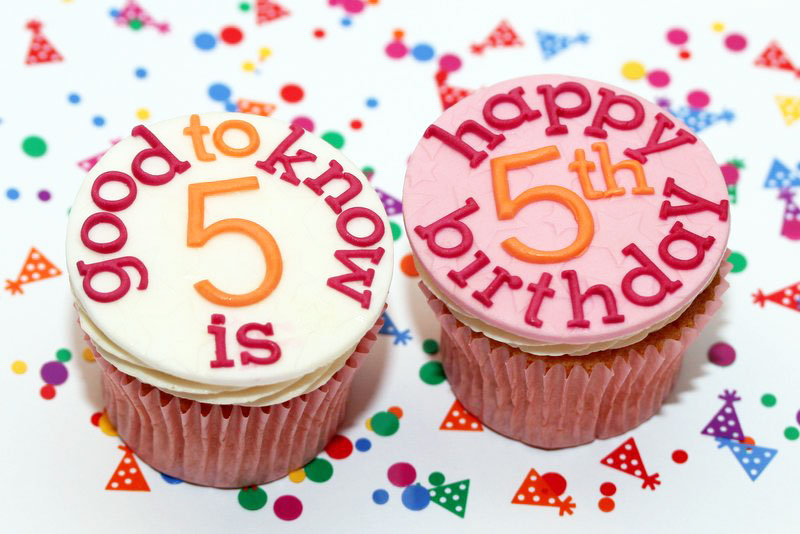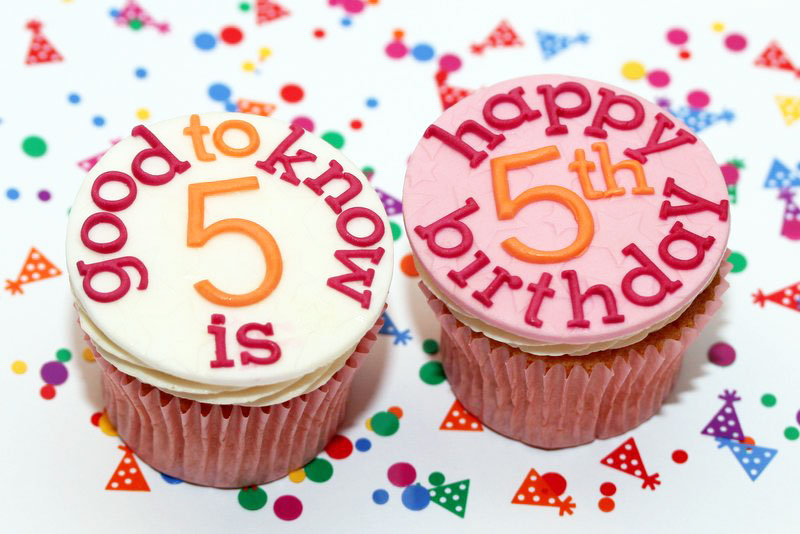 Makes: 12

Prep time:

(including decorating time)

Cooking time:

Total time:

Skill level: Easy peasy

Costs: Cheap as chips
goodtoknow's cupcake queen Victoria Threader made these cupcakes to celebrate our 5th birthday. Make them for your loved ones, whatever age they are
Ingredients
150g self-raising flour
200g golden caster sugar
150g unsalted butter at room temperature
2 eggs
3tbsp fresh lemon juice
Zest 1 lemon
30ml milk
¼ tsp baking powder
12tsp lemon curd

For the buttercream
250g butter
500g icing sugar
1tsp vanilla extract
3tbsp of milk (if needed)
For the toppers
400g white fondant
1tsp gum tragacanth (optional)

Claret and tangerine food colour

You will also need
:
68mm circle cookie cutter
Lower case alphabet cutters
Large number cutters
Piping bag with Wilton 6b tip
Star embossing folder
Thin paint brush

Gum tragacanth makes the fondant thicker and more stable
Method
To make this cupcake recipe, preheat the oven to 160°C/320°F/Gas Mark 4 and line your muffin tray with 12 paper cases.
Add the zest and lemon juice to the milk and leave to one side.
Cream the butter and sugar until light in colour and fluffy, add the eggs and beat again.
Add a third of the flour with the lemon and milk and mix until just combined and repeat until all the flour and lemon and milk have been added.
Add the vanilla extract and fold into the mixture until even throughout the mix.
Fill the cases to 2/3rds full and bake for 25 mins until golden brown and spring back to the touch. Remove and cool on a wire rack.
When the cakes are cooled, make a hole in the middle of the cake and pop a teaspoon of lemon curd in then replace the piece of sponge to fill the hole.
Pop the icing sugar, butter and vanilla in a large bowl and mix until smooth. Add the milk as you need it to loosen the buttercream, if necessary.
Add a Wilton 6B to a large piping bag squeezing all the air out towards the top of the bag then twisting at the top of the icing. Starting in the centre of the cake and working your way out towards the paper, pipe one flat swirl using the paper as a guide and finish back in the centre. To stop piping push down slightly then pull up quickly.
To make the toppers
The night before you would like to make these add the gum tragacanth to the fondant and knead until the fondant has an elastic texture. Wrap in cling film and store in an air tight box until you are ready to use it
Using 300g of white fondant, colour half pink with a touch of claret food colour and leave half white. Roll to 3mm thick and emboss with the star embossing folder by placing the folder over the icing and rolling over it with your rolling pin. Cut 12x 68mm circles and leave to dry on a large drying sponge or greaseproof paper.
Colour 50g of the remaining white fondant deep pink colour with the claret food colour and 50g tangerine.
Roll really thin so you can almost see through it and leave to dry for 5 minutes before cutting your lettering out. Cut the desired message and stick onto the toppers with a brush of water.
Place the finished topper onto the cakes.
Your rating