Vanilla cheesecake slice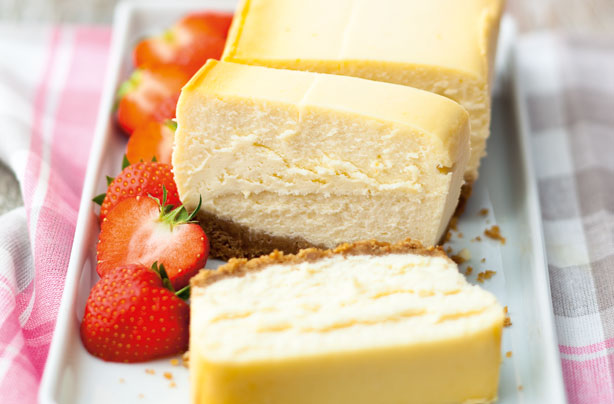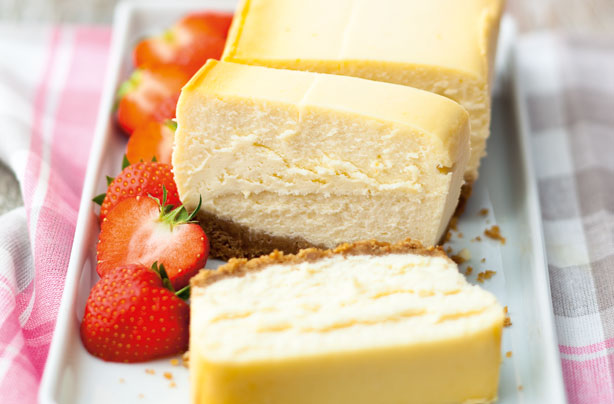 Serves: 8-10

Prep time:

Cooking time:

Total time:

Skill level: Easy peasy

Costs: Cheap as chips
Vanilla cheesecake slice uses a classic cheesecake recipe that's so easy to make and full of creamy vanilla flavour that will melt in your mouth. You can happily serve this cheesecake with fresh strawberries or other berries for a refreshing taste - and it's best to use whatever's in season for a really seasonal and delicious pudding that guests will absolutely love! This recipe takes a little cooking time, but despite that it's really worth the effort - you can't beat a classic recipe and this is a favourite!
ADVERTISEMENT
Ingredients
For the base:
250g packet digestive biscuits, crumbed
75g butter, melted
For the cheesecake:
500g full-fat cream cheese
300ml carton double cream
1tsp vanilla extract
175g caster sugar
2 level tbsp plain flour
2 med eggs
Strawberries, to serve
30cm continental loaf tin, buttered and lined with a strip of baking parchment
Method
Set the oven to 180°C/350°F/Gas Mark 4.
Tip the biscuit crumbs into a bowl and stir in the melted butter. Press the mixture into the base of the loaf tin.

To make the cheesecake mixture:

Beat the cream cheese to soften it, and then beat in the remaining ingredients until smooth. Pour the mixture on top of the biscuit base.
Bake the cheesecake for 15 mins, then turn down the oven temperature to 120°C/275°F/Gas Mark ½ and cook for a further 1¼-1½ hrs, or until the cheesecake is almost completely set in the centre (it should still have a slight wobble). Turn off the oven and leave the cheesecake to cool in there.
When it's cool, refrigerate the cheesecake until it's very firm and then remove from the tin. Serve sliced with halved strawberries.
ADVERTISEMENT
http://www.goodtoknow.co.uk/recipes/535661/vanilla-cheesecake-slice
© copyright goodtoknow.co.uk 2018