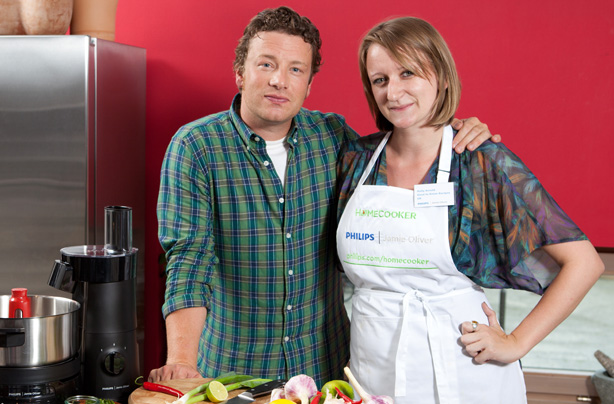 We met up with the lovely Jamie Oliver at the launch of his new Phillips HomeCooker. Over his delicious prawn curry, we quizzed the chef to get all his top tips for cooking at home for a family. He and Jools are busy parents to 4 children, Poppy, 10, Daisy, 9, Petal, 3 and Buddy 2, so he certainly knows a thing or two about manic family meal times!
Family meal times
From 5-7 my house is a war zone: baths, nappies, stories... With 4 kids we have very busy days in our house. During the week we tend to eat meals that take 5-15 mins to make but at the weekend we want to make comfort food. Taking time with cooking is important, we can be obsessed with speed but it's good to get a balance. Monday - Friday is for fast food, the weekend is for slow cooking - sometimes it's good not to rush.
Biggest cooking problems
Not having the right kit is often a problem when making meals. You don't need expensive kit, but building up a collection of key items will make things a whole lot easier. Also, some people think they should be able to jump from being unable to cook, to suddenly doing a complex dish. Start simple - maybe a pasta with tomato-based sauce - and then gradually try a few different things as you get better and feel more confident in the kitchen.
Cooking fresh family meals
I've heard all of those excuses over the years and none of them really make sense to me. If you've got a little bit of knowledge, you can rattle out a fantastic, delicious, fresh meal in next to no time. When I used to do live shows, there was this section where I telephoned the local takeaway pizza place and ordered a pizza to be sent to the theatre, and while we waited I'd make my own pizza from scratch, including the dough. I'd have made it, cooked it and the audience would have eaten it before the takeaway pizza showed up - and mine tasted better. You can do that with most food. As for expense, I've been to some of the poorest places in Europe and seen people eating better than many of the wealthier households in the UK - and it's just because people have the knowledge to know what they're doing with the ingredients available.
How to make curry

One of my biggest tips for a delicious curry is to use curry leaves (sweet neem leaves). They can be bought on the internet and you can freeze them so they last for ages. They transform the flavours and can be sprinkled over all types of different food like potatoes to give them a real boost.
Quick chicken dinners
Chicken doesn't take as long to cook as people think. The smaller you chop chicken the quicker it takes to cook so it can easily be used to make 10-15 mins meals.
How to cook rice
This is one of things I get asked about all the time - how to make perfect rice. You fill an empty tin can with basmati rice and pour it into a pan. Add 2 tins worth of water and a good pinch of salt and bring to the boil then allow to simmer until the water has absorbed. I use the absorption method so you shouldn't drain off any of the water. You can flavour the rice by adding green or mint tea to the water or tumeric or lemon, rice is a great base for lots of different flavours.
How to season your food
Your brain will know if food is too salty but it's not so good at knowing when food is bland. It's like putting too much make-up on. (I'm not a fan of women who put too much make-up on, for me I think it's better if you don't notice they've got any make-up on - you know it's there but you can't really notice it.) It's the same with seasoning, you're lifting the flavours, not making it taste of salt. Foods like bacon and cheese is massively salty - that's why everyone loves it. All vegetables are 90% water and water is bland so if you really want your kids to eat salad and vegetables, you've got to season them - if you're using herbs, citrus and spices, the amount of salt you need is a lot lower. The way to season your food is to taste it, think about it, add a pinch of salt, taste it again and ask is it getting better in a positive way or is it getting too salty?
Healthy eating tip
Herbs and spices are key to healthy eating. Before hospitals and pharmacies existed they cured illnesses with herbs. If you put them in
your food you also reduce the amount of seasoning you use so it will be less salty.
Quick kitchen tips

For a quick and easy way to peel ginger use a teaspoon rather than a knife or peeler. That way you can scrape away only the skin and not any of the ginger. If the skin is clean you don't really need to peel it at all.
Rather than measuring oil with a tablespoon which can be fiddly pour it freehand and allow one bubble of oil for each tablespoon the recipe says.
Where to next?
Get a new idea for family meals every day with our
dinner of the day
More
celebrity chef recipes
100 ways with chicken