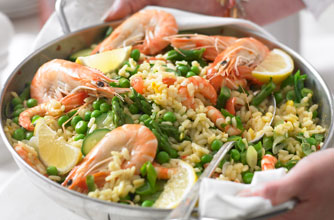 What is the best meal you have ever eaten? The goodtoknow team share the stories of their best ever meals in our special blog - share your favourite food moments with us on Twitter using #bestmealIeverate
Holly, Recipes Editor
Choosing the best meal I have ever eaten was a very hard task for one simple reason: I absolutely love food. There are very few meals I've had that I've not liked and even fewer I've downright hated. From fancy restaurants to greasy spoons, I'm very easy to please with food. As long as it's hot, fresh and not bland, I pretty much love every meal I eat.
So thinking about the best meal I've ever eaten took a lot longer than I imagined. The steak I had on holiday in New York has to be up there, but the one meal that sticks in my mind is a home cooked one.
My boyfriend (also a massive food fan) and I have a foodie tradition for Valentine's Day. One person makes the starter and dessert and the other makes the main. I love the chance to try something new and, looking at recipes all day, I get plenty of ideas!
Almost like a mini Come Dine With Me, we end up trying really hard to compete for the best dish and try out ideas that are probably a bit too fancy for everyday dinners. So what meal really sticks in my mind?
First up the starter: Juicy salmon fishcakes with a smooth, creamy dipping sauce - heaven! (Round 1 - boyfriend)
The main: Monkfish wrapped in Parma ham with sweet potato mash. After trying monkfish on holiday I was really keen to try it again but always though it would be too expensive. At just £4 for two massive fillets from the supermarket, this dish looked and tasted fancy but cost under a tenner! The meaty fish is given such a delicious smokey flavour from the Parma ham and sweet potato mash is the perfect side - full of creamy flavour but not as stodgy as normal potatoes. (Round 2 - even pegging)
The dessert: Oh, the dessert! My favourite ingredients for any sweet dish are cream, strawberries and meringue so it must be pretty obvious that my favourite dessert of all time is Eton mess. Served in what can only be described as a massive tub, this dessert was the perfect blend of creaminess, crunch and sweetness and completely finished me off. (Round 3 - oh, ok - the boyfriend wins this one).
This meal did what all good meals should do, leave you so full you can't move but still really, really wanting to lick the bowls, plates, spoons (and everything you can find) clean.
Jessica, Recipes assistant
My favourite meal ever? One word - paella. The first time I went to Spain I had the best paella I've ever tasted. Sitting by the sea on a warm evening, munching on a steaming-hot, table-sized feast packed with juicy seafood like muscles, prawns, squid and cockles and sprinkled with lemon.
I'm surprised I had any room left for the delicious Spanish classic after my starter of tempura vegetables (how posh!). If you've never had tempura, you need to try it, crispy asparagus' (my fave), broccoli and carrots coated in a thin crispy skin and served with sweet chilli sauce - heavenly.
The cherry on the cake had to be the platter of desserts the waiter brought out to finish the meal. Mini cheesecakes, mini chocolate puddings, lemon sorbet... my mouth's watering at the thought of it. You should of seen me on the night - I was like a kid in a candy shop. The only down side of the dessert was I had to share it with the rest of my family and my extra greedy boyfriend. It was every man for themselves. I've been very tempted to create that meal at home but I just don't think it'll ever be as good as it was in Spain.
#bestmealIeverate

What is the best meal you've ever eaten? Tell us on Twitter using #bestmealIeverate or comment below.