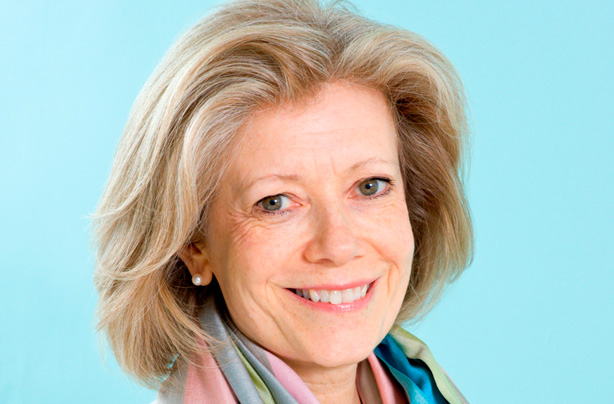 We met up with baking expert Fiona Cairns to get all her top baking tips and advice. The star of The Home Of Fabulous Cakes was chosen by Kate and Wills to make the royal wedding cake and is currently supporting Rainbow Trust's Big Hour Cake Sale (22-28 October 2012).

What are the most important tips you could give about baking?
I have 3 very important tips for anyone baking at home:
Always carefully weigh out all your ingredients before you start baking.
Preheat the oven so you achieve the best rise and an even bake.
Never bake when you're feeling stressed and rushed - something always goes wrong!

And what pieces of kitchen equipment are essential?
One of the best things about baking is that the initial investment is really very low. A good handheld whisk, a bowl, oven, a good pair of scales and cake tins are all you really need. Although colourful kitchen mixers are a lovely addition to the kitchen, they really aren't necessary.
How about your favourite flavour combinations?
My husband is Indian and after we go on holidays to India I often come back inspired. I love using flavours such as Cardamom, Tamarind (which gives an edge to fruit cakes) and Alphanso mangoes when in season. I am also very influenced by the seasons in my baking - in flavours, textures and colours.

What rising trends are you seeing in the baking world?

The general baking trend seems to be continuing, which is fantastic. I think baking encourages people to be creative in ways they'd never thought possible before. The best of British trend has been strong this year, and I think the trend for seasonal baking and cooking is also increasing in popularity. This is something I wholeheartedly support!
How do you ensure your buttercream is always so perfect?
To achieve a really pale, light buttercream you should beat the ingredients together for at least 5 minutes. Also use a good quality butter. I don't like buttercream that's overly sweet so my buttercreams have less icing sugar in than some other recipes.

And where is the best place to start for people trying cake decorating at home?
Start off with a simple iced sponge or fruit cake, and begin by picking a few very pretty colours that go well together. Using leaf and blossom cutters and coloured sugarpaste, you can create a very pretty design after a bit of practice. You can change this seasonally - try wreaths of holly leaves and mistletoe at Christmas, blossoms and chocolate eggs at Easter. But I think you can't beat decorating a freshly-baked sponge with edible fresh full-bloom roses (as long as they are unsprayed) from your garden. A scattering of rose petals can look very beautiful too.

What tips do you have for people making their own wedding cake?
Always start with something achievable, and don't try anything too outlandish! I believe that sometimes the simplest cakes are the most beautiful. If you've never tried icing and decorating a fruit cake before, why not tier sponge cakes with fresh cream, fruit and seasonal flowers for something a little different?

What are your favourite birthday cakes to make?
Some of my strongest "food memories" from childhood are the lovely cakes that my mother used to spend hours making in secret. One of my favourite cakes to make is a Fantasy Castle cake. You can be really creative with the castle, and personalise it for any age or gender - you can add drawbridges, princesses' towers and sweeties at will.

So why did you get involved in the The Big Hour Cake Sale and Rainbow Trust?
Often, we're too busy to dedicate time to the things that really matter. By positively using that hour at the turn of the seasons, and baking for The Big Hour Cake Sale, we are really putting our time to good use. The money raised from the cake sale goes towards such a vital cause - helping families with terminally ill children.

And what bakes would you recommend home-bakers make for cake sales?
I'd recommend baking something you're already familiar with, as you usually end up baking large quantities for bake sales! Single hand-held items such as delicious homemade jammy dodgers, or fairy cakes, are perfect.

Your rainbow cupcakes for the The Big Hour Cake Sale are beautiful - do you have any tips for using food colouring?
Add the colours slowly as you mix, so you don't end up with too strong a colour. I prefer to use food colour pastes instead of the liquid.

Your cakes have hidden vegetables in them - why do you do this?

It's a brilliant way of getting children to eat fruit and veg - and getting them involved in baking also makes them realise that eating fruit and veg doesn't always have to be 'boring'! Adding dried fruit and nuts to flapjacks is also a lovely way to encourage children to eat healthily.

What's your ultimate tip that is 'goodtoknow'?
If you use the 'Three Ps' in cake baking and decorating - Patience, Practice and Passion, you can't go wrong.

Where to next?