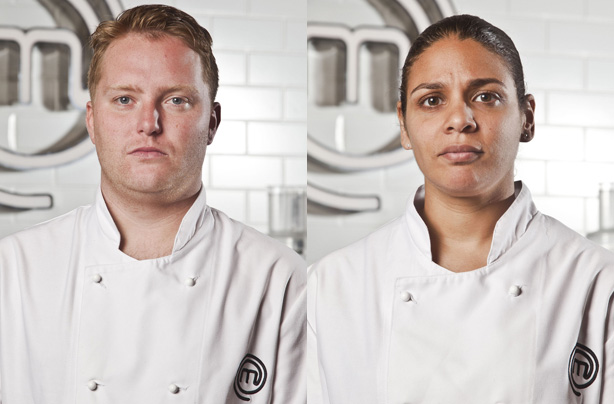 It was the first time in MasterChef history that the judges just couldn't decide who the winner should be.
After a tense final, Gregg Wallace and Michel Roux Jr broke all the rules and named both Keri Moss and Anton Piotrowski as the winners.
Both chefs excelled in the final cooking round, which saw fellow finalist Oli ‪Boon‬ fall at the last hurdle when his dessert was left in the fridge rather than the freezer.
'This has probably been one of the hardest, tightest finals that I have ever seen,' Michel, the 2 Michelin star chef, said.
'It was just impossible to split them - their talents have been matched plate for plate for the past several challenges and it was truly impossible to award one the title over the other.'
The contest, which pits professional chefs against each other in a series of expert culinary challenges, was a tightly-fought race with Keri and Anton neck-and-neck throughout the different stages of the show.
But it was their final dishes that convinced the judges that they should both hold the MasterChef crown.
Anton wowed with a pollock and squid ink crumble starter, rich venison and chocolate main and his version of a banoffee pie for dessert.
Keri opted for a mackerel tartare for starter, a chinese duck main and an inventive green olive and pistachio cake for dessert.
Do you think it was fair to have two winners? Did you feel sorry for poor Oli? Share your comments below...
Where to next?