Croissant
Print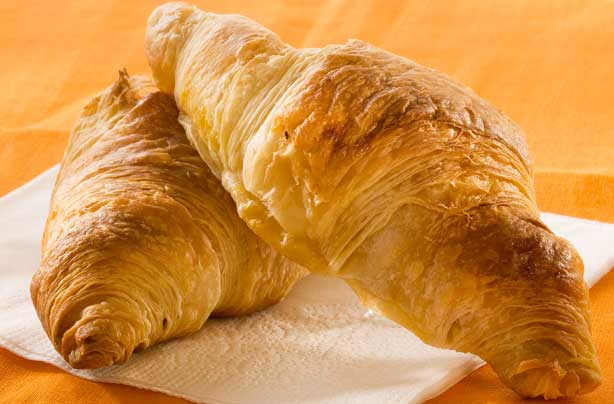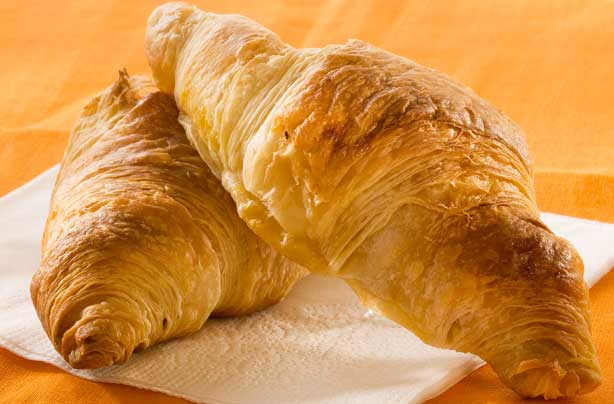 Makes: 8

Prep time:

plus resting and proving

Cooking time:

Total time:

plus resting and proving

Skill level: Master chef

Costs: Cheap as chips
These fantastic classic French pastries are just perfect for a simple and stylish breakfast served with coffee. If you're feeling adventurous it's worth having a go at making them at home. Croissants are made with a yeast dough enriched with butter, and the technique of buttering and folding the dough gives the classic light and crisp layered finished pastry. You'll need to allow plenty of time to make them as the dough needs time to rest and prove and don't expect a texture quite as light and flaky as bought croissants. Best served warm on the day of making with unsalted butter and conserve.
Ingredients
225g strong plain white flour
7g sachet easy-blend or fast-action dried yeast
½tsp salt
2tsp caster sugar
90g unsalted butter, softened
100ml hand hot water
1 egg, beaten
To glaze:

1 egg, beaten with 1tsp caster sugar
To make chocolate croissants, sprinkle a little grated plain chocolate over each triangle of dough before rolling up.
Method
Sift the flour into a large bowl, stir in the yeast, salt and sugar and make a well in the centre. Mix together 15g of the butter with the water and egg and pour into the well then mix to a dough. Knead for 5-6 mins until smooth and elastic. Cover and leave the dough to risen in a warm place for 1hr or until doubled in size.
Re-knead the dough for 2-3 mins then roll out to a long strip about 30 x 15cm. Mark the strip widthways into three equal sections. Using a palette knife, dot one-third of the remaining butter on to the bottom two-thirds of the dough. Fold the bottom third of the dough over the middle third then fold down the top third. Seal the edges by pressing down firmly with a rolling pin and give the dough a quarter turn. Repeat this rolling and folding process twice more, dotting with one-third of the butter each time. Wrap loosely in cling film and chill in the fridge for 30 mins.
Roll the dough out on a lightly floured surface to a 22 x 28cm rectangle and cut into 8 triangles. Roll each triangle up, from the long edge to the point. Form into a crescent shape and place on a large greased baking sheet. Cover loosely with oiled cling film and leave in a warm place for 30-40 mins until doubled in size.
Preheat the oven to 220°C/425°F/Gas Mark 7. Lightly brush the croissants with the egg glaze and bake for 20-25 mins until risen and golden. Serve warm
Your rating