Smoked haddock in mushroom sauce
Print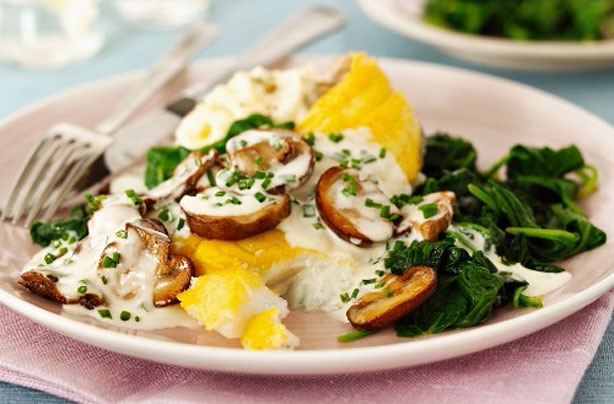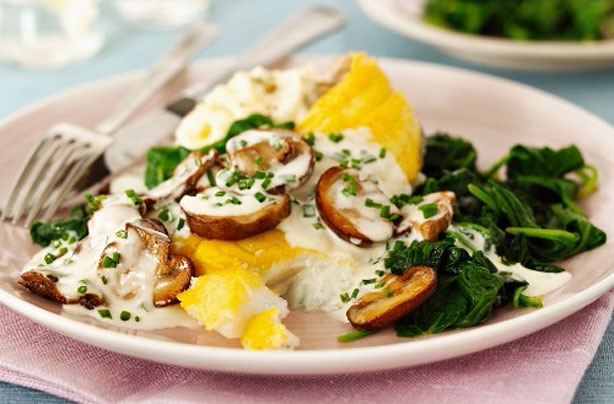 Serves: 4

Prep time:

Cooking time:

Total time:

Skill level: Easy peasy

Costs: Mid-price
Smoked haddock is quite a mild-tasting fish but we've added a creamy mushroom sauce for a dish that has a much richer flavour and makes a lovely quick, tasty lunch or super. We have poached the fish in milk then used the flavoured milk to make a creamy mushroom sauce. Just serve this with spinach and mash for a warming, comforting meal. To cook the spinach just rinse it and place in a large saucepan with 1 tbsp water and a good knob of butter, then shake over a medium heat until it has wilted. Stir well, press out excess water and season with a grating of nutmeg. As a white fish, smoked haddock is a great, lean source of protein, and great for anyone trying to maintain a balanced diet and a healthy lifestyle. If you're watching what you eat or counting calories, you can always serve this dish with the sauce on the side for a super healthy dish.
Ingredients
300ml milk
450g smoked haddock fillets
25g butter
1 heaped tbsp plain flour
150g button mushrooms, sliced
100ml double cream
2tbsp chives, chopped
Try to use un-dyed smoked haddock, it won't have the bright yellow colour, but is just as delicious. You can use frozen fish if liked, just cook a little longer.
Method
Place the milk in a shallow pan and bring to the boil. Add the haddock and poach for a couple of minutes until the fish flakes easily. Remove the fish with a slotted spoon and place on a plate.
Melt half the butter in a small saucepan and fry the mushrooms until golden. Remove from the pan with a slotted spoon.
Melt the remaining butter and add the flour. Beat with a wooden spoon until thickened. Gradually beat in the poaching milk until smooth. Cook for 1 min until thickened then add the cream and chives and return the mushrooms to the pan, heat through then pour over the smoked haddock and serve with spinach and mashed potatoes.
Your rating