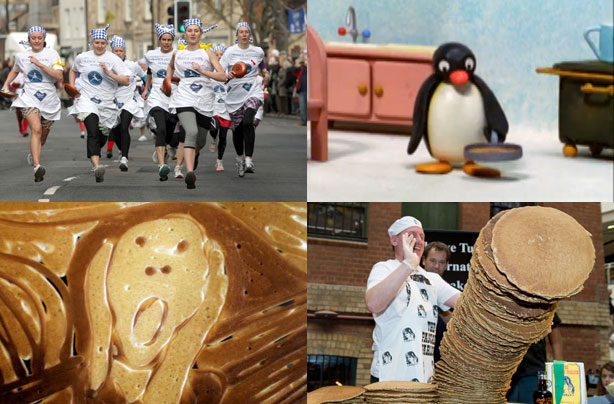 Shrove Tuesday (aka Pancake Day) is Tuesday 17th February 2015.
Get your frying pans at the ready, crack those eggs and beat those whisks, it's that time of year again - it's Pancake Day and it's time to perfect your pancake recipe!

We love it, the kids love it, heck just about everyone loves it! The one day a year when the whole world goes pancake crazy, flipping, tossing and folding - pancakes are getting bigger and better every year.
Fun pancake facts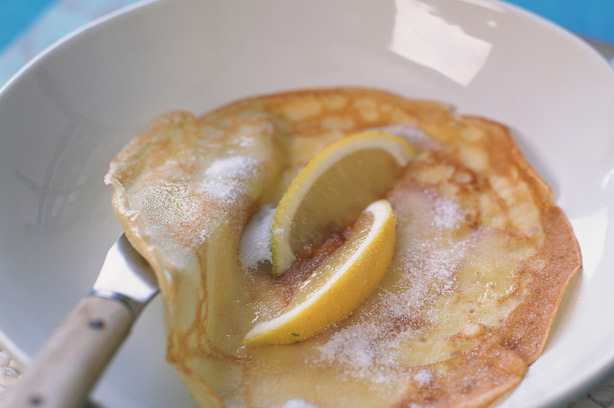 Pancakes were originally invented as a way of using up all the leftover fatty and rich foods before Lent begins on Ash Wednesday - whoever thought of that idea is a genius!
The most flips anyone has even done with a pancake is 349 flips in 2 mins which set the bar pretty high as far as world records go - good luck to anyone who tries to beat that!
The largest stack of pancakes (pictured below) was made up of 60 huge pancakes and measured an impressive 76cm tall which broke the Guinness World Records in 2012.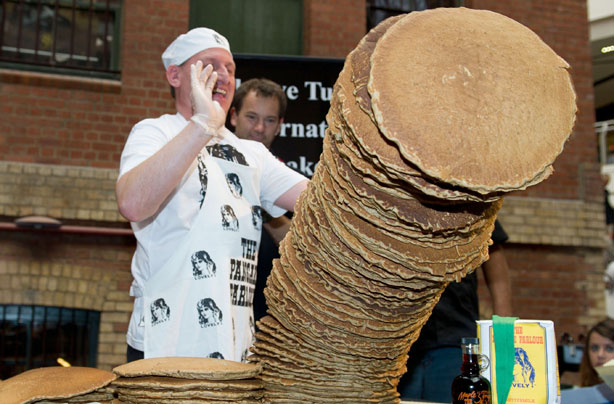 Archaeological evidence suggests that pancakes date back to prehistoric times (yes, when dinosaurs ruled the earth) as one of the earliest and widespread cereal food known! We wonder if the dinosaurs got in on the pancake action?
It is estimated that us Brits use a staggering 52 million eggs come Pancake Day (that's impressive!) which is 22 million more than on a
regular day - we've all gone egg mad!
The most watched pancake related video on YouTube is of cartoon character Pingu and his family making pancakes - aw! It's been watched over 10 million times and counting.
The biggest pancake ever made measured a whopping 15 metres long and weighed 3 tonnes - woah! Made in Rochdale in 1994, this pancake was estimated to contain a whopping 2 million calories!
The largest pancake ever flipped measured 15 meters in diameter! Did they use a crane or something?!
One of the oldest pancake traditions takes place in Olney, Buckinghamshire and dates back to 1445. On Shrove Tuesday, at the sound of the church bell, local housewives race with their pancake and frying pan to the church. This tradition still carries on today (see below) and the Olney pancake race has become one of the most famous pancake races in the world!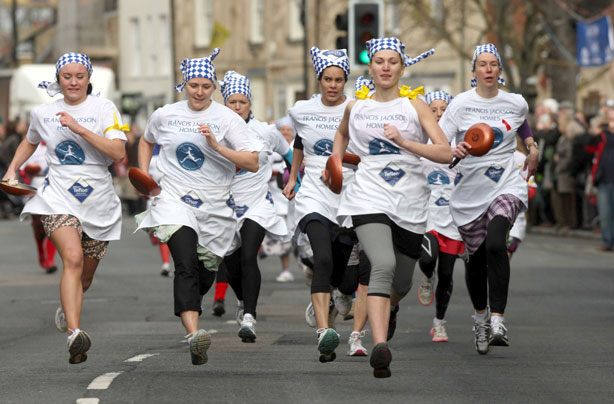 The first pancake ever made in the Midlands was fed to chickens to ensure they had perfect fertility throughout the year!
The world's largest pancake breakfast was held in Springfield, America in 2012 (no, not the home of The Simpsons!) The feast saw 15,000 people gather in Main Street and munch pancakes of all shapes and sizes all morning. The event raised a massive $10,000 which was donated to the local charity - everyone's a winner!
Ever heard of the pancake rabbit? Well, when the Easter bunny is on vacation he turns into the pancake bunny who balances pancakes on his head! First spotted on a Japanese blog, Oolong the balancing bunny became a viral hit in 2010 getting over 2.5 million page impressions for owner Hironori's blog. A book was published soon after
dedicated to the ball of fur - aww!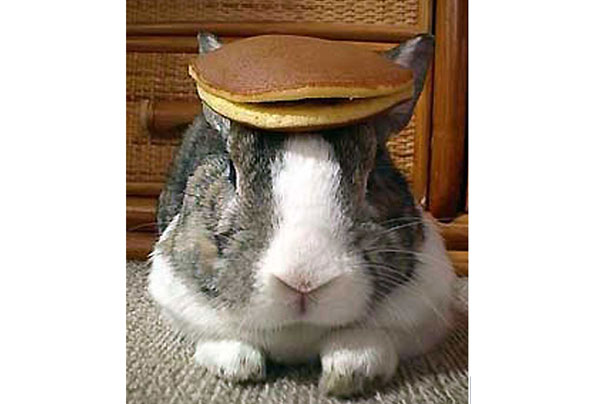 Spanish baker Orlando Vazques made the largest pancake making machine in 2012 which cooked around 1000 pancakes an hour! Well if you've got guests coming round...
Looks like someone has taken pancake decorating a little too seriously... Artist Michael Goudeau decided to take his pancakes to the next level on Pancake Day and carved a recreation of 'The Scream' by Edvard Munch. Now that's flippin' marvellous!
Download the ultimate guide to pancakes in time for Shrove Tuesday on February 17th 2015. In our four-page mini magazine, you'll get our foolproof step-by-step pancake recipe, twists and filling ideas, tips on what to do if it's all gone wrong and inventive ways to serve your pancakes! Download it here.
Where to next?
24 thing you never thought to do with pancakes
Basic pancake recipe
Do this, eat a pancake: ways to burn off the calories in pancakes