S知ores brownies
Print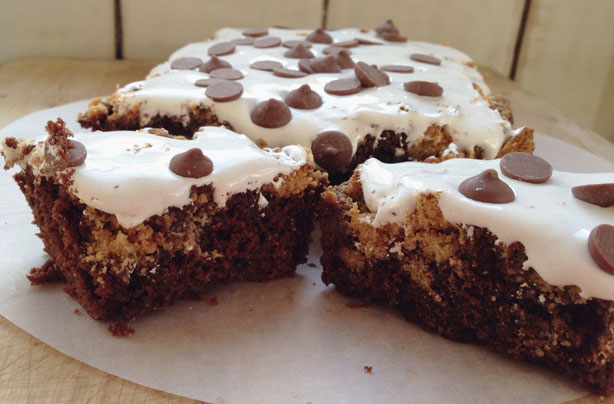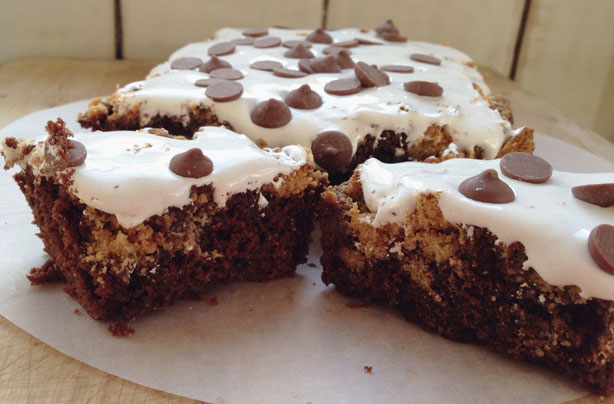 Serves: 12-14

Prep time:

Cooking time:

Total time:

Skill level: Easy peasy

Costs: Cheap as chips
Brownies are a great American chocolate cake with their rich gooey texture. Add some crushed digestives for crunch and cover them in marshmallow and chocolate chips for added sweet stickiness. These brownies are perfect warmed up and shared with the rest of your family. Serve with ice cream for a sweet finish. Store these brownies in an airtight container and eat within two days for the best flavour.
Ingredients
6x digestive biscuits
150g dark chocolate
130g butter or margarine
100g light brown sugar
130g plain flour
スtsp baking powder
2 eggs
For the topping:
3tbsp marshmallow spread such as fluff
60g melted chocolate
Spread with marshmallow before they have completely cooled so it turn into a runny sweet sauce.
Method
Preheat oven to 170ーC/325ーF/Fan 150ーC/Gas Mark 3. Grease a 20cm square tin
Place the Digestives into a plastic sandwich bag and crush with a rolling pin. Set to one side
Break the chocolate and place it in a bowl with the butter
Place the bowl over a saucepan of simmering water, ensuring the button of the bowl doesn稚 touch the water
Allow the chocolate and butter to melt, stirring continuously
Remove from the heat and stir in the sugar
Sift the flour and baking powder together, and stir through the mix. Add the eggs and mix through
Gently stir through the crushed biscuits and pour the mix into the tin
Bake for 35 to 45 minutes or until the top is flaky and crunchy, but is still soft when pressed gently
Remove from the oven and allow to cool before removing from the tin
When cool spread over the marshmallow spread and drizzle with melted chocolate
Your rating