Sweet potato and marshmallow gratin
Print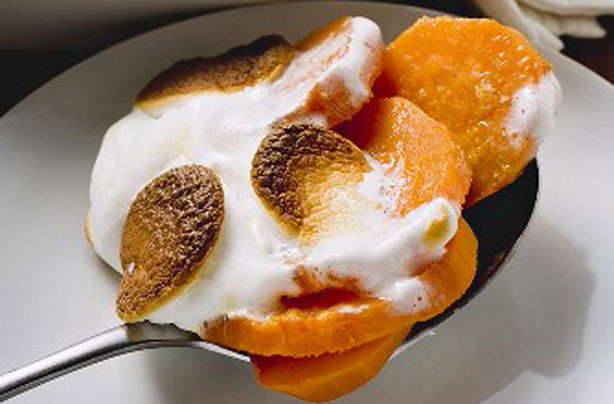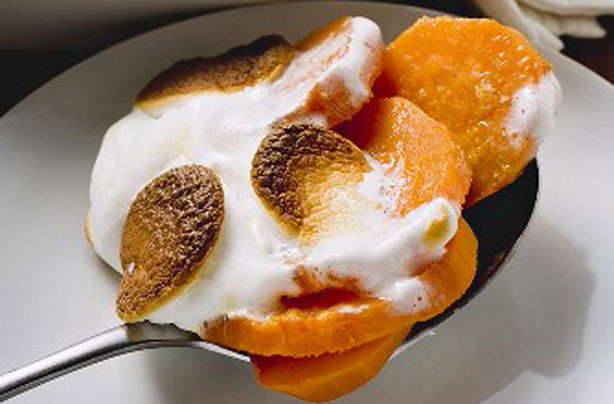 Serves: 6

Prep time:

Cooking time:

Total time:

Skill level: Easy peasy

Costs: Cheap as chips
If you've ever toasted marshmallows over a fire you'll now how deliciously caramelised and crispy they go on the outside with a meltingly gooey middle. This is what the topping is like on this classic American sweet potato and marshmallow gratin, traditionally served at Thanksgiving with turkey. Sweet potatoes are baked in the oven with butter, brown sugar and spices until soft, then topped with marshmallows and baked until toasted. Yes, it is sweet but curiously moreish and the spices help to balance the flavours. Try it next time you roast a chicken and we think it would go well with smoky barbecued chicken too.
Ingredients
1kg sweet potatoes, peeled and sliced
50g butter
25g light muscovado sugar
1/2tsp ground cinnamon
1/2tsp ground ginger
Freshly grated nutmeg
200g marshmallows
Use a shallow dish so the potatoes are no more than 3 or 4 slices deep. If baked in a deeper dish they'll take longer to cook.
Method
Preheat the oven to 190°C/375°F/Fan 170°C/Gas Mark 5. Place the sweet potatoes in a baking dish. Melt the butter in a small pan with the sugar, cinnamon, ginger and a good grating of nutmeg. Season with salt and freshly ground pepper, stir well and pour over the sweet potatoes.
Cover with dish with foil and bake in the oven for 50 mins-1hr until the potatoes are tender when pierced with a sharp knife.
Remove the foil, arrange the marshmallows over the top and return to the oven for about 10 mins until golden and toasted.
Your rating