How to make an omelette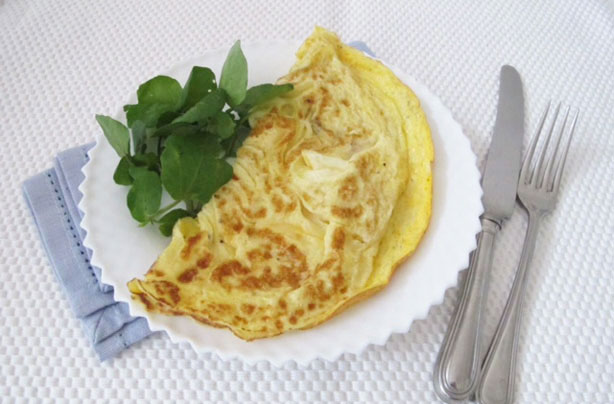 Ingredients
3 eggs
2 tsp milk or water
Salt and freshly ground pepper
A small knob of butter
How to make an omelette should be one of the first things anyone should learn in the kitchen. With a box of eggs in the fridge you really have got a fast, healthy and cheap meal at your fingertips. Omelettes are so quick and easy to make you can be tucking into a satisfying hot meal within 5 minutes of cracking the first egg. At their simplest omelettes are just eggs beaten with a little water or milk, salt and pepper, but to these basics you can add all sorts of different ingredients. They're perfect for using up leftover vegetables, ham, bacon, cheese, herbs, in fact any little bits you have in the fridge can be used in an omelette.
Because you can make an omelette so quickly they're great for a speedy breakfast as well lunch or dinner. Simply serve with crusty bread or chips and salad for a larger meal.
The freshest eggs will always make the best omelette. Buy eggs stamped with the Lion Quality Mark, this means they have been produced to the highest standards of food safety. If the eggs you have do not have a 'best before' date and you want to check their freshness place them in a bowl of cold water. If the egg sinks it is fresh, if it floats it means it has a larger air sack at the base of the shell which means that it's older.
For the best flavour cook your omelette in a little melted foaming butter, this will also give the omelette a lovely golden colour, but olive oil or cold pressed rapeseed oil will also give a good flavour too.
Follow these simple steps to making a classic plain omelette and then add your own fillings and toppings. We've given some ideas below to get you started.
Equipment
18cm diameter non-stick frying pan
1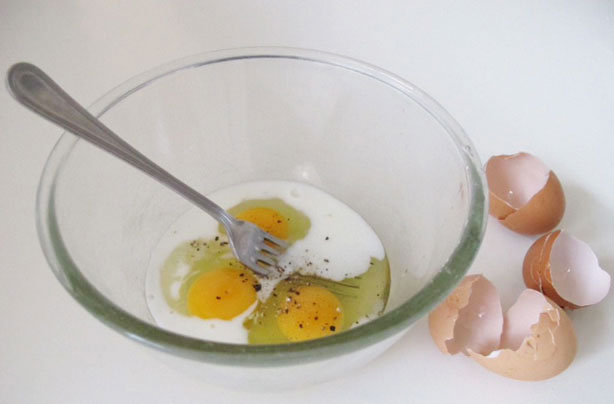 Step 1
Crack the eggs into a bowl. Season with salt and pepper, add the milk or water and whisk with a fork until combined.
2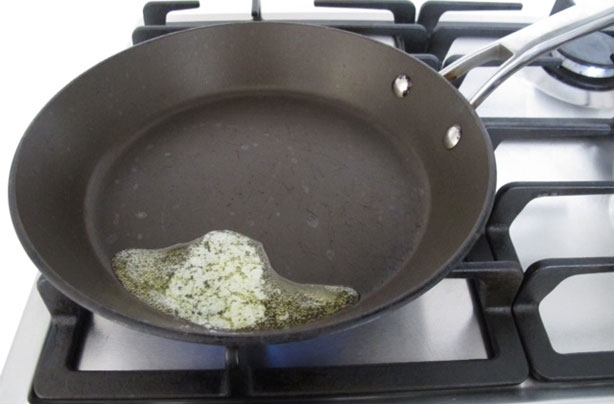 Step 2
Heat the butter in a non-stick frying pan over a medium until melted and foaming.
3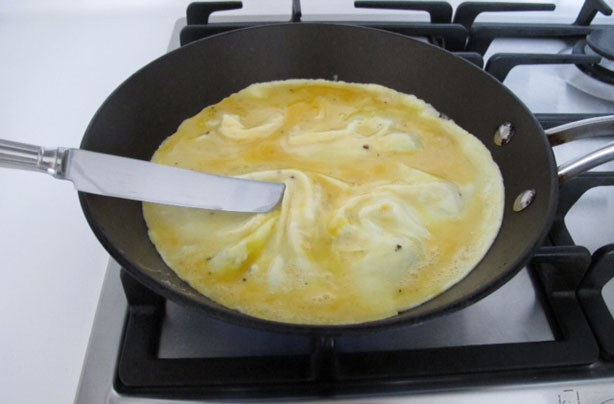 Step 3
Pour in the egg mixture and as it starts to set on the base gently push the sides of omelette towards the centre of the pan allowing the runny egg to flow to the edge of the pan. Continue to do this until the underneath is golden and the top is softly set.
4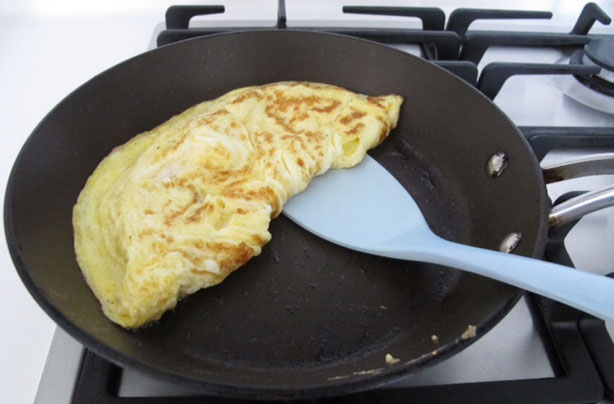 Step 4
Using a spatula, fold the omelette in half and slide onto a plate.
5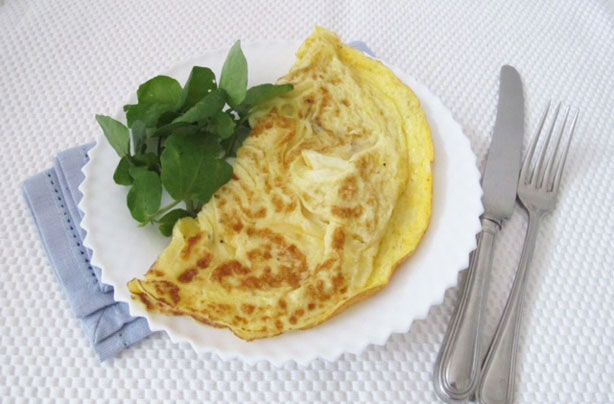 Step 5
Sprinkle with ground pepper and serve with fresh salad leaves.
Twists
Cheese
– Sprinkle grated Cheddar over the top of the softly set omelette before folding in half. The heat from the omelette will start to melt the cheese making it deliciously goey inside.
With a twist – Goat's cheese and tomato
, arrange thin slices of goat's cheese over the softly set omelette with chopped tomato, a few fresh basil leaves and a sprinkling of pine nuts. Place the pan under a medium grill (keeping the handle away from the heat) until the cheese starts to melt. Slide out of the pan and serve flat, pizza-style.
Ham – Sprinkle chopped cooked ham over the softly set omelette with or without grated cheese before folding.

With a twist – Onion, ham and roasted pepper, fry sliced red onion in the omelette pan in a little olive oil until soft. Add chopped ham, cooked sausage, salami or chorizo and some roasted peppers from a jar and heat through. Pour the omelette mixture over top and cook until set underneath. Finish under a medium grill until just set and serve flat.
Mushrooms – cook sliced mushrooms in a little butter with some garlic until golden and tender. Spoon over the top of the softly set omelette before folding.

With a twist – Mushrooms, spinach and blue cheese, cook the mushrooms as above, spoon over the omelette and top with a handful of baby spinach leaves and crumbled blue cheese before folding.
Fish – scatter prawns, chopped smoked salmon or flaked canned tuna over the softly set omelette before folding.

With a twist – Smoked mackerel and herb, add a little chopped fresh parsley and snipped chives to the beaten eggs before making the omelette. Scatter flaked smoked mackerel over the softly set omelette, dot with a few spoonfuls of soft cheese and a sprinkle of finely grated lemon zest before folding.
Your rating