Fishy pie
Print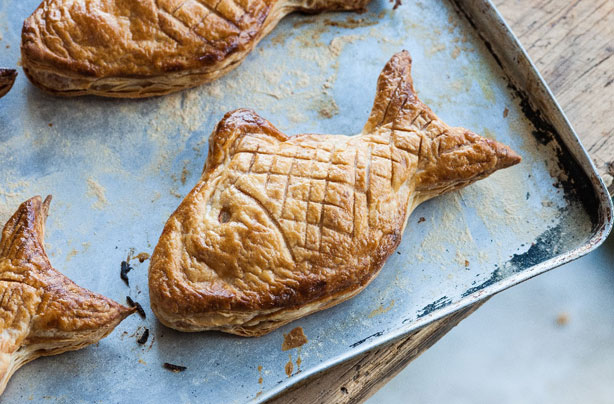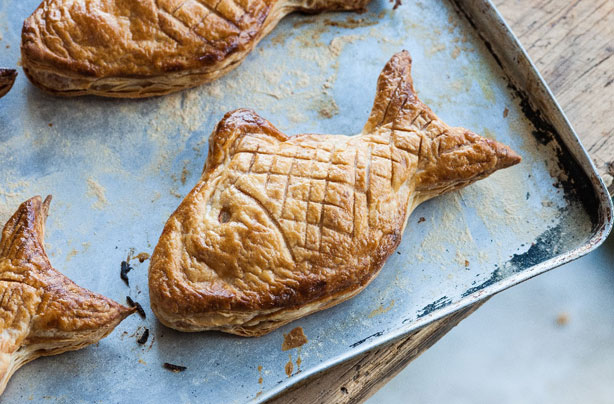 Serves: 6

Prep time:

Cooking time:

Total time:

Skill level: Easy peasy

Costs: Mid-price
These wonderful crunchy cased creamy fishy pies are just the thing for a cosy night in. Ready in just over an hour and perfect with mashed potatoes and peas. The kids will love the fun shape and you will love knowing that your little ones are getting a healthy and tasty tea.
Ingredients
700g of cod, skinned
100g of basmati rice
1 tbsp of sunflower oil
200ml of water
15g of butter
3 leeks, chopped
1 garlic clove, peeled and crushed
250g of button mushrooms, sliced
15g of dill, chopped
175g of half-fat sour cream
450g of puff pastry
1 egg, beaten
The fish in this recipe can be substituted for almost any other white fish. Try experimenting.
Method
Preheat the oven to 200°C/gas mark 6
Put a saucepan over a medium heat. Heat the oil, then gently fry the basmati rice until translucent before adding the water
Bring the rice to the boil, lower the heat and leave to gently simmer for 10 minutes. Cover the saucepan, take off the heat and leave to stand for 15 minutes
Melt the butter in another pan. Add the garlic and leeks and cook over a medium heat until soft but not coloured
Stir in the mushrooms. When the mushrooms begin to release their liquid, put the cod on top of the mushrooms and leeks. Cover the pan, lower the heat and steam for 10 minutes
Carefully take the cod out of the pan and set aside
Remove the pan from the heat. Stir the rice into the leeks and mushrooms before adding the sour cream and chopped dill
Flake the cod into the mixture and stir gently to combine
After rolling out the pastry as thin as possible, cut into 12 equally-sized fish shapes. Set aside on a baking tray lined with parchment paper
Spoon some of the mixture onto the 6 fish-shaped pastry bases, taking care to leave a 1 inch gap at the edges. Cover each open pie with another fish-shaped layer of pastry
After crimping the edges and egg washing the pastry, bake in the oven for 15-20 minutes until golden brown. Serve immediately
The Great British Chefs Kids Recipes App in association with Tesco Realfood is available for free for the iPad and iPhone http://www.greatbritishchefs.com/kids-recipes
Your rating