Santa cake decorations
Ingredients
150g red modelling paste
50g white modelling paste
50g skin tone modelling paste
10g black fondant
5g yellow fondant
Black balls/sprinkles

Dusky pink petal dust

Dried spaghetti

These cute little Father Christmas characters are the perfect decoration to top your cakes and bakes with over the festive season - the kids will love them! They take a little while to make but are well worth the effort.

These toppers will last for up to 6 months if kept in a breathable card cake box, which means you can make them well in advance. So when you've got some spare time and fancy getting creative in the kitchen, roll up your sleeves and get making with our step-by-step picture recipe - it couldn't be easier!

By Victoria Threader

Equipment
Sharp knife
20mm Scalloped oval cutter
Pin tool or cocktail stick
Soft fine brush for the cheeks
1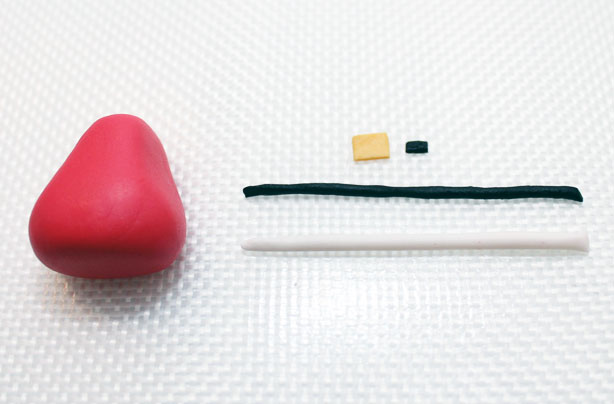 Step 1
For the body,
use the red modelling paste to mould a small pear shape measuring roughly 25mm across. Using the white paste and black fondant, roll 2x thin sausages long enough to go right round the body. Wrap the white around the bottom of the body for the coat trim and then the black around the middle for the belt. For the belt buckle, cut a tiny yellow fondant square and an even smaller back square. With a dot of water stick the small black square to the centre of the yellow and then stick this to the centre of the belt.
2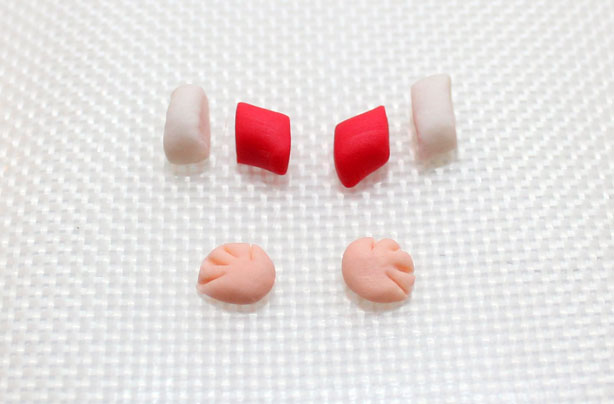 Step 2
For the arms,
roll sausage shapes in the red and white paste, making the white slightly fatter than the red. Cut sections off diagonally so they fit neatly onto the body. With a brush of water stick the red and the white together. For the hands, roll tiny balls of skin tone paste and then use a pin tool or cocktail stick to add the fingers. Stick them to the end of the white paste.
3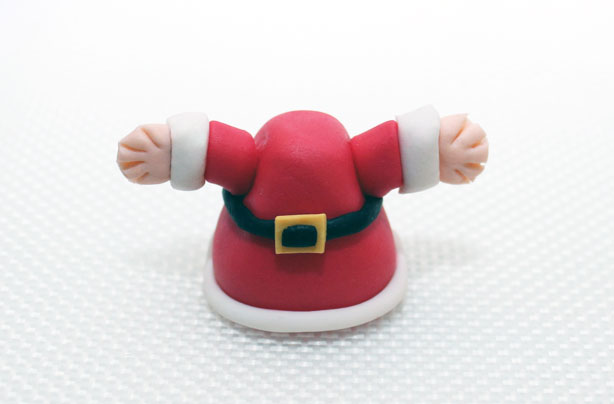 Step 3
With a brush of water, stick the arms to the body. If you struggle to keep the arms in place, use a section of dried spaghetti pushed into the body to hold the arms on.
4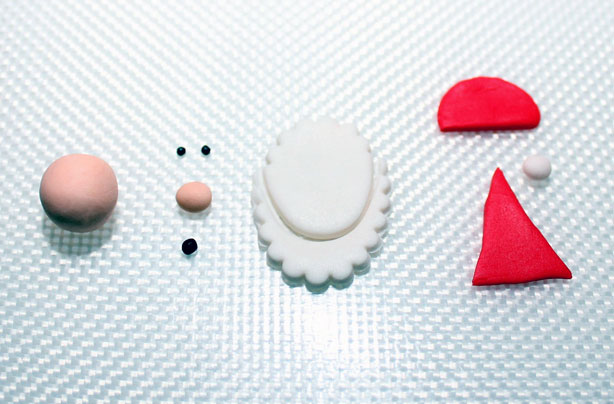 Step 4
For the head
, roll a small ball of skin tone paste for the head and smaller one for the nose. Using the 20mm oval cutter on the scalloped side, cut an oval and then with the plain side of the cutter cut the top section away. Mould a 15mm circle and cut it in half and cut a triangle for the hat. Then roll a white ball for the bobble and a small black ball squashed and cut in half for the mouth.
5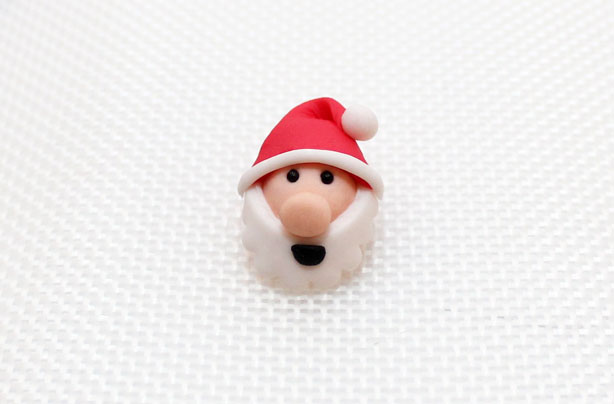 Step 5
Stick the nose to the centre of the face, and then add the eyes pushing them in with a pin tool or cocktail stick. Add the beard with a brush of water and the mouth onto the beard. Stick the back of the hat on and then add the triangle to the front bending the top over to add the bobble.
6
Step 6
Add cheeks using the soft brush and the petal dust.
7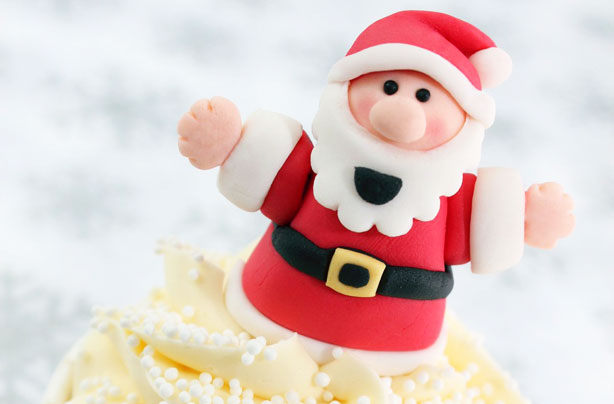 Step 7
Pop on top of any cupcake or bake to make them extra special!
Your rating