Christmas pastry wreath decorations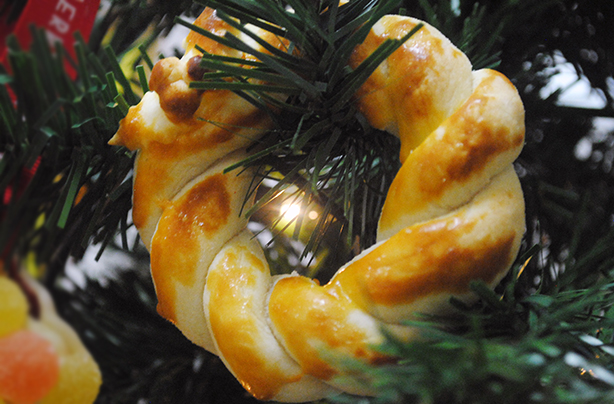 Ingredients
1x pack of ready-to-roll puff pastry
1 med egg, beaten
100g Cheddar cheese or Parmesan

These buttery and delicious Christmas pastry wreath decorations are the perfect edible treat to pop onto your Christmas tree this year. They're really easy to make using only cheese, ready-to-roll puff pastry and a little bit of egg to glaze.

Decorate with pastry holly leaves and other festive shapes. You could add a variety of cheeses to the pastry to make these wreaths even tastier.


Come and see more of our creative and edible Christmas tree decorations
Equipment
Holly shaped cutter (Hobbycraft)
Baking tray
1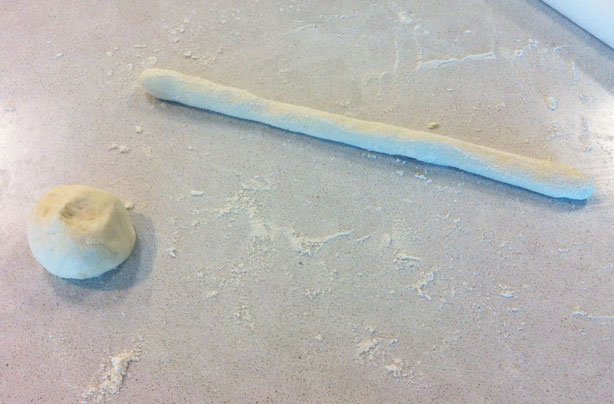 Step 1
Preheat the oven 180°C/350°F/Gas Mark 4. Dust a clean surface with a little bit of flour and roll out your pastry into a ball. Break off 2 golf ball-size pieces and begin to roll them into thin sausages. Place some thin strips of grated cheese into the sausage shapes as you roll them.
2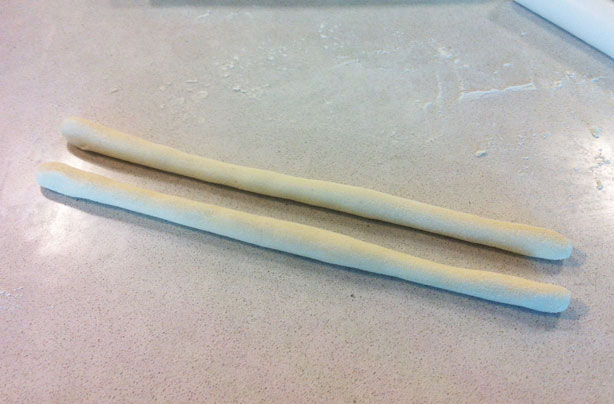 Step 2
Make sure both of the pastry sausages are the same length when you roll them out. Measure them by lying them side by side.
3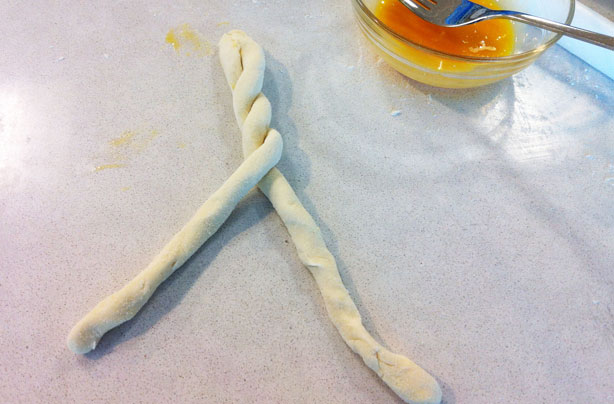 Step 3
Place one of the sausages on top of the other at one end and press down. Secure the pastry in place with a bit of egg mixture.
4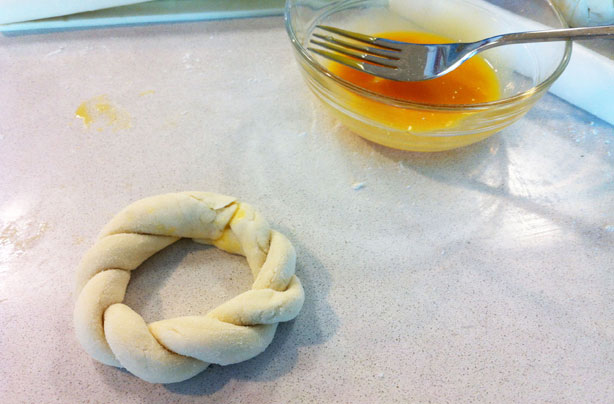 Step 4
Begin to wrap the 2 sausage shapes around each other. You might find this easier to do by getting someone else to hold the top of the sausages still.
5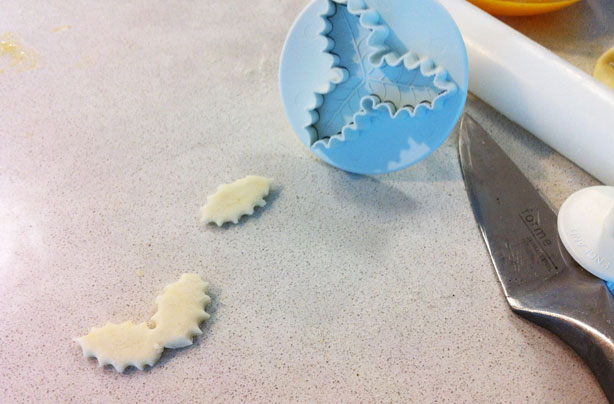 Step 5
Bring the bottom of the sausage around to meet the top and press down together securing with egg mixture.
6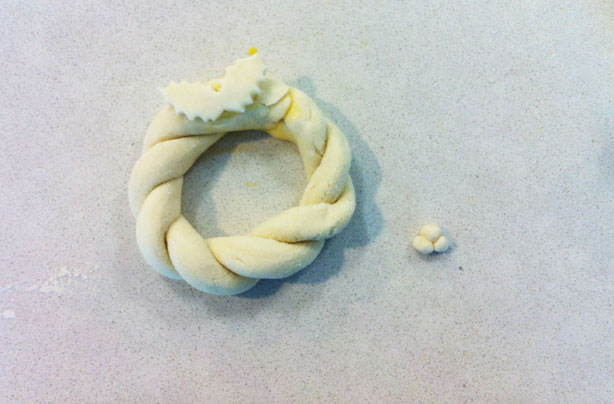 Step 6
Using your holly shaped cutter, cut out some holly shapes. Pop on top of each wreath and press down with a bit of egg mixture.
7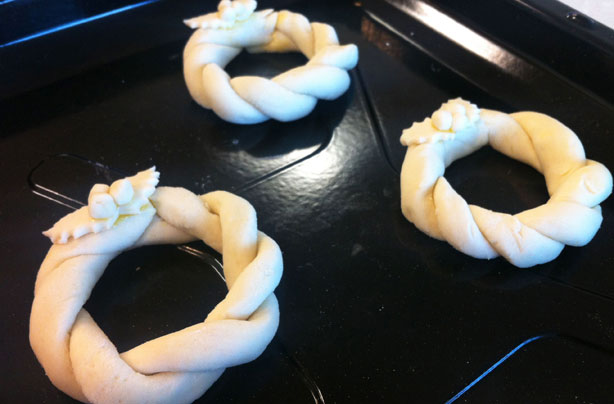 Step 7
If you decide to make 2 holly leaves, cut off the third holly leaf with a sharp knife and roll into 3 small balls to make the berries. You can also make the berries by breaking off 3 small balls from the main dough too.
8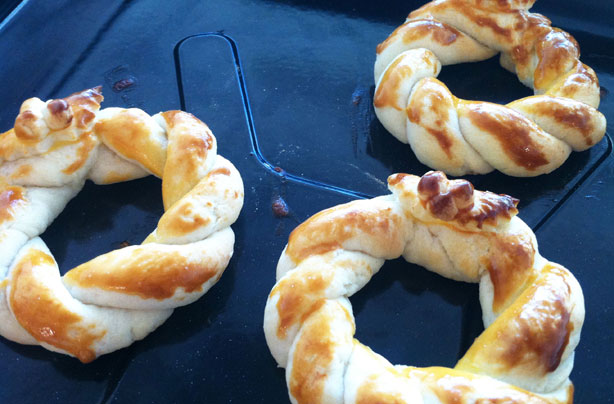 Step 8
Put the berries onto the wreath gluing down with some egg mixture. Pop your finished wreaths onto a baking tray and bake for 10-15 mins until golden.
9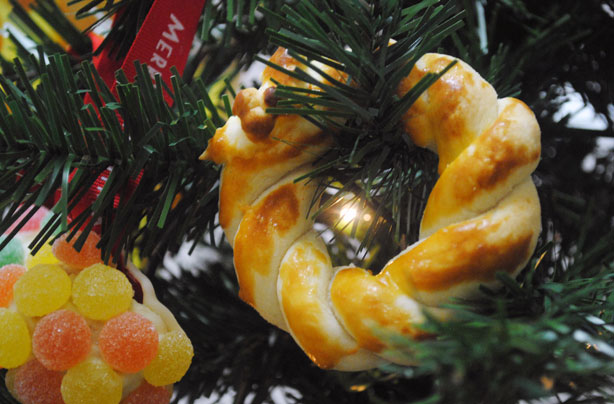 Step 9
Take out of the oven and leave to cool completely before popping them onto your tree. You can tie a ribbon around each wreath and attach to the tree that way too.
Your rating