Quail's egg, wild mushroom and spinach filo wreath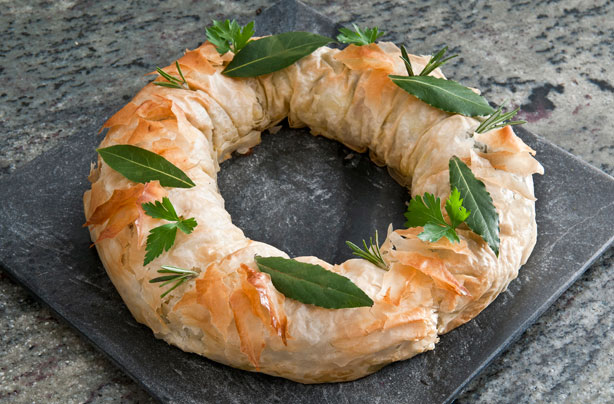 Ingredients
8 large sheets filo pastry
50g butter, melted
Fresh bay leaves, rosemary and thyme
Sprigs, to garnish
For the filling:

12 quail's eggs
230g basmati rice
350g fresh spinach
½tsp saffron strands
2tbsp olive oil
2 shallots, finely chopped
50g pine nuts, toasted
3–4 slow-roasted tomatoes or
Semi-dried tomatoes
3tbsp chopped fresh basil
4tbsp crème fraîche
Salt and freshly ground black pepper
This delicious and rather impressive Christmas wreath will be the talk of your Christmas dinner this year. Perfect for vegetarians, this wreath packs crisp filo pastry with rice, soft Quail's eggs and handfuls of pine nuts.

This pastry wreath is the ideal centerpiece for your vegetarian Christmas feast. Follow our step-by-step picture recipe to make this tasty showstopper.

Method

To make the filling:

1. Preheat the oven to 200˚C/Fan oven 180˚C/Gas Mark 6. Place the quail's eggs in a pan of cold water, bring to the boil and simmer for 3 minutes. Drain and cool under cold running water, then shell.

2. Cook the rice according to the packet instructions, cool under cold running water and drain well. Blanch the spinach for a minute in boiling water, cool quickly under cold water, then drain and pat dry with kitchen paper. Soak the saffron strands in 2 tablespoons boiling water.

3. Heat the oil in a frying pan, add the shallots and cook over a medium heat for 3 minutes until softened. Remove from the heat, add the rice, saffron and its liquid, pine nuts, tomatoes, basil, crème fraîche and seasoning and stir to combine.
1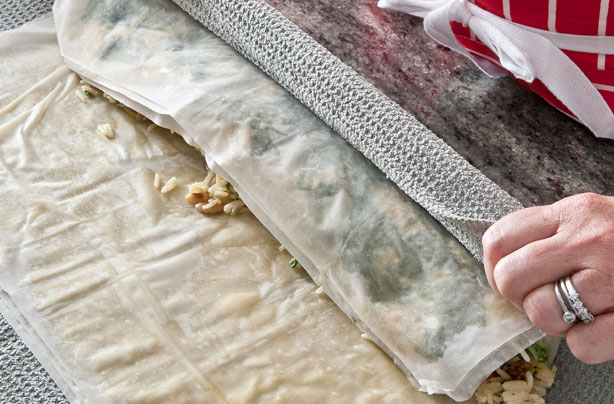 Step 1
To assemble the wreath, layer three sheets of filo on top of each other, brushing each one with melted butter. Arrange half the blanched spinach leaves over the top third of the filo, leaving a 2.5cm (1in) border.
Spread half the rice mixture over the spinach and place six quail's eggs along the top edge. Roll up the filo, transfer to a large greased baking sheet and shape into a semi-circle.
2
Step 2
Repeat this process with three more sheets of filo and the rest of the filling ingredients. Tuck the pastry edges of the two semi-circles into each other to form a ring about 28cm (11in) in diameter.
3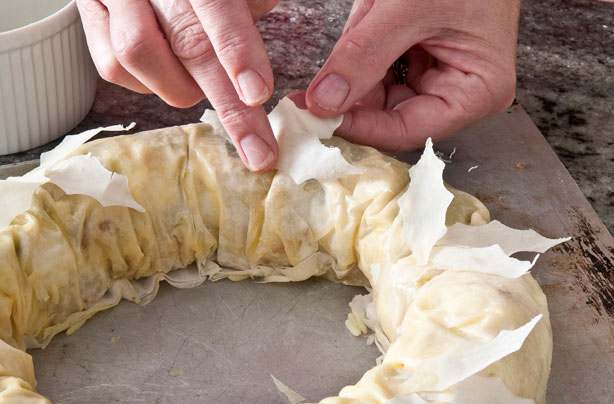 Step 3
Lay one of the two remaining filo sheets on top of the other, fold in half and cut out holly leaves with a metal cutter. Separate the leaves.
Brush the wreath with melted butter and decorate with the leaves, then brush them with butter. Bake for 35–40 minutes until golden.
4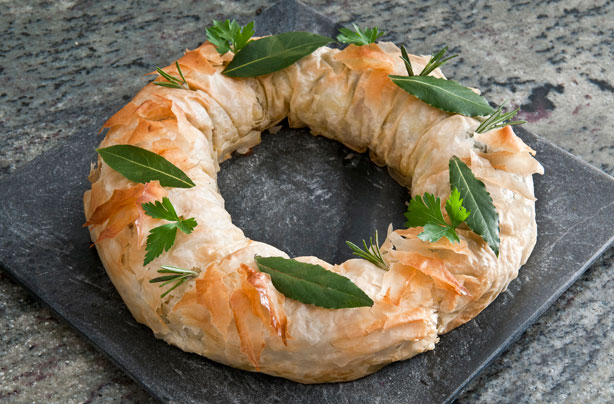 Step 4
Transfer to a warm serving dish and decorate with fresh herbs. Serve hot or cold.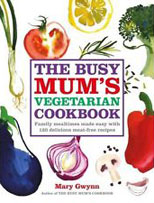 Taken from The Busy Mum's Vegetarian Cookbook, Mary Gwynn, Simon & Schuster Illustrated (RRP £20)
Your rating