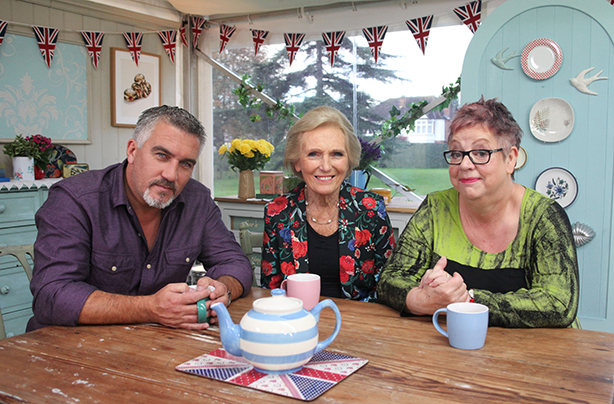 Are you watching The Great Sport Relief Bake Off? If all that baking action has got you in the mood, why not try one of our delicious versions of the recipes they're making?
Episode 4
The final four contestants include impressionist Alistair McGowan, Saturdays singer Rochelle Humes, comedian Doon Mackichan and former Blue Peter presenter Helen Skelton.
Signature bake: Pizza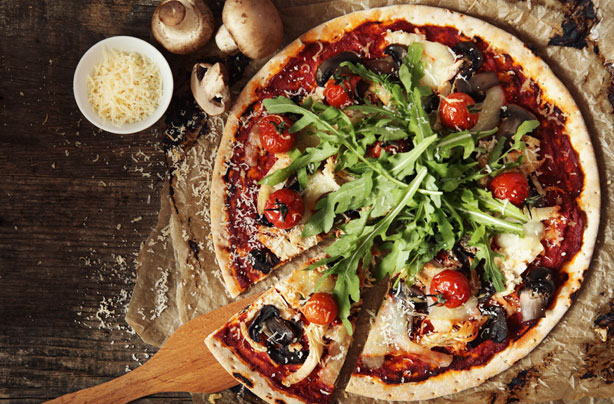 Pizza is on the menu as the signature bake. It's good to see some savoury baking action on the Bake Off every now and again!
Recipes to try: Want to make your own pizza? Follow our step-by-step picture recipe which shows you how to make dough too. You can make our chicken, mushroom and tomato pizza (pictured above) or we've lots more delicious pizza recipes to try too.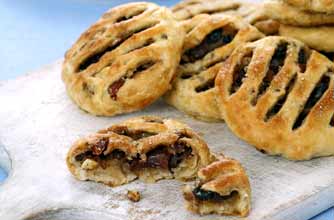 These afternoon tea favourites are so delicious and simple to make, combining a buttery, flaky pastry with sweet, dried fruits packed inside.
Recipes to try: You can't beat a classic and this mouth-watering Eccles cakes recipe - give it a go!
Showstopper round: Themed cakes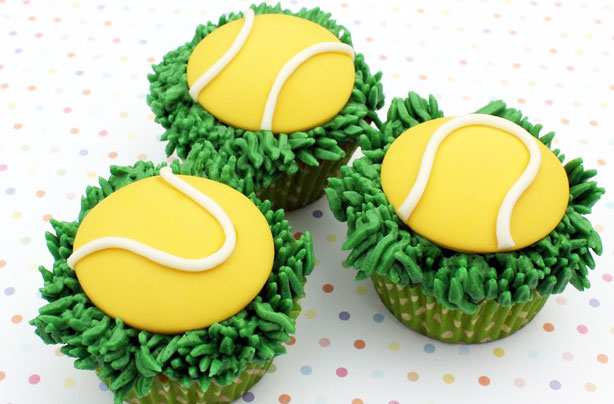 Nothing says 'Sport Relief' like a sport-themed cake!
Recipes to try: If you fancy giving your cakes a sports theme our tennis cupcakes are perfect for beginners plus they'd be great to sell at a bake sale if you're thinking of hosting one for Sport Relief.
Episode 3
Who's up next? Welcome to the Bake Off madness Michael Ball, Emma Freud, Jamelia and Victoria Pendleton. Let the baking commence!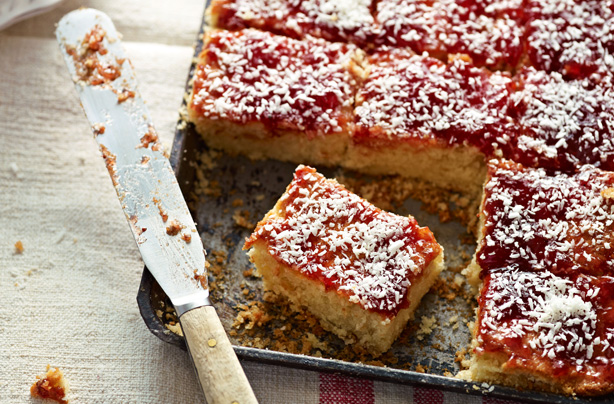 We all love a good tray bake. They're so simple to make and are perfect for beginners. Just mix all of your ingredients together and pop into a tray - now that doesn't sound too hard, does it? Tell that to the celeb bakers!
Recipes to try: Choose from our 40 easy tray bake recipes which include these delicious and gooey jammy coconut squares.
This round really is a challenge - making ring doughnuts! We just love the thought of the kitchen smelling like warm, golden doughnuts dusted in sugar mmm...
Recipes to try: If you fancy whipping up some doughnuts of your own these cinnamon ring doughnuts are the perfect choice. We've also got lots more different doughnut recipes to choose from too.
Showstopper round: Layered cakes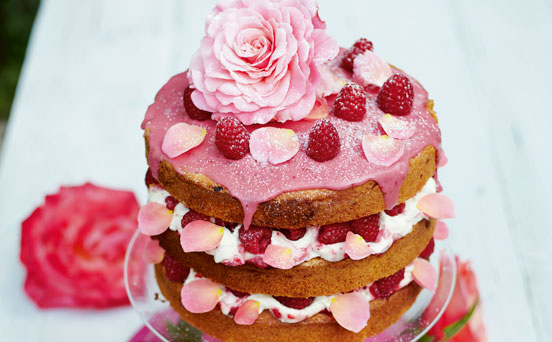 Ooh, we do love a layered cake - it means more sponge, more filling and more goodness! Not only did the celebs have to make a layered cake, they've got to decorate it too - eek!
Recipes to try: Our rose and raspberry layered cake is sure to impress or if you fancy making your own showstopper, we've got some amazing showstopping cakes to inspire you. You could decorate your layered cake with icing sugar, ready-to-roll fondant and other edible decorations just like the celebs.
Episode 2
The second round sees Kirsty Young, Greg Rutherford, Jason Gardiner and Jane Horrocks battle it out for the Sport Relief Bake Off apron.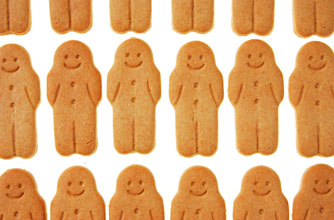 Nothing beats a crisp, golden gingerbread biscuit dunked in a warm cuppa. The sweetness of the honey and the mixed spices in a classic gingerbread biscuit make them irresistible.
Recipes to try: Our classic gingerbread men biscuits are great for making with the kids. Or you can take your skills to the next level and make an impressive gingerbread house.
Have you ever made a banoffee pie before? Well, now's your chance! A banoffee pie combines bananas with toffee and cream to make a deliciously sweet dessert.
Recipes to try: Our favourite banoffee pie recipe has a mouth-watering buttery biscuit base. If you've been bitten by the banoffee bug you could make our banoffee muffins too!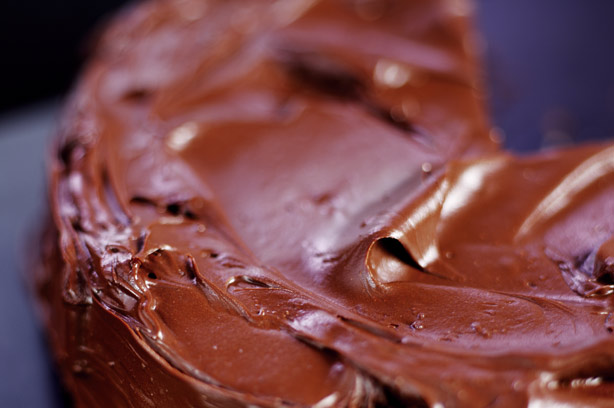 The celebs have to think outside of the box for the showstopper round making chocolate cakes which represent their jobs - how tough does that sound?
Recipes to try: Fancy making a chocolate cake? Our classic chocolate fudge cake is sure to please (or you can choose from one of our best chocolate cake recipes instead!) We've got lots more cake recipes which you can decorate with fondant and buttercream.
Episode 1
The first celebrity Bake Off episode saw Harry Potter star Bonnie Wright, actress Samantha Bond, cricket star Michael Vaughan and TV presenter Johnny Vaughan face off in the Bake Off tent.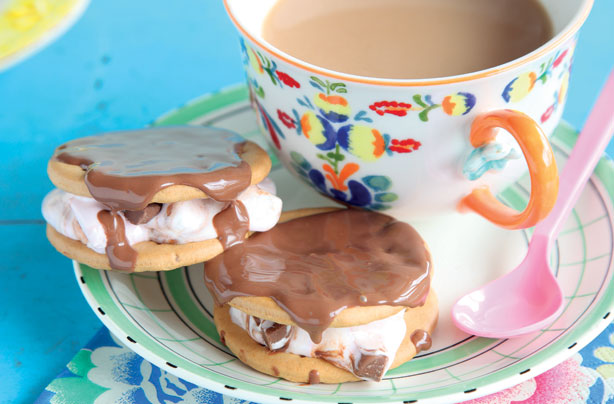 Two layers of biscuit sandwiched together with something naughty, sandwich biscuits are right up our street. The celebs did a range of different flavours such as peanut butter biscuits with jam and chocolate and raspberry sandwiches - the possibilities are endless!
Recipes to try: Our chocolate marshmallow sandwiches are a naughty treat to try or if you fancy something a little more classic our jammy sandwich biscuits should do the trick.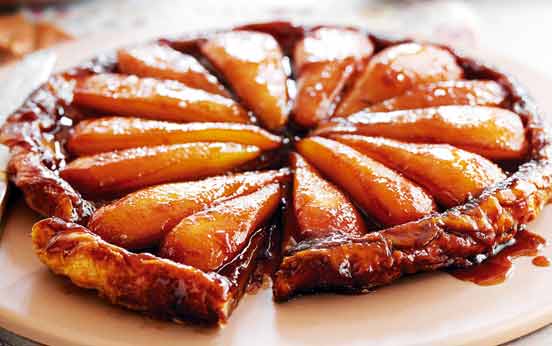 A classic dessert, tarte tatin is cooked upside down with the pastry covering the ingredients and caramel sauce. The celebrity bakers struggled with the complex dessert so we'd recommend using shop-bought puff pastry if you fancy giving it a go.
Recipes to try: Gregg Wallace's classic tarte tatin recipe uses apple and caramel like in the show or if you fancy a twist, our pear tarte tatin makes a lovely change.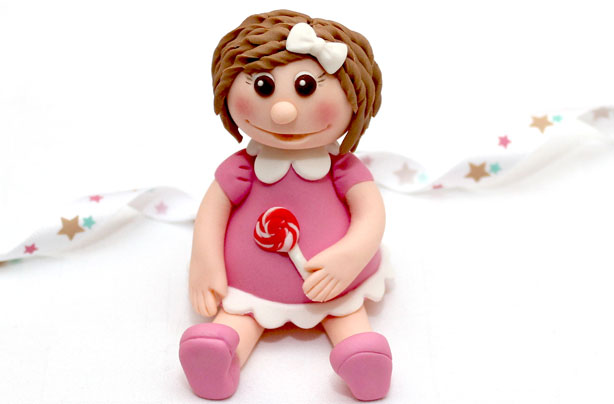 The showstopper round was a tricky one. 3D novelty cakes involve a precise hand and an artistic flair with fondant characters and shapes.
Recipes to try: Pick one of our classic birthday cake recipes and decorate with one of our clever fondant cake decorations.