Chocolate fondue cake
Print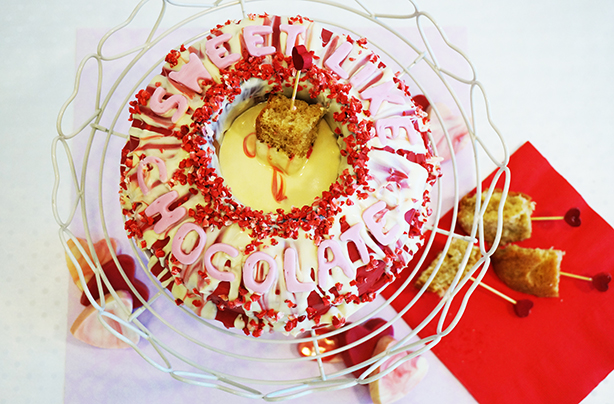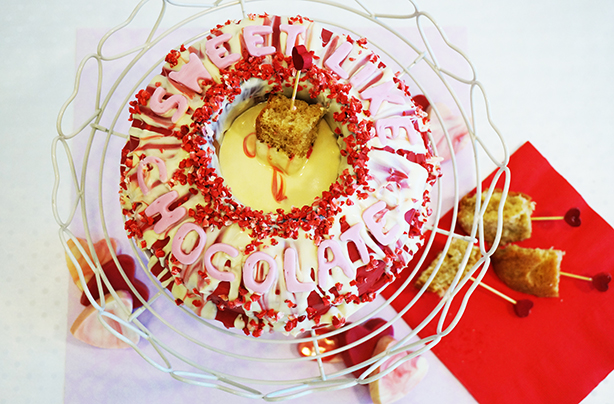 Serves: 8-10

Prep time:

Cooking time:

Total time:

Skill level: Bit of effort

Costs: Mid-price
This impressive chocolate fondue cake is the perfect treat to share with the whole family. A soft sponge, surrounding a naughty pot of melted chocolate, this cake is the ultimate luxury treat. Break off pieces of the cake and dip into chocolate in the centre. You can also chop up strawberries, banana and other treats to dip into the cake and you can use dark or milk chocolate instead of white chocolate if preferred - the choice is yours!
Ingredients
200g butter
200g caster sugar
4 medium eggs
2tsp vanilla extract
200g self-raising flour
1tsp baking powder
For the decoration:

200g white chocolate
Red candy melts
Dried strawberries
Pink fondant

You will also need:
Deep dish cake tin (21cm) or a small bundt tin
A small bowl
Letter cutters

You can use up the cake from the centre by making cake pops. They'd be an extra naughty treat for dipping into the cake too
Method
Preheat oven 180°C/350°F/Gas Mark 4 and line your cake tin with greaseproof paper.
In a large mixing bowl, add all the cake ingredients and mix with an electric hand whisk until combined.
Pour the mixture into your chosen cake tin and bake for about 20-25 mins until golden and springy to touch.
Meanwhile make the lettering by rolling out some pink fondant and cutting out the letters. Put the letters on greaseproof paper to set.

Take the cake out of the oven and leave to cool. Remove from the tin and place on your display plate or board.

Begin to cut a small circle into the centre of the cake, this is where you're going to place the small bowl to hold the chocolate. Measure the diameter and depth of the bowl and cut a circle the same size as this. Scoop out the sponge in the centre and pop into a seperate bowl and leave to one side. Put the small bowl into the hole in the cake and press down firmly.

To decorate, melt the candy melts by following the packet instructions. Drizzle the candy melts over the cake covering all over. You can cover the bowl inside the cake too if you'd like.

Next melt the white chocolate and drizzle the cake and the small bowl with white chocolate. Once you're happy with the covering, sprinkle with the dried strawberries around the edges of the cake and the edges of the bowl. Add the letters and pop into the fridge to set.

Before serving, melt some more white chocolate and pour into the bowl in centre of the cake ready for dipping.
Props from:

Hobbycraft
Baker and Maker

Your rating