Canja de Galinha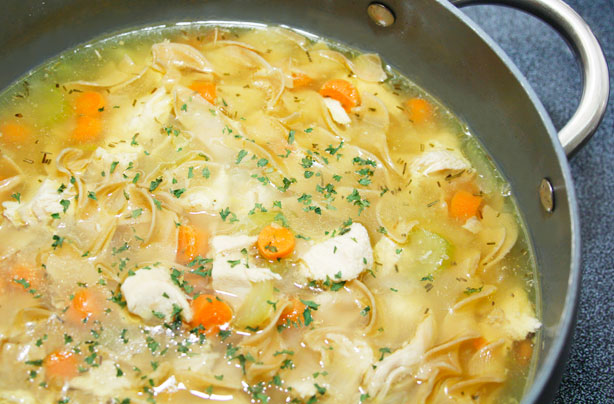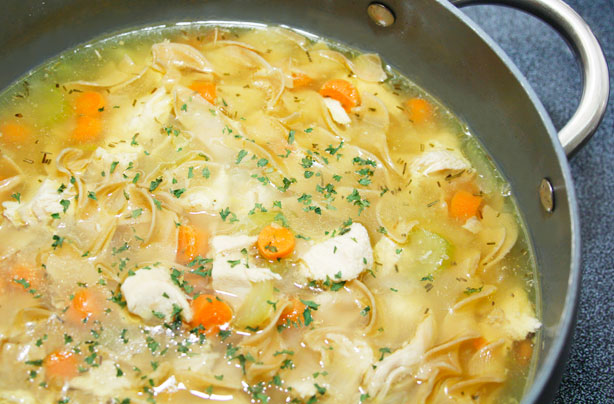 Serves: 4-6

Prep time:

Cooking time:

Total time:

Skill level: Easy peasy

Costs: Cheap as chips
Who can resist a steaming bowl of homemade chicken soup? Canja de Galinha is a typical Brazilian chicken soup and is famous for its lightness and simplicity. The Brazilians widely believe that it helps you get over a cold, digestive problems and other forms of sickness. It is definitely comforting and full of goodness. It's also served in Brazil for special occasions such as New Year's Eve, Birthdays and other family events.
ADVERTISEMENT
Ingredients
6 chicken thighs, skinned
1 onion, chopped
2 bay leaves
1.5l hot chicken stock
2 carrots, peeled and sliced
2 potatoes, peeled and cut into small cubes
1 stalk celery, sliced
75g long grain rice
2tbsp fresh parsley, chopped
Salt and freshly ground black pepper
Method
Put the chicken thighs into a large saucepan or deep sauté pan. Add the onion and bay leaves and pour on the chicken stock.
Bring to the boil, reduce the heat to simmer, cover and leave to cook gently for about 1 hour or until the chicken is fully cooked and tender.
Once the chicken is cooked, remove from the cooking liquid. When cool enough to handle remove the chicken thigh meat from the bones and cut and shred the meat into smaller pieces.
Skim the cooking liquid to remove any fat then return the chicken meat to the pan.
Add the carrots, potatoes, celery and rice and stir well.
Bring back to the boil, cover the pan and reduce the heat to simmer.
Cook for 30 – 40 minutes until the vegetables are tender and the rice softened but not breaking up.
Remove the bay leaves, stir in the parsley and add salt and pepper to taste, adding a little more liquid if necessary.
ADVERTISEMENT
http://www.goodtoknow.co.uk/recipes/540847/canja-de-galinha
© copyright goodtoknow.co.uk 2017