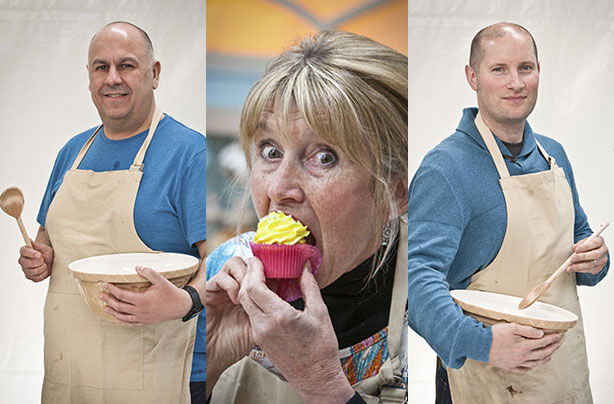 The Great British Bake Off has become the highlight of our week. We love every moment of it, from Mary Berry's facial expressions to finding out what the bakers are going to be making as a signature bake, the technical challenge and of course, the showstopper.
Keep up to date with all the latest gossip from the show here, including who's been crowned star baker for each show, who's been baked off and how you can
make your own bakes inspired by GBBO
.
Episode ten: The grand final
We were all glued to the TV last night watching Richard, Nancy and Luis baking their hearts out to be crowned the Bake Off champion 2014. From croissants to profiteroles, the bakers really had their work cut out and Mary Berry and Paul Hollywood were as strict as ever.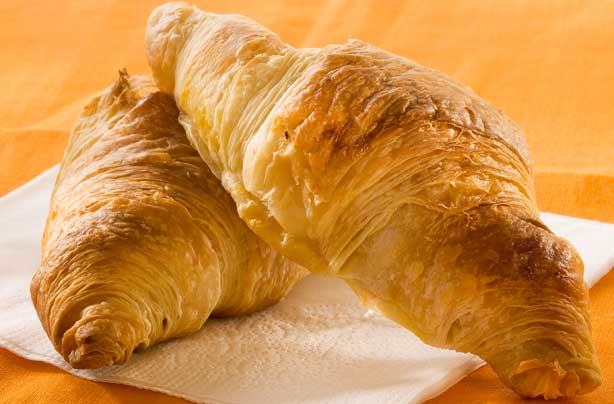 Get the recipe: Homemade croissants
For the technical challenge the bakers had to make a ridiculous amount of treats including 12 mini Victoria sponge and 12 mini scones mmm... The showstopper got the finalists all in a fluster with sugar work, sponges, profiteroles and petite fours - we're not sure how they managed it!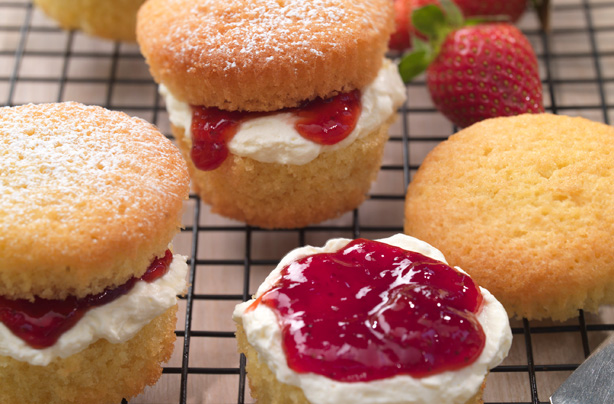 Get the recipe: Mini Victoria sponges
Nancy was crowned the Bake Off winner 2014 and we were very pleased for her!
Until next year...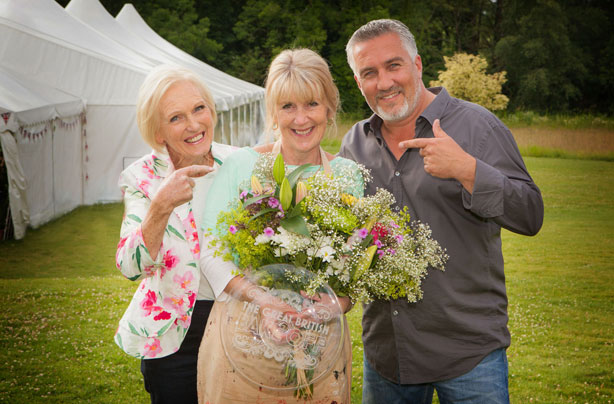 7 things we've learnt from Bake Off winner Nancy
P.S. Don't forget The Great British Bake Off Masterclasses start Thursday 9th October on BBC Two at 7pm.
Look who we bumped into...
The goodtoknow team were at the Cake & Bake Show last weekend and bumped into a few familiar faces including this series Bake Off contestant's Kate, Richard and Luis along with past winners Edd Kimber and Jo Wheatley. What a lovely bunch!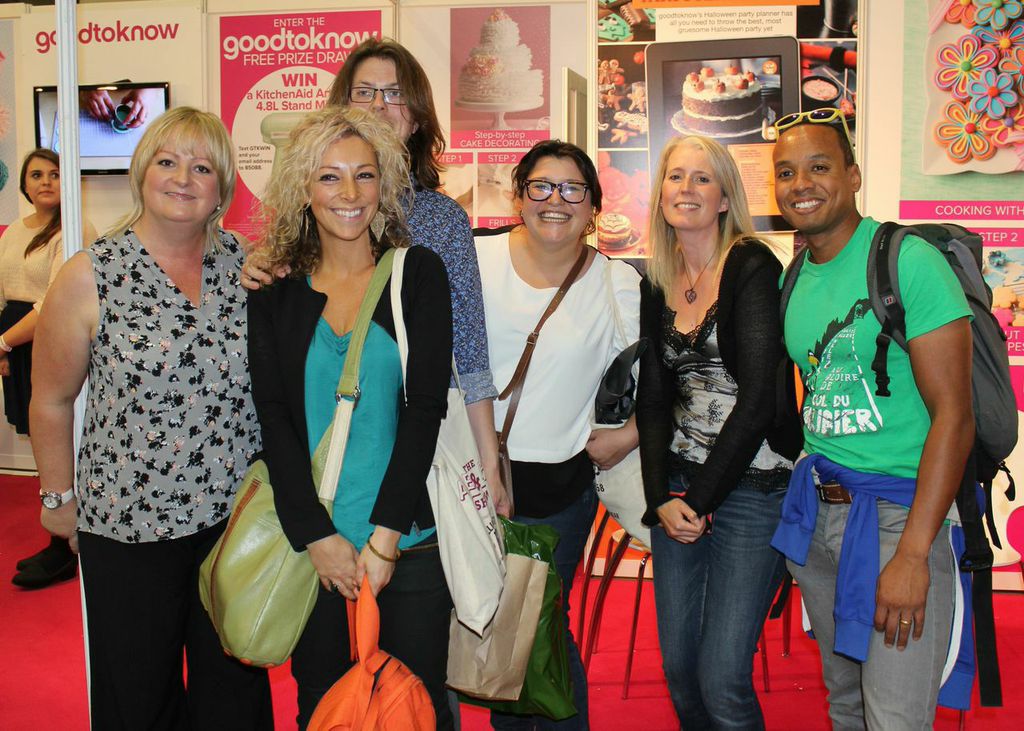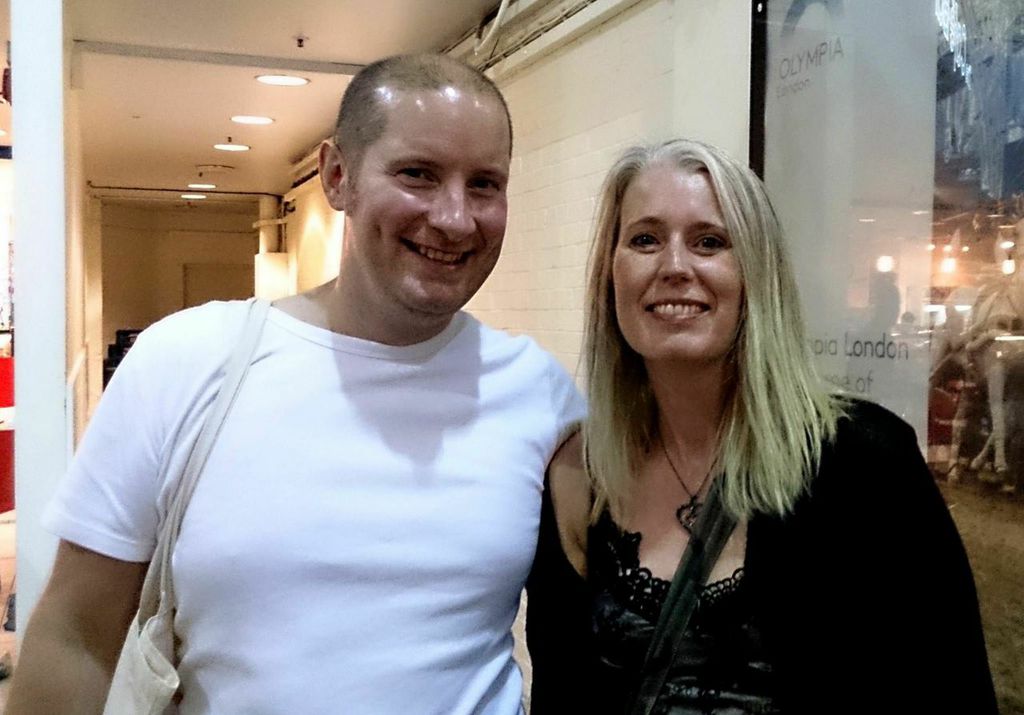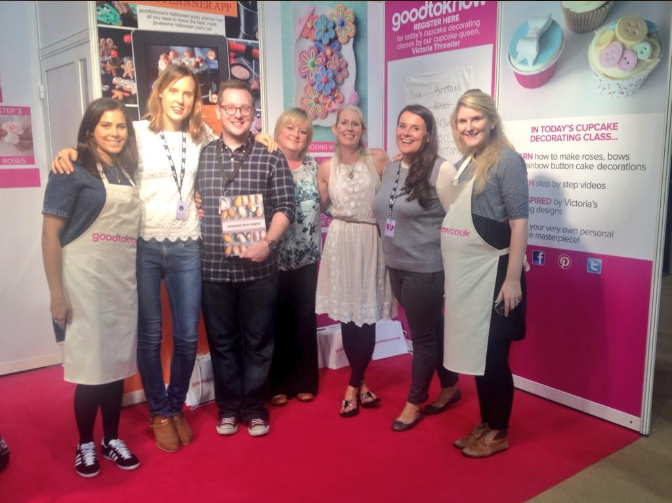 ****

Episode nine: The semi final, and patisserie week

There were just four contestants left this week, with Richard, Chetna, Luis and Nancy trying their hand at some of the more complicated patisserie for a chance to be in the all-important final. It's come round so fast. The signature bake was all about baklava, for which the contestants made two types. The technical challenge was German schichttorte (cue titters from Mel and Sue), which is a 20 layered cake cooked in stages under the grill. For the showstopper challenge, perhaps the most complex yet, semi-finalists were tasked with making two French entremets. That's a very fancy cake that looks straight out of a patisserie window, to me and you.
Richard was named star baker for the fifth time, making him the starriest baker in the tent since the show began. It was goodbye to lovely Chetna, we'll miss her. Next week, it's the big one - the final! Who do you think will win?


Get the recipe: Baklava
****

Episode eight: Advanced dough

Yet another intense episode of the Bake Off this week. With advanced dough flying everywhere, the bakers were set the challenge of making enriched fruit dough. Martha went for a "Christmas crossed with Chinese New Year" loaf and Nancy made a plum loaf, mmmm...
By coincidence, Chetna's signature challenge, a povitica, was the bakers' technical challenge so Chetna had the upper hand in this round, coming first in the technical while poor Martha came last.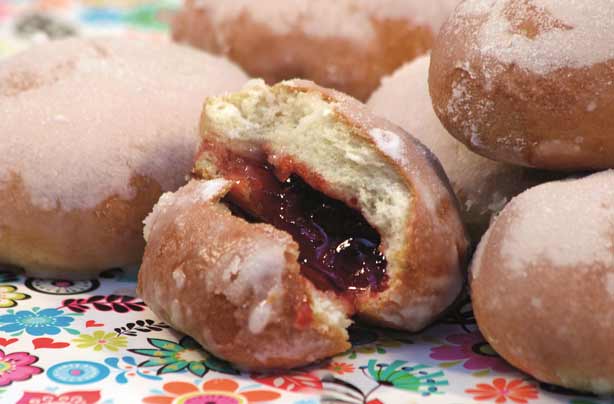 The showstopper challenge saw the bakers tackle doughnuts, making two kinds. Luis's doughnuts were by far our favourite (and not just because of Mary Berry's delighted reaction!). He made strawberry mojito doughnuts and Irish cream filled ones served in glasses with a straw - why has no one thought of this genius idea before?
Richard was crowned star baker for the fourth time in the show - a new record!
Find out who left the Bake Off tent this week
****

Episode seven: Pastry
This week was all about the buttery goodness that is pastry. The bakers were set the challenge of making signature savoury parcels from the likes of Cornish pasties to beef Wellingtons. Richard made spiced lamb pastries which got the thumbs up from Paul and Nancy turned a few heads with her Chinese duck parcels.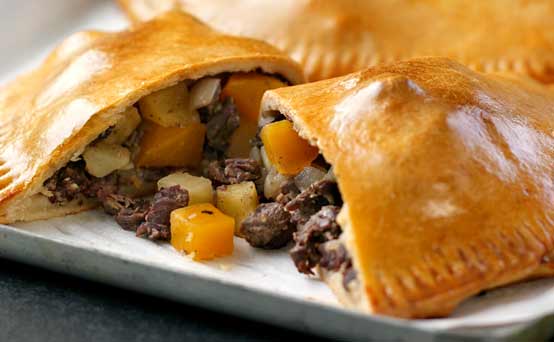 Get the recipe: Bake Off Cornish pasties
For the technical challenge the bakers pulled out all the stops to make a kouign amann (yes, we have no idea either!) no one really nailed this round. Chetna came last, Martha came third and Richard came first - star baker in the making we think?!
The showstopper saw the bakers rustle up 24 eclairs made from choux pastry. Kate made chocolate choux and basil choux which didn't go down very well with Paul and Mary. Richard was crowned star baker for this episode. Until next week!
Find out who left the Bake Off tent this week
****

Episode six: European cakes


Past the half way point now and the judges are keen to push the bakers with some tricky European bakes, some of which we have frankly not heard of before.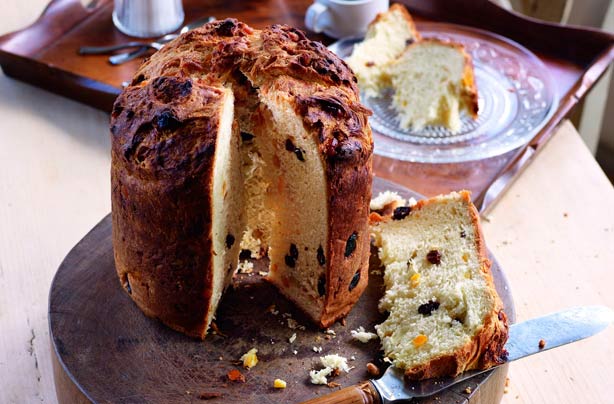 Master yeast-leavened bread yourself with this jewelled panetonne
It all began with yeast-leavened cakes which are a tricky thing to master with their fiendish texture having to be somewhere between a bread and a cake, think panettone. The technical challenge was a Swedish princess torte, you know the kind- that green marzipan-covered dome of sponge that you can pick up in the Ikea food hall. And the one we all wait for each week, the showstopper, was to be a contemporary take on a Hungarian dobos torte...We have no idea either.


Richard, who we've come to know and love for his accuracy, fell a little short with his showstopper, presenting it too sloppily in Paul and Mary's opinion. Then, despite Kate's three-tiered masterpiece sounding impressive didn't quite do it for Mary. She sure is hard to please! Chetna stood out in the showstopper with her fancy decorations of caramel grapes, mmmm... fruit shaped but caramel tasting, hello!


And so the time comes, who to send home between Kate and Richard? And here's the shocker, it was...no one! Apparently they were as bad as each other and everyone deserves a second chance. We were very pleased with the outcome, it's taken us this long to get over Norman's departure and we weren't sure we could relive that all over again.
Inspired to bake? Have a look at all our Great British Bake Off recipes here
****

Episode five: Pies and Tarts
Reaching the half way point, we saw the contestants battle their way through
pies
and
tarts
week, with everyone looking extremely tense at the possibility of soggy bottoms.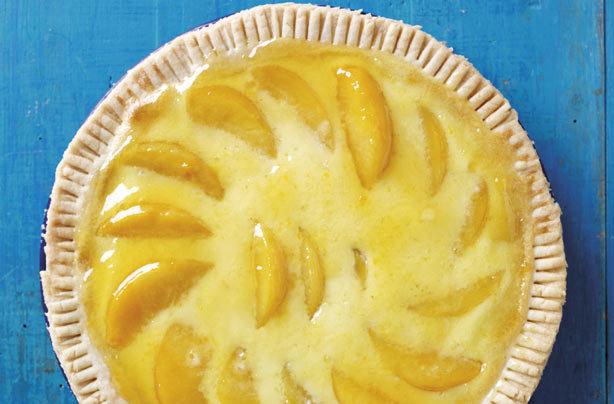 Get the recipe: Peaches and custard pie

The competition hotted up in the tent as the bakers were faced with perfecting a family-sized custard tart, recreating Paul's mini pear pies and pulling off a three-tired pastry creation. Previously tipped favourites, Martha and Richard fell short of Mary and Paul's high expectations with Richard's pastry slipping off his poached pears and Martha's signature apricot tart was pronounced a bit too, well...tart by Paul.


Kate won star baker with her beautifully presented showstopper rhubarb, prune and apple porkpies. Decorated with edible flowers and bay leaves, this tower of pies looked as pretty as a picture.



Finding pastry fiddly? Here's our video on how to line a tart case like a pro
Episode five: Click here to see who went home
****
BBC confirm: Diana has left the tent!
We were shocked to learn this week that contestant Diana left The Great British Bake Off before episode five, due to illness. The BBC confirmed this rumour after episode four, which we thought was rather poor timing after all the fallout from the ice cream drama between Diana and Iain.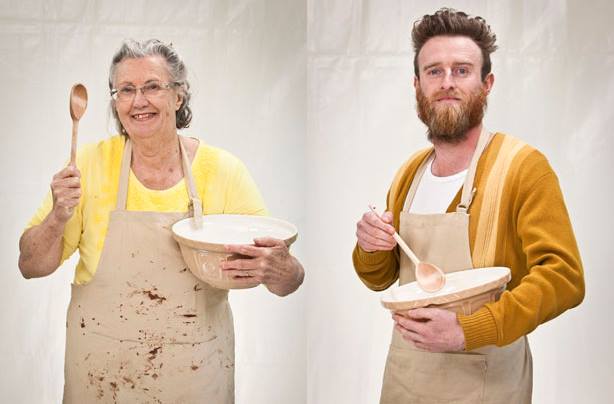 We are sad that Diana is no longer in the competition as we thought she was a wonderful baker. Get well soon Diana!
*What did you think about the Baked Alaska drama? Join us on Facebook for the debate*


****
Episode four: Desserts
The bakers had to make eight individual self-saucing (ooh er!) puds for the signature challenge. Our favourites were Richard's Black Forest chocolate fondants, Chetna's fancy rhubarb, strawberry and orange puds and Diana's orange and lemon curd pots. Mmmm...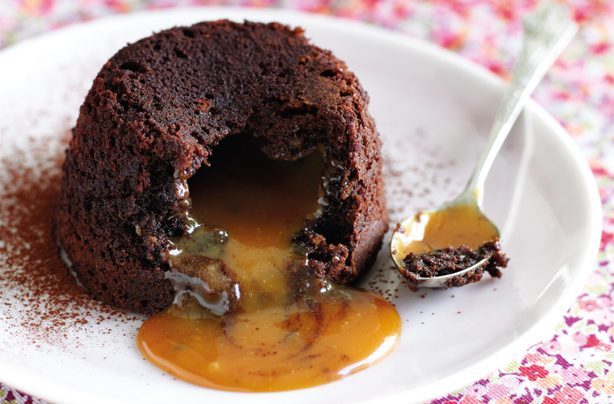 Get the recipe: Chocolate and caramel lava fondant
The technical challenge saw the bakers in a fluster making a Mary Berry classic -
tiramisu cake
. And last but certainly not least we had plenty of drama in the Bake Off tent for the showstopper round:
Baked Alaska
. Iain stormed out of the tent after Diana took his ice cream out of the freezer. When he returned, he threw his dessert in the bin and presented that to Paul and Mary instead! Meanwhile, Richard was crowned star baker for the second time this series.
Episode four: Click here to see who went home
****
Episode three: Bread
Bread week is notoriously tricky and several bakers came unstuck under the beady eye of Paul 'the breadman' Hollywood. The signature bake was rye rolls, and lots of the bakers added interesting flavour combos - including Luis's fennel and parsnip. Jordan's ciabatta came bottom in the technical challenge, while Kate came top for the first time.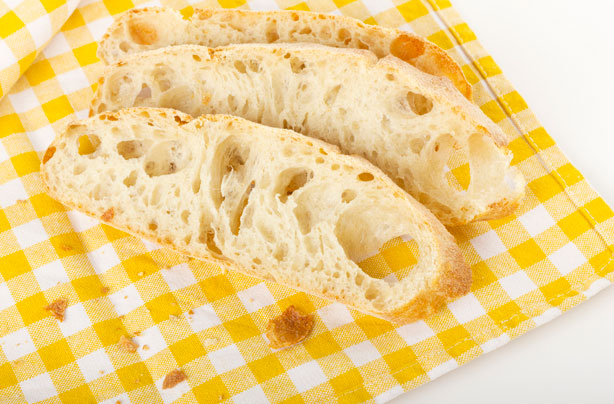 Get the recipe: Our ciabatta


The showstopper challenge - a filled loaf centrepiece - gave the bakers a chance to get really creative. Jordan made a berry cheesecake brioche (hmmm - borderline cake, that), we loved the hidden cheese in Martha's fig and apricot chutney bread, and Richard's pesto and Feta number. Luis was crowned star baker - a worthy winner.


Episode three: Click here to see who went home
****
Episode two: Biscuits
The bakers were set the task of making 36 savoury
biscuits
for the signature challenge, all with the same look, shape and flavour and to be served with cheese. Our favourites were Martha's caramelised onion and goats' cheese sandwich biscuits, Richard's rosemary seeded crackers and Chetna's fenugreek and carom crackers.
Next up was the dreaded technical challenge, which had a rather mixed reaction when announced by Sue and Mel. The bakers tackled the very technical Florentine biscuits. Richard got top marks but poor Iain came last in the rankings.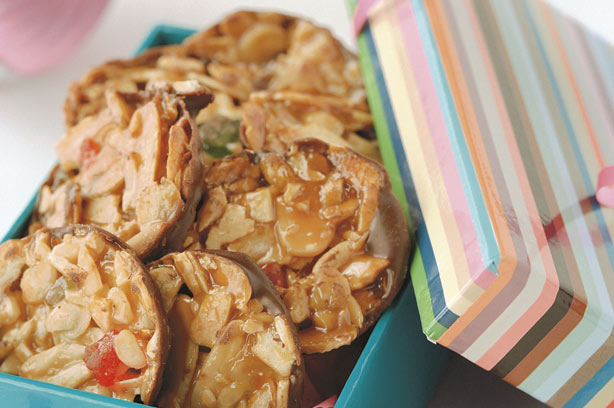 Get the recipe: Florentines
Finally, the showstopper. The bakers had to take on the challenging task of making 3D biscuit scenes. From dragons to pirate ships, from monsters to rockets, they all really pushed the boat out in this round to produce very impressive creations. Unsurprisingly, Richard was crowned star baker!
Episode two: Click here to see who went home


****
Episode one: Cake
The Great British Bake Off is finally back on BBC1! The first episode aired on 6th August and it was as nerve-wracking and pun-filled as ever!

We fell in love with hilarious Norman, marvelled at Iain's beard and Nancy's cake guillotine and welcomed back judges Paul Hollywood and Mary Berry, not to mention presenters Mel and Sue - both on hilarious form.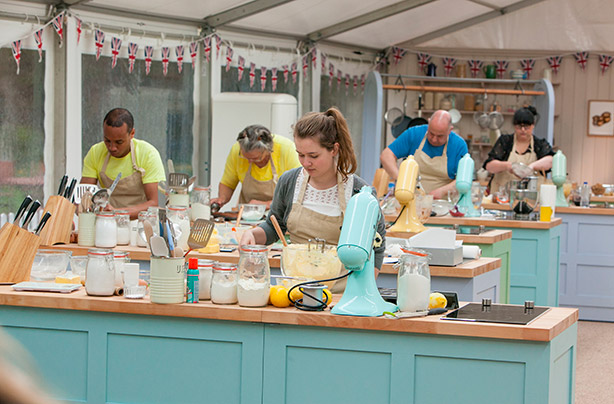 GBBO 2014 got off to a flying start with the signature challenge: Swiss rolls. These fat-free sponges are hard to get right and several bakers came a cropper, including Iain, whose attempts to score the sponge for easy rolling met with strange looks from Mary.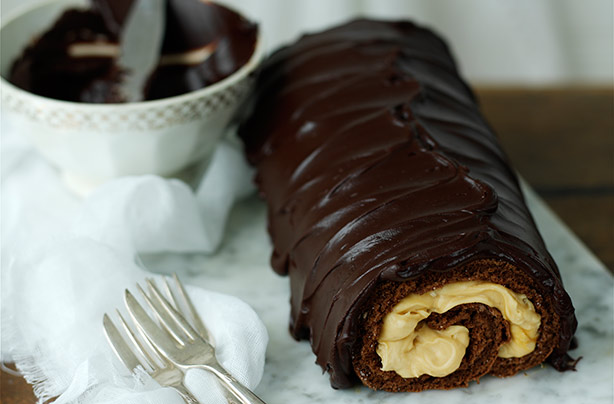 Our favourite Swiss roll recipe - chocolate and salted caramel! Get the recipe: Salted caramel Swiss roll
The first technical challenge was Mary Berry's cherry cake. Most efforts were pretty good, with bakers Martha and Nancy earning strong praise from Paul and Mary.
Finally, the showstopper challenge allowed the bakers to get really creative, making 36 mini British bakes. Nancy impressed again with her mini Jaffa cakes, while poor Claire had a 'mare when her mini choc cake batter overflowed in the oven. Unsurprisingly, Nancy was crowned star baker.
Episode one: Click here to see who went home
****
Come and meet the new contestants taking part in the 5th series of
The Great British Bake Off 2014. You're going to love them all.
Ranging in age from 17 to 69, the new contestants are ready to face the judgement of Paul Hollywood and Mary Berry. We can't wait!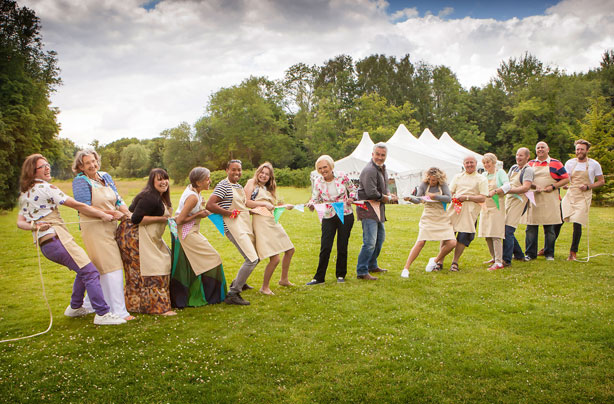 ****
It's official! The Great British Bake Off is back on Wednesday 6th August at 8pm. The first trailer showing the contestants premiered during the Commonwealth Games opening ceremony and now we're ready more than ever.
Everyone cheer, scream and run around like Mary Berry watching the World Cup. Where would we be without the world of Twitter and Facebook to keep us updated?
Write it in your diary and set the alarm on your phone... Bake Off is back on Wed 6th August at 8pm. Here's how the BBC announced it on Twitter. Don't Mary and Paul look pleased about the move to BBC One (well Mary does, at least!)...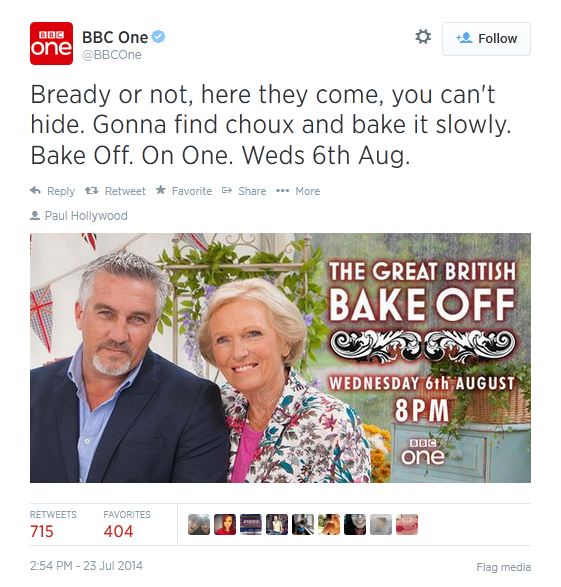 And it's been announced that Jo Brand will be hosting the spin-off show, An Extra Slice on BBC Two which starts Friday 8th August 9pm, how exciting! We're getting ready to throw a Bake Off party - who's with us?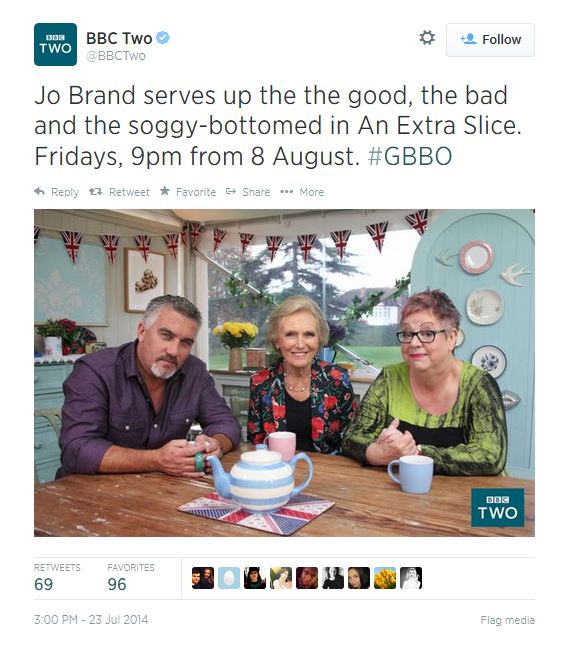 Follow us on
Facebook
or
Twitter
and once the new contestants have been announced we'll be the first to let you know!
****
Eek! A new Bake Off trailer has hit the internet and of course, we had to share it with you, our fellow Bake Off fans. We won't give too much away but let's just say Mel and Sue are going to need a bigger boat!
Watch the trailer below and scroll down for even more gossip about the Bake Off 2014 including info on the new spin-off show.
Let the count down begin... August 2014 here we come!
Psst!
According the Wikipedia, the Bake Off should be back on our screens
Wednesday 6th August at 8pm
- oh we do hope it's true!

Jo Wheatley's been chatting about it on her Facebook page too and she thinks the following:

We're holding our breath for BBC to confirm... Keep watching this space!
****
We're getting more and more excited about this year's Bake Off and now we're on the verge of exploding as we've just heard that not only is The Great British Bake Off 2014 going to been moved to BBC One instead of BBC Two, but it's also going to have a spin-off show!
The spin off show titled
The Great British Bake Off - An Extra Slice
will be aired on BBC Two whilst the main show is on (not at the same time of course!) The show is said to take influence from The Apprentice: You're Fired show with celebrity appearances and chats with the most recently ejected contestants.
An Extra Slice will also give us the chance to see unseen footage from the main show and take part in some good old fashioned baking - how good does that sound?
Even some of the past constants are getting excited about the new show! Edd Kimber, Bake Off winner for 2010, tweeted the following...


Watch this space for more Bake Off updates, including when the new show will be back on our screens (eek!) and the new contestants ready to impress Mary Berry and Paul Hollywood. We cannot wait!


****
Psst!
Have you seen Mary Berry back-flipping her way out of The Great British Bake Off tent in the latest Bake Off advert? It was aired just before England's first World Cup game.
If you haven't had a chance to see Mary in action yet you must scroll down and watch - it will have you in stitches!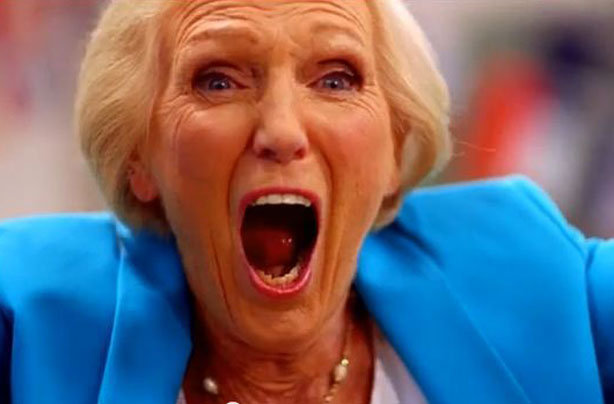 Getting in the Bake Off mood? We're here to inspire!