Tropical island cupcakes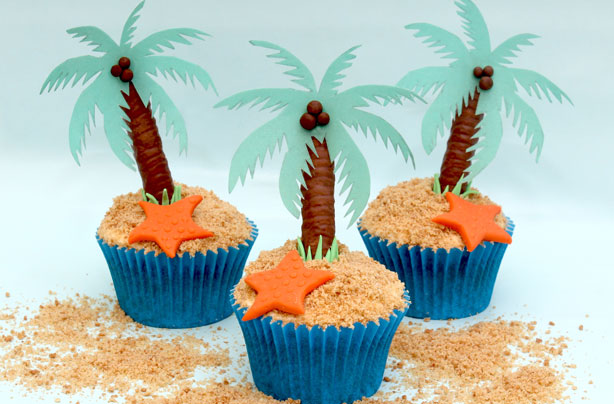 Ingredients
2 sheets of edible green wafer paper
12 Milky Way Crispy rolls or similar chocolate bar
10g green modelling paste
15g orange fondant
4g chocolate fondant
6 Digestive biscuits
2tbsp royal icing sugar with a few drops of water for glue
Cornflour for dusting
How clever are these tropical island cupcakes? Made with crushed biscuits for the sand, a chocolate wafer for the palm trees and a little fondant starfish, these desert island bakes are easier to make than you might think.

Follow our step-by-step picture guide to create your own. They're perfect for kids' birthdays, themed parties or other special occasions.
Equipment
12x blue cupcake cases

Sharp knife or craft knife
Scissors
Print or picture of a palm tree to use as template

Water brush for sticking
1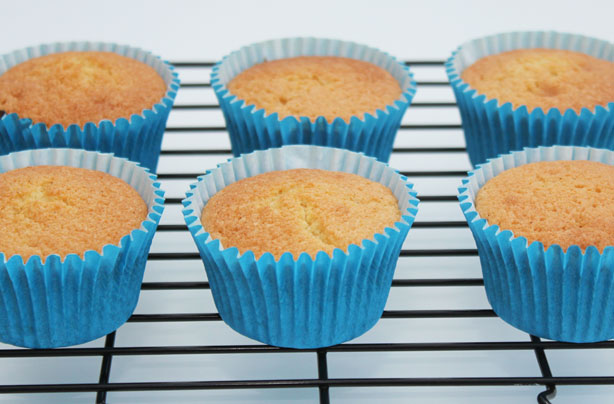 Step 1
Bake your cupcakes using
our basic cupcake recipe
and leave to cool completely on a wire rack.
2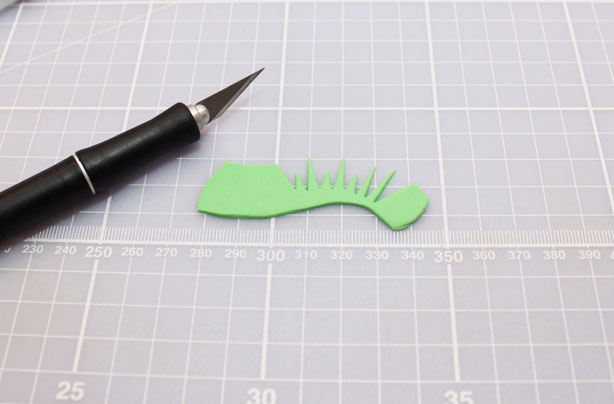 Step 2
Roll the green modelling paste out to 2mm thick and cut triangles away from the top to make grass.
3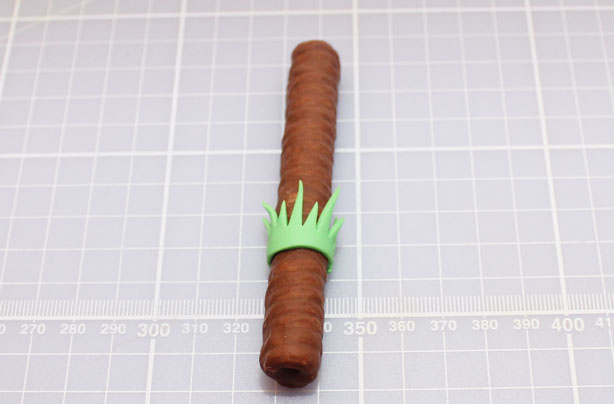 Step 3
Stick the grass 1/4 of the way down the trunk with a touch of water, this will give you room to push it into the icing of the cupcakes.
4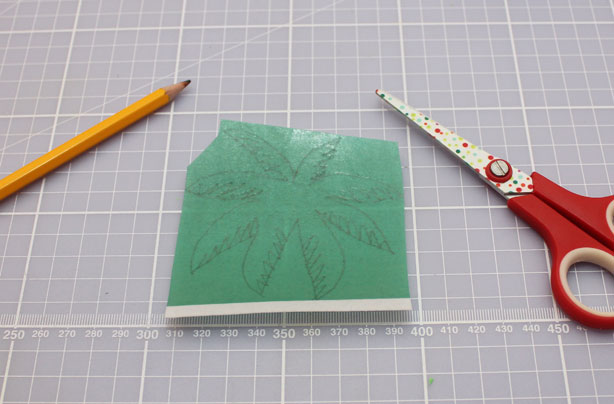 Step 4
Trace or print a picture of a palm tree and then trace the image onto the green wafer paper and cut it out.
5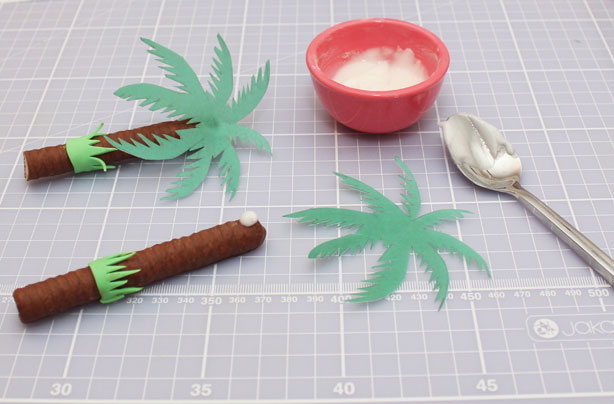 Step 5
Mix the royal icing with a few drops of water into a thick paste and use this as glue for the palm tree. Stick a small dot of royal icing at the top of the trunk and then stick the wafer paper palm to it.
6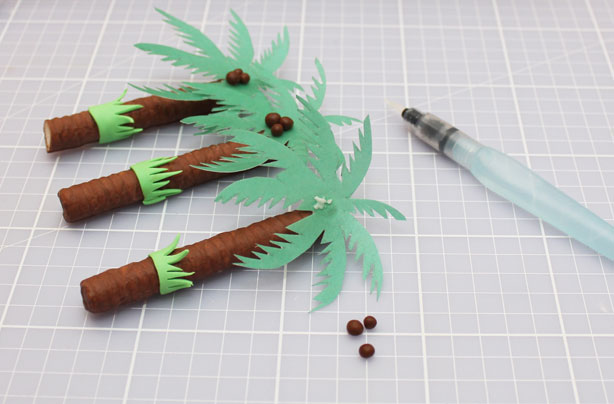 Step 6
Roll tiny balls of chocolate fondant for coconuts and use the royal icing to glue them to the centre of the palm with a dot of royal icing.
7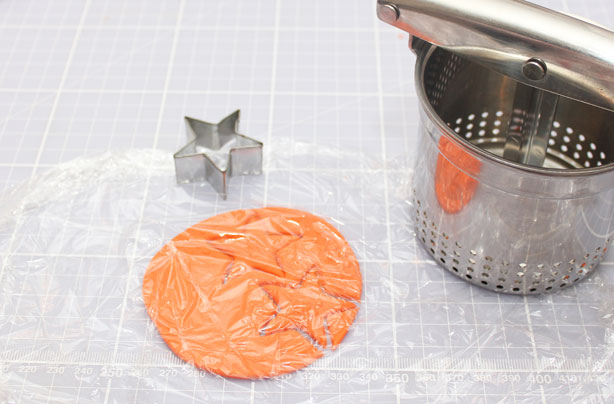 Step 7
To make the starfish, use a ricer to emboss the pattern onto the fondant, by rolling the fondant, dusting the top with cornflour and then pushing the ricer onto the top of the fondant. Place cling film over the top and cut out 12 starfish. Using the cling film gives you a nice rounded edge.
8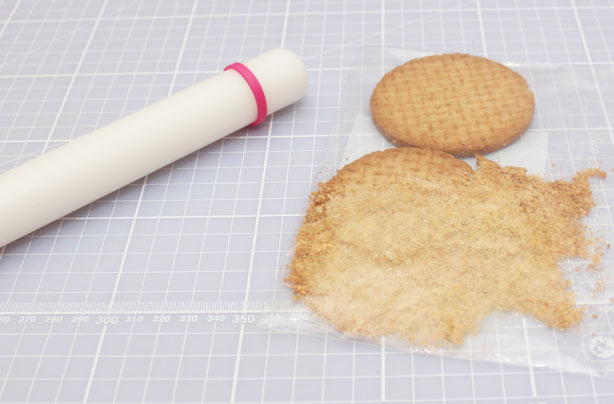 Step 8
Put the Digestive biscuits into a plastic bag and crush with the end of a rolling pin.
9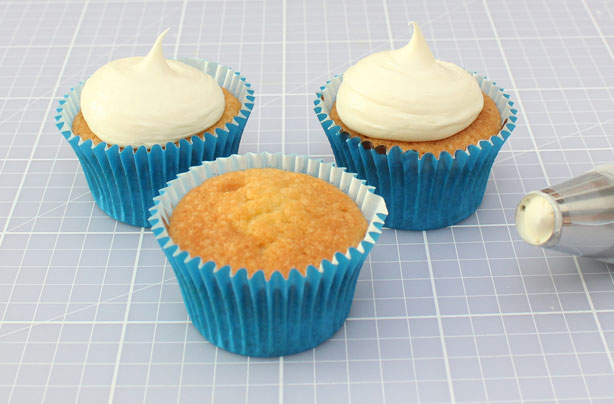 Step 9
Make a batch of
our basic buttercream
and ice the cupcakes with a plain piping nozzle or by spreading it onto the top of the cupcakes.
10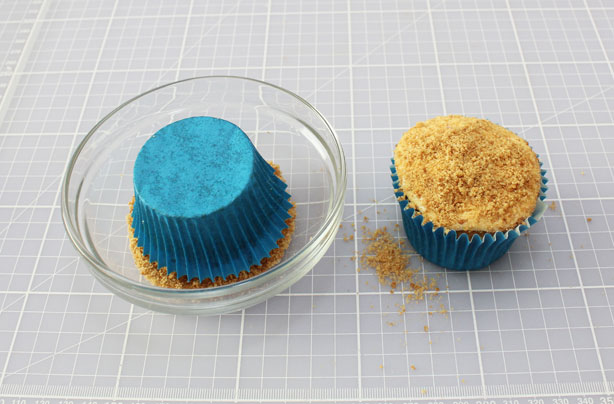 Step 10
Dip the iced cupcakes into the biscuit crumbs. You can then push the icing up to the edge of the paper cases if you need to, and sprinkle more crumbs on the top.
11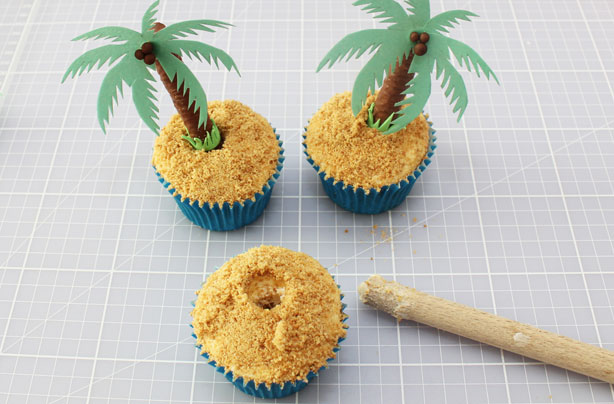 Step 11
Using a wooden spoon handle, push a hole into the top for the trunk of the palm tree and then place the palm trees into the cupcakes. You can angle the trees different ways if you like.
12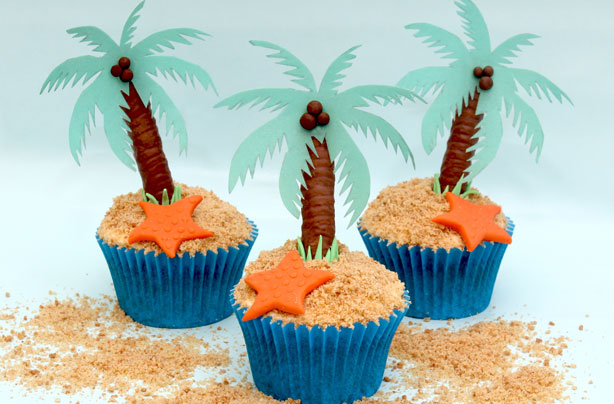 Step 12
Add the starfish by using a touch of royal icing on the backs and sticking them to the sand. Your cupcakes are now ready to be served.
Your rating