How to make gnocchi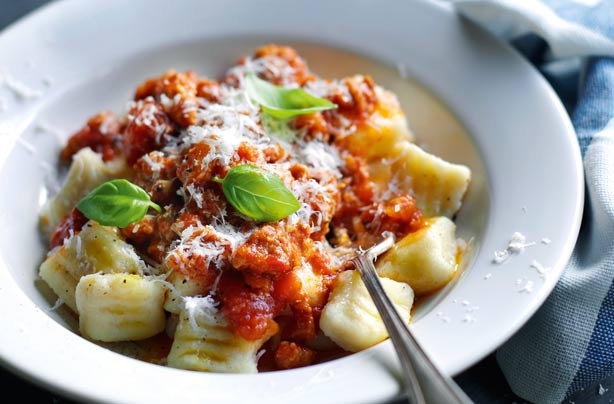 Ingredients
1kg waxy potatoes, unpeeled
2 egg yolks
200g plain flour
semolina, for dusting
Learn how to make classic gnocchi with our simple step-by-step recipe. It's really easy once you know how.

Gnocchi is small dumplings made from potato and semolina and is just perfect topped with your favourite Bolognese recipe or drizzle in pesto and stir before serving.

Once you've learnt how to make gnocchi, you can try more of our delicious gnocchi recipes


1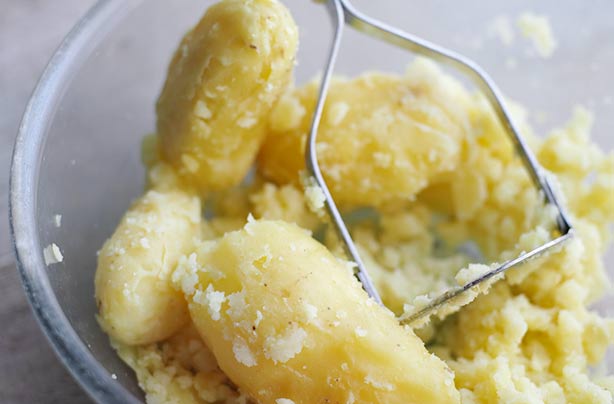 Step 1
Simmer the potatoes, in their skins, in salted water until tender (around 30 mins). Drain and peel, setting aside in the pan to dry out. Pass the potatoes through a ricer, or mash by hand.
2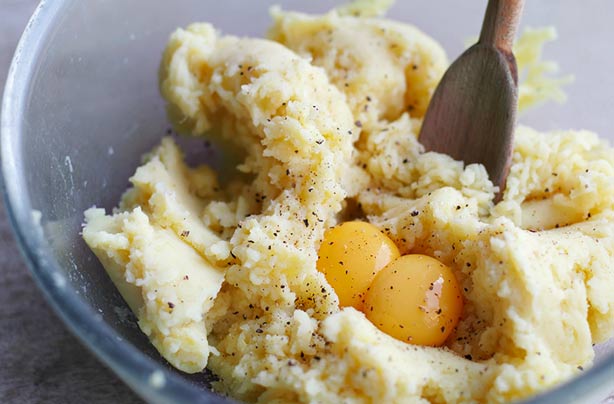 Step 2
Season, then beat in the egg yolks and work in the flour with your hands until you have a smooth, sticky dough.
3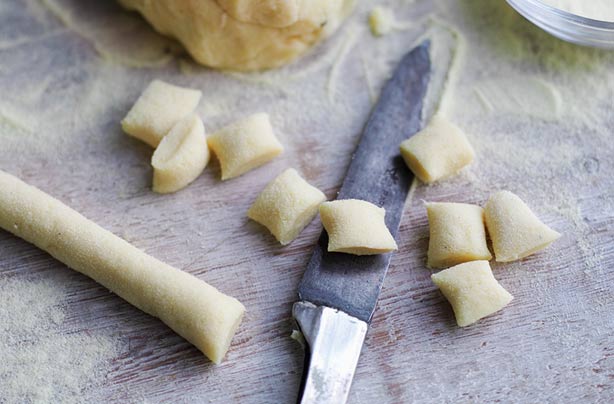 Step 3
Tip the dough out onto a worksurface dusted with semolina and roll out to form sausage-shaped logs around 1cm thick. Cut into chunks about 2cm long – you should have enough dough for around 170 pieces. Press onto a fork to make a slight indent.
4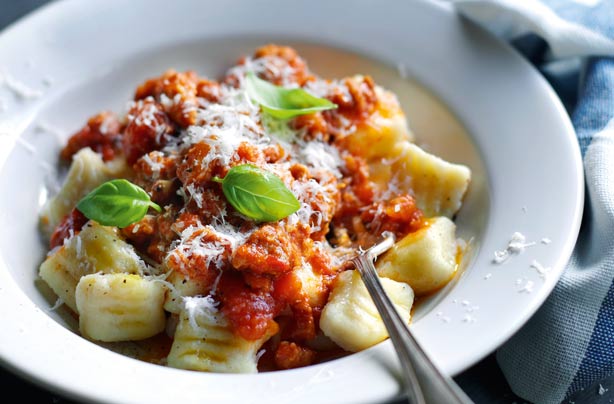 Step 4
Cook in boiling water for around 1 min, or until they rise to the surface. Quickly run under cold water for a few seconds and then add to your sauce.
Twists
For spinach gnocchi: Add 300g spinach leaves and a small handful of parsley to ½ portion of gnocchi dough. Put the spinach into a colander and pour over freshly boiled water until wilted. Run under the cold tap to refresh then squeeze out as much moisture as possible. Chop the wilted spinach and parsley finely and knead into the gnocchi dough along with the garlic, grated Parmesan, nutmeg and plenty of seasoning. Cook as usual.
Celebrity chef tips
Overcooked gnocchi turn waterlogged – not nice! As soon as they start floating, they're probably done, so drain straightaway.

A potato ricer is a quick way to get lump-free mash. If you haven't got one and you want to get rid of lumps, just pass the mashed potato through a sieve.

You want the dough to feel lightly sticky, so don't necessarily add all the flour – how much will vary, depending on your potatoes.

Shocking the gnocchi (running under cold water) is an Italian trick to stop the dumplings turning claggy in your sauce.

Making the marks on gnocchi with a fork is not just for decoration; it helps the sauce stick to the dough.

Gnocchi freeze really well. Open freeze, then store in freezer bags. Cook straight from frozen in boiling water.


See more recipes
Your rating