The Pancake Day #flipalong is BACK! Win £250 Pyrex kitchenware
Enter our competition to win £250 worth of amazing Pyrex kitchenware with your #flipalong videos... How many pancakes can you flip in 10 secs?!
GoodtoKnow are going Pancake Day mad this February with the second round of one of your favourite competitions of last year, the #flipalong!
This year, we're giving you a chance to win £250 worth of amazing Pyrex kitchenware including 4 different-sized mixing bowls, an oval pie dish, Gusto wok, baking tray, cupcake tray and many, many more!
We are, however, upping the stakes this February 2016. It's not just about how well (or not so well!) you can flip a pancakes, it's about how speedy you can be too!
The challenge, if you choose to accept it, is to see how many pancakes can you flip in 10 seconds. Bring it on!
Share your speedy 10 second flip videos with us for your chance to WIN!
How to enter our #flipalong
Facebook
Post your #flipalong videos on the
goodtoknow
or
goodtoknow Recipes
Facebook page using the hashtag #flipalong.
Email
Send your #flipalong videos to
goodtoknowrecipes@ipcmedia.com
Twitter
Tweet us your videos using #flipalong
@GTK_Essentials


Instagram
Share your video on Instagram and tag us
@goodtoknow_essentials
#flipalong
The prize: Pyrex kitchenware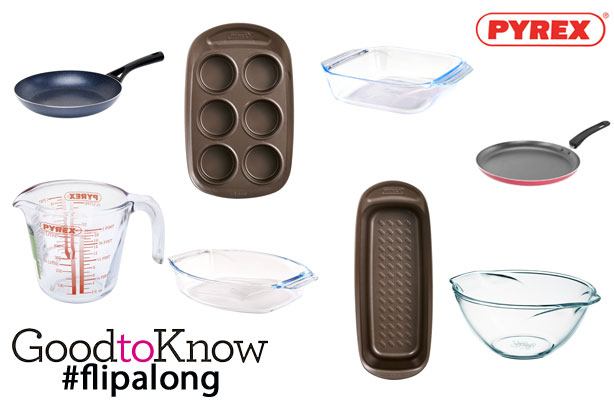 The prize includes everything you need to make perfect pancakes all year round with various sizes of Pyrex's iconic glass measuring jug, glass mixing bowls and the new Jump pancake pan to ensure fantastic flipping.

To extend your cooking skills even further, the prize also includes frying pans from the new Gusto range and a selection of Optimum borosilicate glass roasters, offering superior thermal shock resistance compared to soda lime glass. This ultimate kitchenware bundle will allow you to re-stock your kitchen with a Pyrex collection to be proud of.

To find out more about Pyrex, visit www.pyrexuk.com. You can also follow Pyrex on Twitter @PyrexUKOfficial, or 'like' the Pyrex UK (Official) Facebook page.

This amazing bundle of £250 worth of Pyrex includes the following:

4 multi-sized glass bowls, £3.99-£7.99
2 multi-sized glass measuring jugs, £5.99-£7.99
1 vintage glass bowl, £8.99
1 glass baking tray, £12.99
1 glass oval pie dish, £6.99
1 glass rectangular optimum roaster, £12.99
1 glass oval roaster optimum, £17.99
1 square optimum roaster, £11.99
2 Gusto frying pans, 24-28cm, £19-£24
1 Gusto wok, 28cm, £26
1 jump pan, £17
1 ceramic rectangular roaster, £8.99
1 ceramic square roaster, £12.99
1 baking tray, £10.49
1 loaf pan, £8.49
1 muffin tray 6 cavities, £9.49
1 cupcake tray 12 cavities, £14.99

Phew!

We cannot wait to see all of your #flipalong videos. Scroll down to see examples from last year plus previous Pancake Day competitions!


The terms of this competition:
The prize is a bundle of Pyrex kitchenware worth £252.83 courtesy of pyrexuk.com.
There is 1 prize to win. Prize subject to availability. In the event of a
prize being unavailable, we reserve the right to offer an alternative
prize of equal or greater value.
You can only enter 1 video per person.
Members of the editorial team will decide on the winning #flipalong video and their decision is final.
Competition details form part of these terms and conditions.
Entry is open to residents of the UK, Channel Islands, Isle of Man and
Republic of Ireland except employees (and their families) of Time Inc (UK) Ltd,
its printers and agents, the suppliers of the prizes and any other
companies associated with the competitions.
The winner(s) must be aged 18 or over.
The sponsor is Time Inc (UK) Ltd.
The closing date is Tuesday 16 February 2016 at 12pm.
Proof of identity and age may be required.
Use of a false name or address will result in disqualification.
All entries must be made directly by the person entering the competition.
Entries made online using methods generated by a script, macro or the use of automated devices will be void.
No responsibility can be accepted for entries lost, delayed or corrupted, or due to computer error in transit.
The prizes are as stated, are not transferable to another individual and no cash or other alternatives will be offered.
The winner(s) is(are) responsible for expenses and arrangements not
specifically included in the prizes, including any necessary travel
documents, passports and visas.
Prizes are subject to availability and the prize suppliers' terms and conditions.
The
promoters reserve the right to amend or alter the terms of competitions
and reject entries from entrants not entering into the spirit of the
competition.
In the event of a prize being unavailable, the
promoter reserves the right to offer an alternative prize of equal or
greater value.
The winner(s) agree(s) to the use of their name,
photograph and disclosure of county of residence and will co-operate
with any other reasonable requests by Time Inc relating to any post-winning
publicity.
The winner(s) will be selected by the goodtoknow
Recipes team from entries received by the closing date stated within the
promotional material.
Reasonable efforts will be made to contact the winner(s). If the winner(s) cannot be contacted, or are
unable to comply with these terms and conditions, the Promoter reserves
the right to offer the prize to the next eligible entrant drawn at
random.
Confirmation of the prize will also be made in writing to the winner(s).
Failure to respond and/or provide an address for delivery, or failure to meet
the eligibility requirements may result in forfeiture of the prize.
Where
applicable, the decision of the judges is final based on the criteria
set out in the promotion and no correspondence will be entered into over
this decision.
Competitions may be modified or withdrawn at any time.
The provider of the prize is specified within the promotional material.
The Promoter is Time Inc UK Limited, Blue Fin Building, 110 Southwark Street, London SE1 0SU.
In the event of a discrepancy between these standard terms and conditions
and the details in the promotional material, the details of the
promotional material shall prevail.
The #flipalong 2015
Are you ready to laugh your heads off at these seriously funny pancake flips? From face planters to floor droppers, these pancake flipping videos for our #flipalong competition have been giving us a good old chuckle.

We just can't get enough of these amazing Pancake Day pancake flips. Getting a perfect flip is all in the wrist action - as our handy step-by-step video shows.

On your marks, get set... FLIP!


The one with the dance moves




This daddy and daughter duo are just too cute! Watch their pancake skills in this humorous video - thanks Hayley Smart for sharing via Facebook.


The one with the pro flip




What a pro! goodtoknow user Jim Radford shows us the true technique of flipping pancakes - great job!


The one with mum showing off her skills!




Mother really does know best! Watch Jemma Webster's #flipalong like a true flip master.


The one with the face planter




What a cutie! Six year old Isobelle gives flipping her best shot - we just love her crazy outfit. Thanks mummy, Sarah Scott for sharing.


The one with the slow-mo effects




If you're going to flip a pancake with style, why not wear a floral apron and film yourself in slow-motion! Thanks for sharing, Marnie Llewelyn!


The one with the distance




Now that's what we call a flip! goodtoknow user Donna has certainly given it her all in this video - wow!
Your rating