Slimming World's blueberry, lime and Prosecco jellies
Print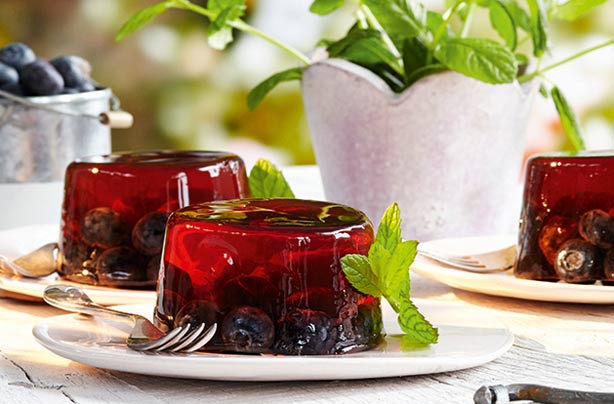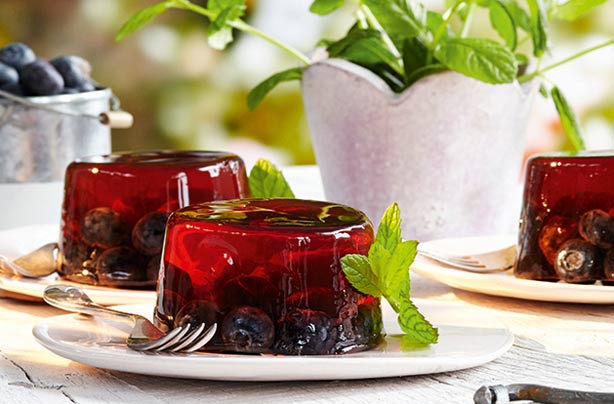 Serves: 4

Prep time:

plus setting time

Skill level: Easy peasy

Costs: Cheap as chips
These sweet and delicious Slimming World blueberry, lime and Prosecco jellies are easy to make and perfect for enjoying in the summer sunshine. Made with Prosecco, a dash of lime and fresh blueberries, these delightful jellies are guilt-free and will settle those sweet cravings you might have after dinner. Your friends are going to love them.
Ingredients
185g blueberries, plus extra to serve (optional)
6 sheets of leaf gelatine
250ml made-up low calorie summer fruits cordial
juice of 2 limes
2 tsp sweetener
125ml Prosecco, chilled
mint leaves, to decorate
Decorate with mint leaves and serve with extra blueberries, if you like.
Method
Divide the blueberries between four 150ml moulds or dessert glasses and chill.
Soak the gelatine sheets in cold water for 4-5 minutes until softened. Squeeze out any excess water and put the sheets into a bowl over a pan of simmering water along with the cordial, lime juice and sweetener. Heat until the sweetener and gelatine have dissolved, then set aside to cool.
Pour the cordial mixture into a jug, add the Prosecco and pour over the blueberries. Chill for at least 4 hours or until set.
When you're ready to eat, dip the moulds briefly in hot water. Press a serving plate against the top of each mould, shake slightly and flip over to turn out. (If you're using dessert glasses, just serve the jellies as they are – there's no need to turn them out.)
For more delicious recipes or to find your nearest Slimming World group visit the Slimming World website
Your rating